Hello yummy sexy salami salad! I love Italian food and love creating new recipes inspired by the beautiful tastes of Italy. This tasty treat in particular has a special place in my heart because it is a new version of the one my friend Amy makes when she comes visits us in the Hampton. Amy is the Chop Happy official taste tester and is always there to lend a fork. She makes a similar salad with mozzarella, pasta, basil, pasta, and store bought Italian dressing. It is so yummy! – but I wanted to make a new version to honor her, to make it slightly easier (I love taking out a step and creating yum-tastic food!) and to make it gluten free by leaving out the pasta – in honor of my friend Nancy.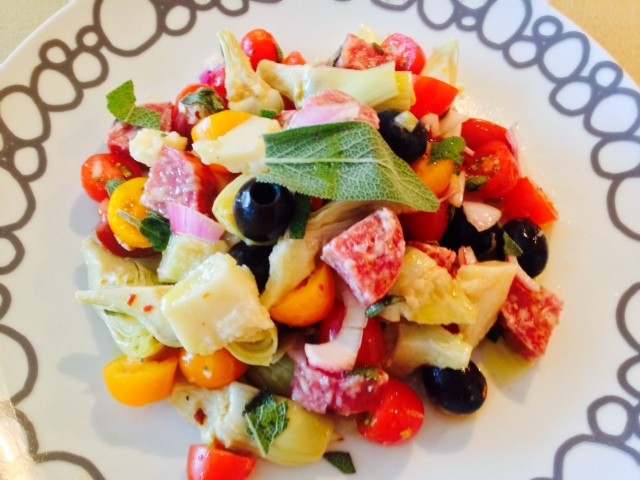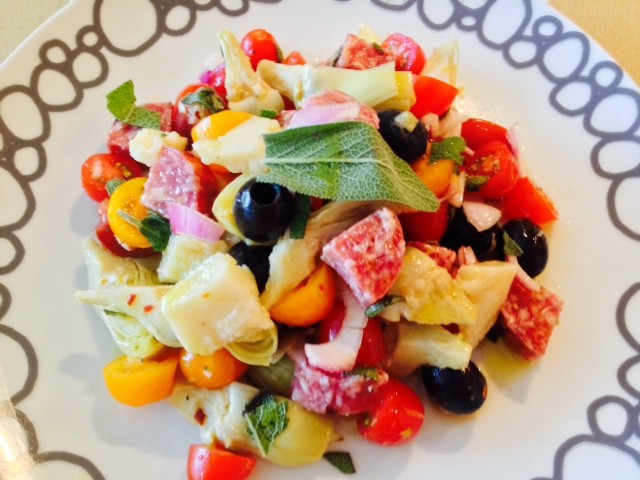 Even though there is no lettuce in this, it counts as healthy because it is called a salad right? Ok I guess that's not true, but man does it taste so yummy. With the sweet deep balsamic vinegar, the earthy sage, salty salami and parmesan cheese – this will have your family going for seconds and thirds.
---
Salami Parmigiana Salad
Ingredients
8 oz of salami in log form (cut into chunks)
A big handful of chunks of parm cheese (See video for how to)
1 can of artichoke hearts cut in quarters
1 big handful of pitted black olives
2 tablespoons of fresh sage chopped (1 teaspoon of dried sage)
12 oz of cherry or grape tomatoes cut in half
Zest of whole lemon and juice of 1/2 the lemon
1/2 of red onion chopped medium dice
3-4 turns of the bowl extra virgin olive oil
3 dance party shakes of balsamic vinger
2 garlic cloves grated on a zestier
Big pinch red pepper flakes
Best Friends Forever: Big Pinch Salt and Pepper
NOTE: Grate the leftover parmesan cheese for other dishes and freeze the parmesan rind and put in broth when making soup it adds amazing flavor. Watch my "Secret Ingredient to Soup Fabulous!" for this awesome tip.
---
Instructions
Put all colorful veggies (artichokes, tomatoes, olives, sage, and onions) in a mixing bowl and add salt and pepper and mix to make sure the veggies are as much the star as the cheese and meat :-)!
Now add the salty yummy salami and the chucks of amazing parmesan cheese and mix like an Italian symphony mastering the music of taste.
Here comes the dressing, but don't worry it all just goes right in the same bowl as everything else. Add the grated garlic and lemon, the lemon juice and the red pepper flakes.
Now get ready to dance! – swirl around 3-4 times around the bowl with olive oil in bowl and 3 shakes of balsamic vinegar.
With LOVE and a big smile, mix it all together and resist the urge to eat it now because you should allow the salad a siesta or rest in the fridge for at least 30 minutes-up to over night.
Now enjoy and have a fun Italian themed night!
---
What is your favorite Italian dish to make for your family and friends (Let us know in the comments section? Give it a try and share pictures and comments of your tasty creation in the comment section too:)
With a Grateful Heart and a Amazing Italian Food Tummy – Jay
(Visited 942 times, 1 visits today)
Subscribe for tasty, free recipes!