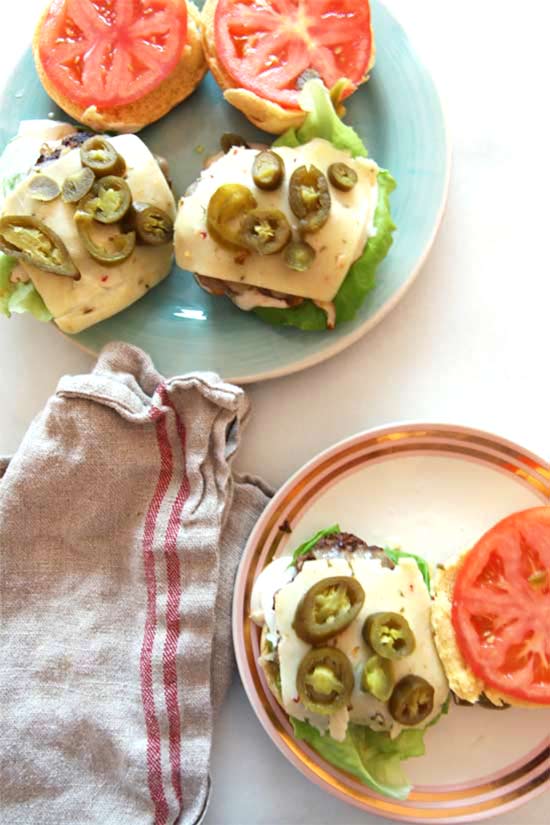 Attention all spicy lovers: I've got quite the recipe for you!
This cheese burger tastes like a hot wing, and if you are having a grilling party or weekday bbq, this is the perfect recipe to make in a short time.
Tom and I really enjoy spicy food. Whenever I ask Tom what is missing from a recipe, his answer is always sriracha (even for dessert recipes). Although I love sriracha, it is not always the answer but today is Tom's day, and in his honor, sriracha will be welcomed into Chop Happy Land.
In true Chop Happy style, this cheese burger takes 10 minutes to make with some store-bought help and stress-free cooking tips.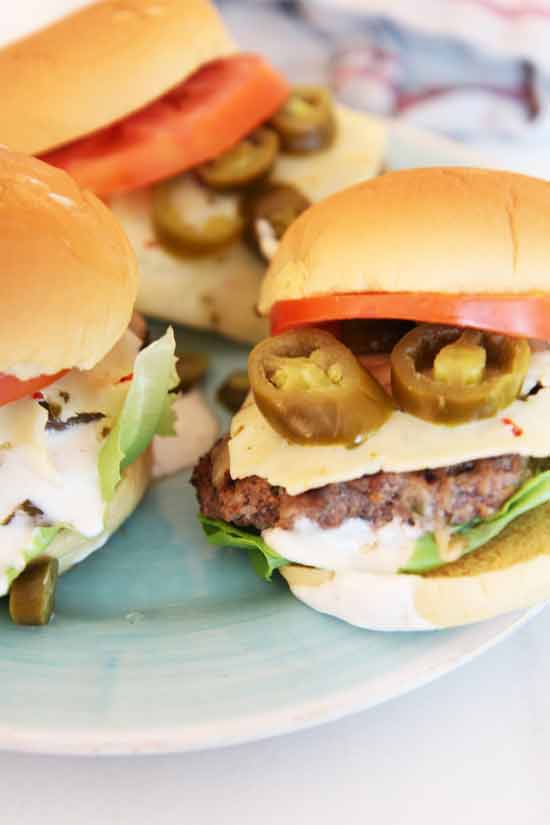 Technique Tips: 
 When the burgers are on the grill, don't press on the burger – that will release all the juice.

I love making patties 1 day ahead to make the barbecue stress-free. Just don't forget to take them out of the fridge 30 minutes before you grill them so they can come to room temperature.

 Make the patties 1 inch bigger than the bun. Burgers shrink on the grill, and you want every bite to have the perfect bun-to-meat ratio!

Once the burger is on the grill, don't touch the burger until it is time to flip it. This will allow the burger to get a deep, rich crust that makes it extra delicious.

As always, this recipe is part of my mission to provide you with 2 goals:

1) To make amazingly simple homemade comfort food.

2) To learn fun tips to make cooking fun.

(Watch the video to see all of this in action!)
---
Ultimate Spicy Cheese Burger Recipe
Attention all spicy burger fans! This simple recipe is for you.This burger tastes like a hot wing, and this is the perfect recipe to make in a short time.

Ingredients
Burger Ingredients:
1 lbs ground beef (80/20)
1/4 cup picked jalapeños (chopped finely)
1 handful mint (chopped finely)
2 tbsp siracha
1 tsp salt
1 tsp pepper
4 slices pepper jack cheese
Burger Topper Ingredients:
4 hamburger buns
4 tbsp ranch dressing
1 small tomato sliced
4 lettuce leafs
1/4 cup pickled jalapeno (a pprox. 16 jalapeños)
Instructions
First combine all the burger recipe ingredients (except pepper jack cheese) in a bowl. Mix until well combined.

Divide the meat into 4 patties. Also press an indentation in the middle of patties to prevent them from losing their shape when cooking.

Next on a medium high grill or pan cook the patties 3 minutes per side.

At the last minute the burgers are cooking on the second side top all the patties with pepper jack cheese to melt.

Now put on a bun and top with ranch dressing, lettuce, tomato, and pickled jalapeños.

Enjoy this spicy burger!
Your Dash Of Gratitude:

ANY QUESTIONS OR COMMENTS? COMMENT BELOW 🙂
With a grateful heart and an amazing tummy – Jay
(Visited 3,340 times, 1 visits today)
Subscribe for tasty, free recipes!