You have got to try this Veggie Burger recipe! You will not be disappointed, whether you are a meat eater or not.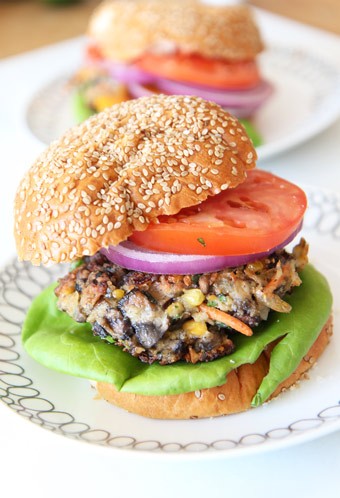 I am an avid carnivore, and my bacon-infused burger skyrocketed my blog when I got to cook in Times Square on Good Morning America. So with that said, if I put a burger on this site, I make sure it's really good. The goal behind this veggie burger was to make it easy, faster than takeout, and make a meat eater not miss the meat.
My inspiration for this burger comes from two of the best burgers I have ever had. If you are in NYC, you must try the Veggie Burger from By Chloe and Momofuku's Impossible Burger. Vegetarian and vegan restaurants in NYC have become trendy, and I've grown to crave these burgers!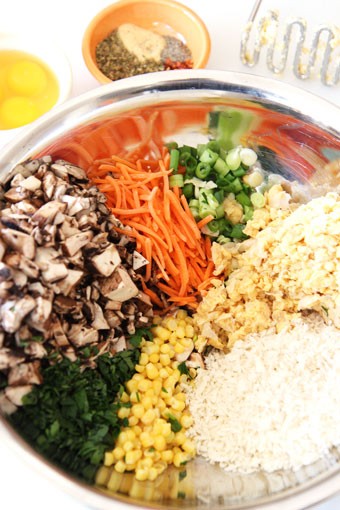 Why this burger is so easy:
1. All ingredients are chopped and go straight in a bowl.
2. You cook them only 3 minutes per side in the pan and you're done!
3. Simple ingredients makes simple cooking.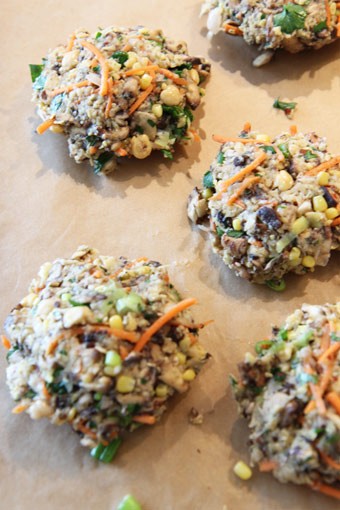 Why it's so yummy:
1. I have a secret ingredient of Parmesan cheese for the umami.
2. I use beefy portobello mushrooms to add a hearty flavor.
3. There is nothing fancy here; it's just simple ingredients that speak for themselves.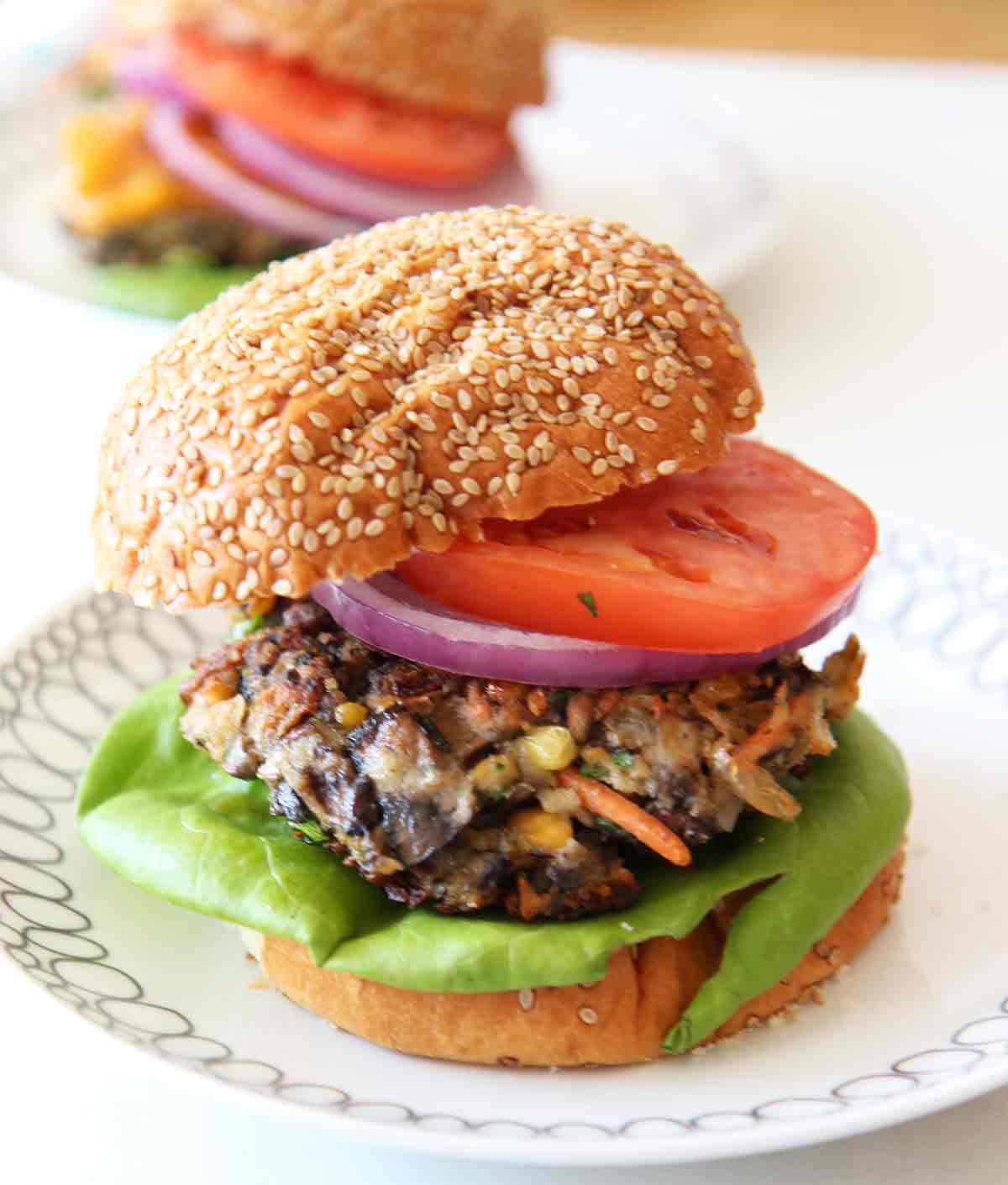 ---
YOUR DASH OF GRATITUDE:

I Can't Believe It's a Veggie Burger
You have got to try this Veggie Burger recipe! You will not be disappointed, whether you are a meat eater or not.
Ingredients
Burger Ingredients
2 portobella mushrooms (chopped finely)
2 scallions (chopped)
1/2 cup corn (handful)
1/2 cup parsley (chopped)
1/2 cup shredded carrots (handful)
1 can chick peas smashed
1 cup panko bread crumbs
1 cup Parmesan (grated)
3 eggs
1 tsp garlic powder
1 tsp dried oregano
1 tsp salt
1 tsp pepper
1/4 tsp red pepper flakes
3 tbsp olive oil
Extra Ingredients (optional)
6 burger buns
1 tomato sliced
1 onion sliced
6 slices cheddar cheese
ketchup
Instructions
First combine all the burger ingredients in a bowl and mix well.

Next form 6 patties.

Now heat pan on medium high with 3 tablespoons of olive oil. Make sure the pan is hot before adding the burgers.

Next place burgers in the pan for 3 minutes on each side.

Do not move or press on burgers while cooking so it gets a great sear.

Add burgers to a bun or have it your way and enjoy.
ANY QUESTIONS OR COMMENTS? COMMENT BELOW 🙂
With a grateful heart and an amazing tummy – Jay
(Visited 4,810 times, 1 visits today)
Subscribe for tasty, free recipes!