A one sheet pan, easy clean up, portobello recipe has landed in Chop Happy land! This recipe is a you are amazing and deserve an easy recipe so you have more time for you!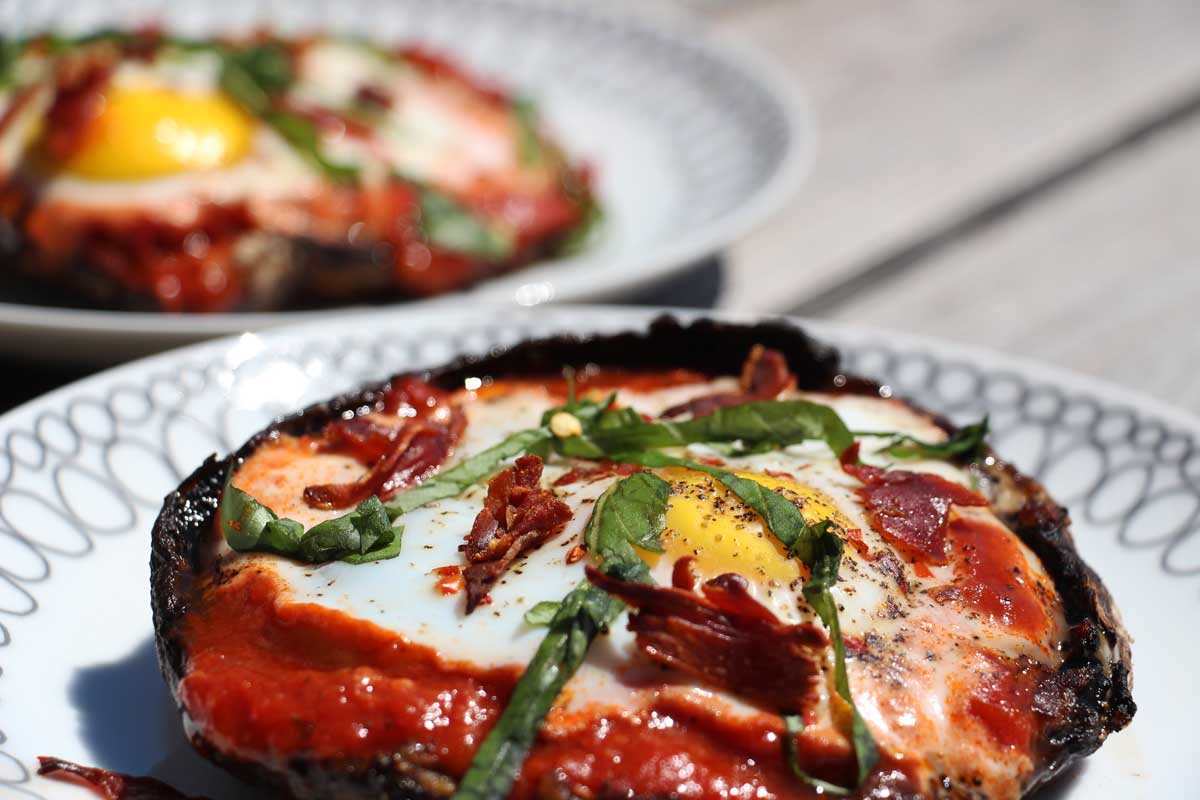 This recipe is inspired by my love of brunch. When I moved to NYC over 10 years ago it struck me funny that no one eats breakfast – only brunch. But being a NYC resident now in my super tiny apartment I was ready to venture out in the city of eats. Once I went on my very first brunch outing I was convinced brunch is sooo fun. 
"Eggs in Purgatory" is a true NYC brunch item. This is when eggs are cooked in tomato sauce. One day at brunch I thought what if I did this inside a portobello mushroom and my excitement grew. It is actually so easy and great for weeknight dinners too. I even crisp prosciutto in the same pan so there is less clean up.
This also goes great with all the traditional brunch cocktails – yum 🙂
Grab your ingredients and follow along with the video!
---
One Pan Egg Stuffed Portobello Recipe
Serves 4
Ingredients
4 large portobello mushroom caps, stems and gills removed
4 eggs
Big pinches salt and pepper
1/4 teaspoon red pepper flakes
1 32 oz jar tomato sauce
5 fresh basil leaves, roughly chopped
5-6 slices prosciutto, cut into strips
Extra virgin olive oil, for drizzling
---
Instructions
Preheat oven to 400 degrees
Drizzle both sides of mushrooms with olive oil, season with salt and pepper
Arrange mushrooms on one side of baking sheet, on the other side add another piece of foil to make a "tinfoil fort"
Fill mushrooms half way with tomato sauce, add prosciutto to "tinfoil fort" (it will crisp up while you bake it)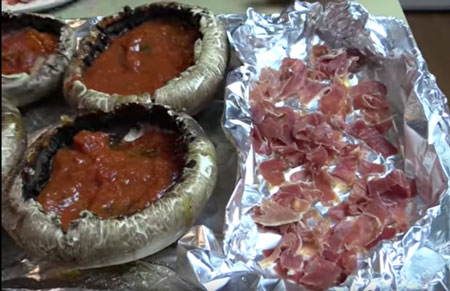 Add 1 egg to each mushroom cap (try to not break the yolk), season with salt, pepper and red pepper flakes
Bake 10-15 minutes, you'll know it's done when the egg whites are set and the yokes are runny
Garnish with prosciutto and basil
Enjoy!
---
You have to try this and let me know what you think!  🙂
With a grateful heart and an amazing brunch tummy – Jay
(Visited 833 times, 1 visits today)
Subscribe for tasty, free recipes!