Get ready to amaze your family and friends with this unexpected juicy sweet and woodsy side dish. Roasted grapes are a thing in Italy and when I saw (my best friend in my head) Ina Garten do a version of this with sausage I said if Ina likes it this must be good. Cue: Tom and our dog Charlie rolling their eyes as they know I'm a super fan lol.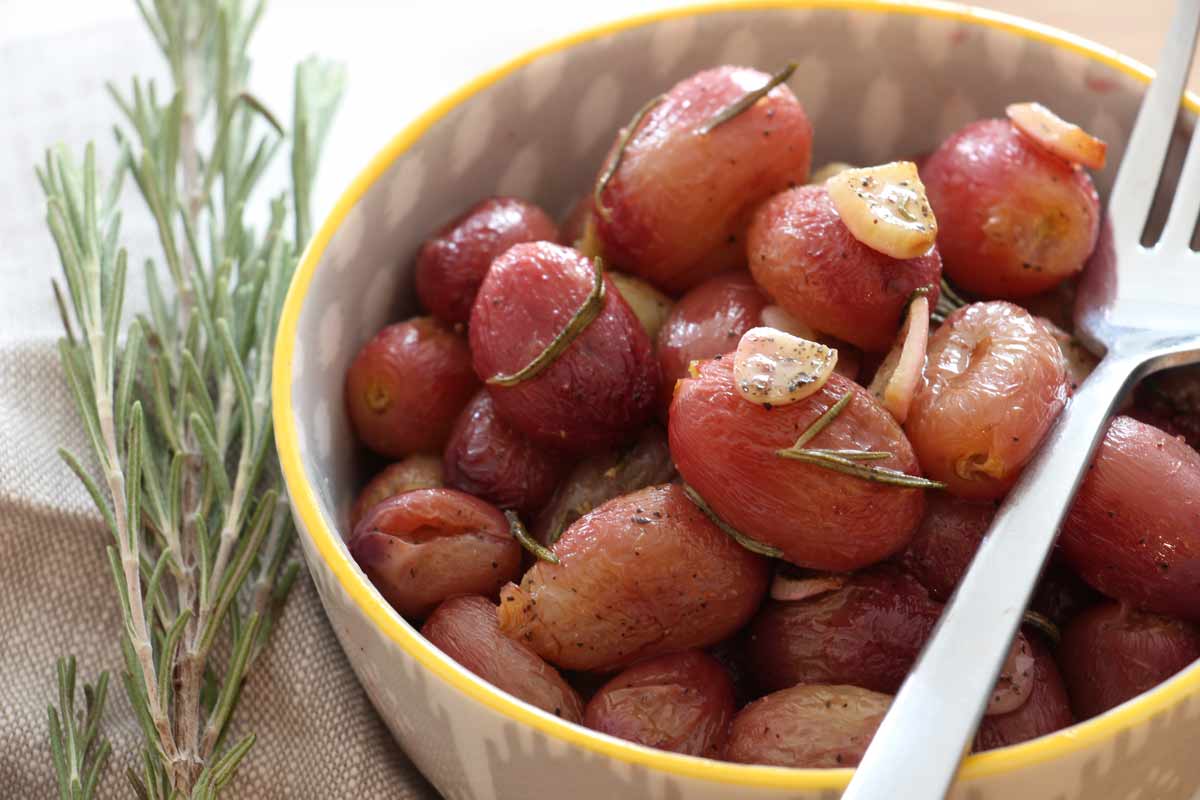 So I went on testing and found the simpler the tastier, which is great because that's the Chop Happy philosophy for happy home chefs! The grapes roast up and get a more deep concentrated flavor and the salt adds that cherry on top – balancing salty and sweet. 
Totally try this out and you will be so surprised how much yummy flavor is packed in these grapes. Make sure you use seedless grapes though as I made that mistake lol in testing.
Grab your ingredients and follow along with the video!
---
One Sheet Pan Roasted Grapes Recipe
Serves 4-6
Ingredients
2 cups seedless red grapes
4-5 cloves of garlic, cut into thin slices (nickel sized slices)
2 sprig fresh rosemary, remove leaves by holding at its top and sliding your fingers down to strip off leaves
Big pinches salt and pepper
Extra virgin olive oil, for drizzling
---
Instructions
Preheat oven 450 degrees
On baking sheet- add grapes, garlic, rosemary, salt and pepper, then drizzle around the pan 3 times with olive oil over the top – mix ingredients to incorporate
Bake 7-8 minutes until the grapes start to burst slightly
Enjoy!
---
Any question about this recipe or others? I'm super excited to answer your question in comment section below.
With a grateful heart and an amazing grape tummy – Jay
(Visited 1,206 times, 1 visits today)
Subscribe for tasty, free recipes!