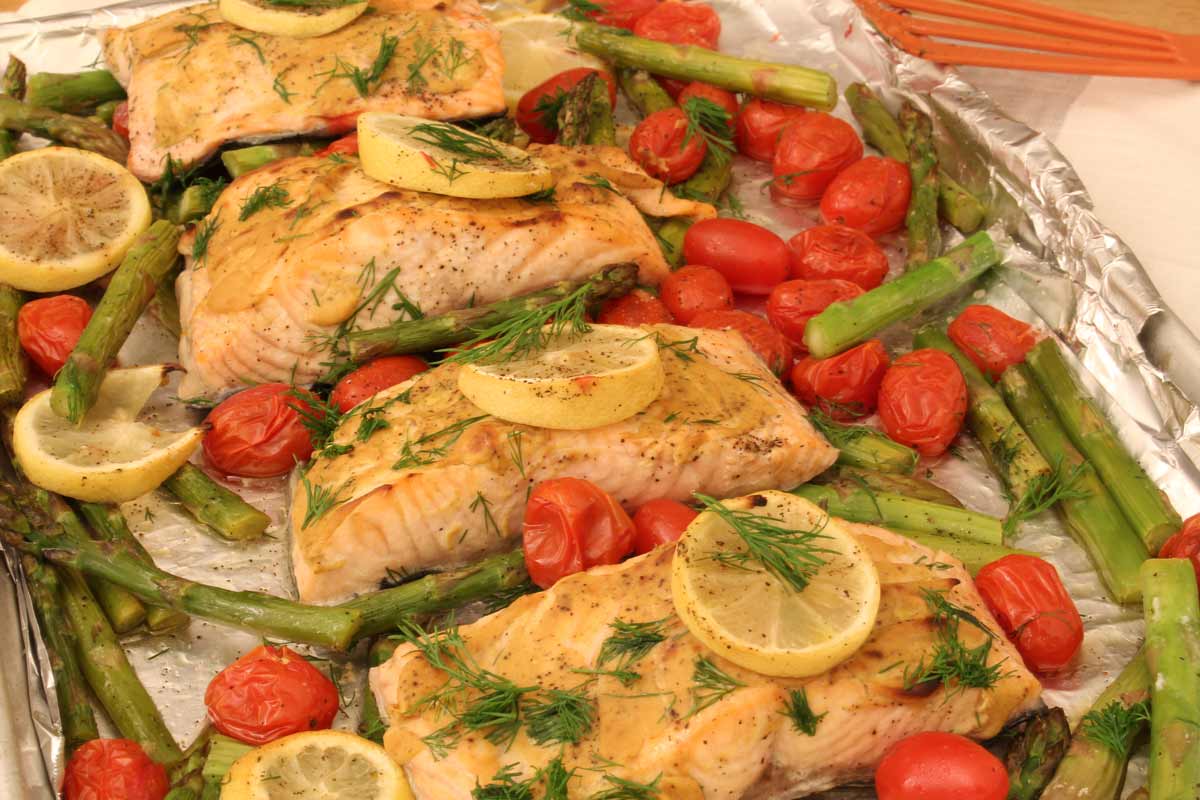 I love one sheet pan recipes! There are less things to clean and it's a drop and cook kind of recipe. This is a go to weeknight family meal that is so juicy with fun tang. The salmon is slathered with yummy Dijon mustard that when cooked flavors the salmon with a wine like rich flavor and keeps it buttery delish. Surrounding the salmon like proud soldiers are veggies that crisp up and join the one sheet pan fun. 
Salmon has a special place in my childhood memories (most memories are food related lol). Growing up my mom cooked one thing – mostly chicken. Monday through Saturday chicken and Chinese takeout on Sundays. But once in a while she would make salmon and it was always a special treat for us. Every time I make this recipe it reminds me of how excited we were for the rare salmon meal as a kid and it makes me smile.  
Grab your ingredients and follow along with the video!
---
One Sheet Pan Dijon Salmon with Asparagus Recipe
Serves 4
Ingredients
4 salmon filets
2 bunches asparagus, cut into large pieces
1 lemon, 1/2 for juice and 1/2 cut into thin slices
Handful fresh dill, chopped
1 pint cherry tomatoes
Salt and pepper
4 tablespoons dijon mustard
Extra virgin olive oil for drizzling
---
Instructions
Preheat oven to 400 degrees
On a sheet pan add asparagus, tomatoes and lemon slices. Drizzle olive oil, season with big pinches of salt and pepper and mix it up.
Add salmon filets skin side down on top of veggies. Squeeze lemon juice over filets, season with salt and pepper, spread a layer of dijon mustard on each filet.
Bake for 15-17 minutes
Enjoy!
TIP: How can you tell when salmon is done? Easy! Don't overcook it (err on the side of undercooking it) so when you test it with a fork it will easily break into flakes.
---
Let me know in comments below what veggies you would use or what recipes you want me to make next? 🙂
With a grateful heart and an amazing tummy – Jay
(Visited 1,714 times, 1 visits today)
Subscribe for tasty, free recipes!