Juicy buttery steak and crispy potatoes done in under 30 minutes is the perfect midweek steak dinner!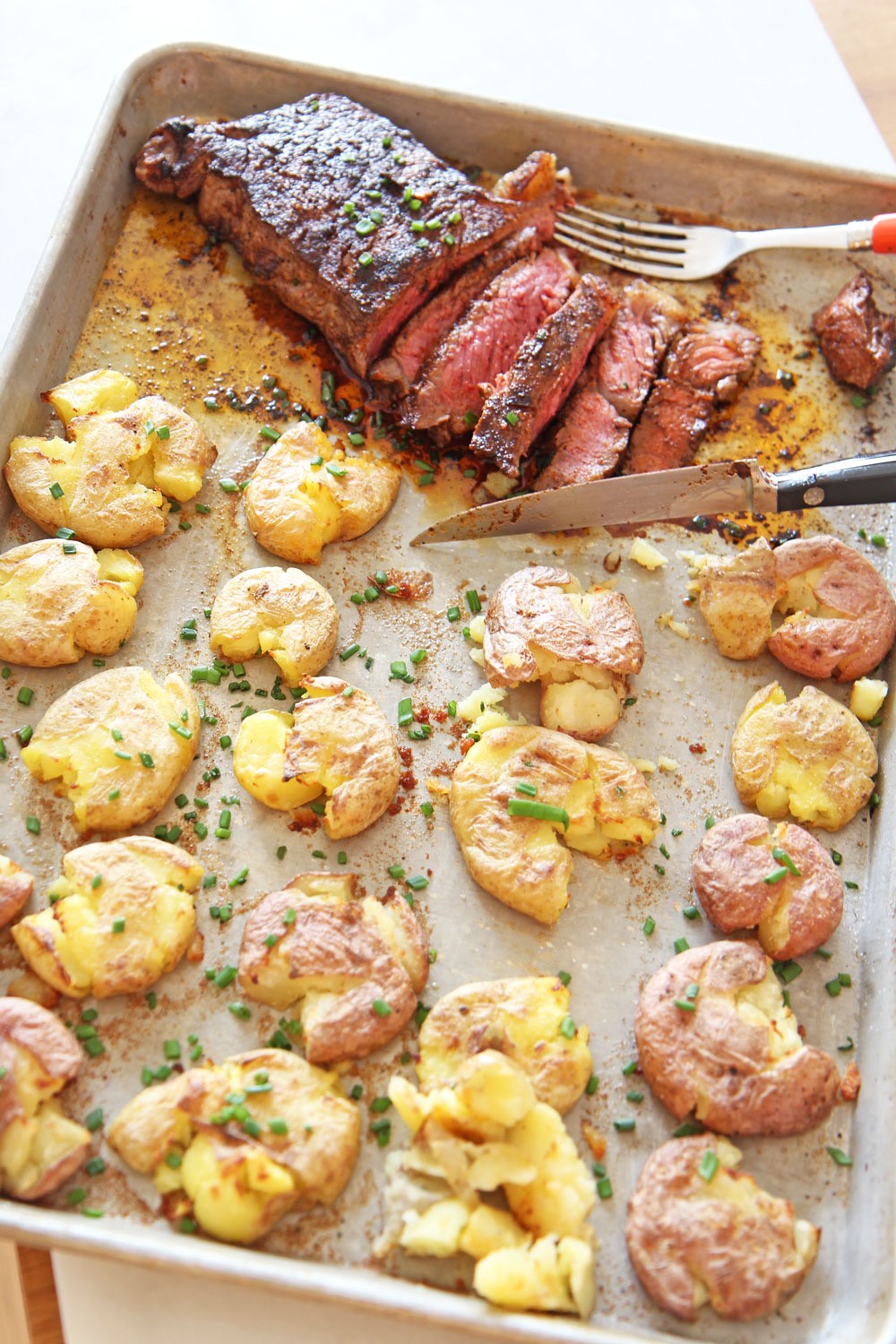 I love to surprise Tom with a steak and potatoes dinner during the week randomly! First of all steak makes him smile because its one of his favorite foods. Secondly its fun to be fancy in our pj's, eating a steak dinner mid week on the couch. Its my version of culinary self care! The only thing is we have to keep it a secret how easy this recipe is from Tom lol! He does not cook at all and thinks this takes a while to make. It actually is one of my easiest recipe! Boil potatoes for 11 minutes, smash, and cook on sheet tray 4 minutes per side.
We all sometimes wait for the big stuff to celebrate and forget to live in the now! Do not forget to find moments to reconnect with the now and celebrate the moment. This steak dinner is a way for me and Tom to randomly just have fun. We always try to find things to do that make us forget all the stuff going on and just enjoy! On a warm Sunday we will walk to Highline, date night Fridays at Cookshop, and random weekday eating dinner in front of the TV watching Bravo.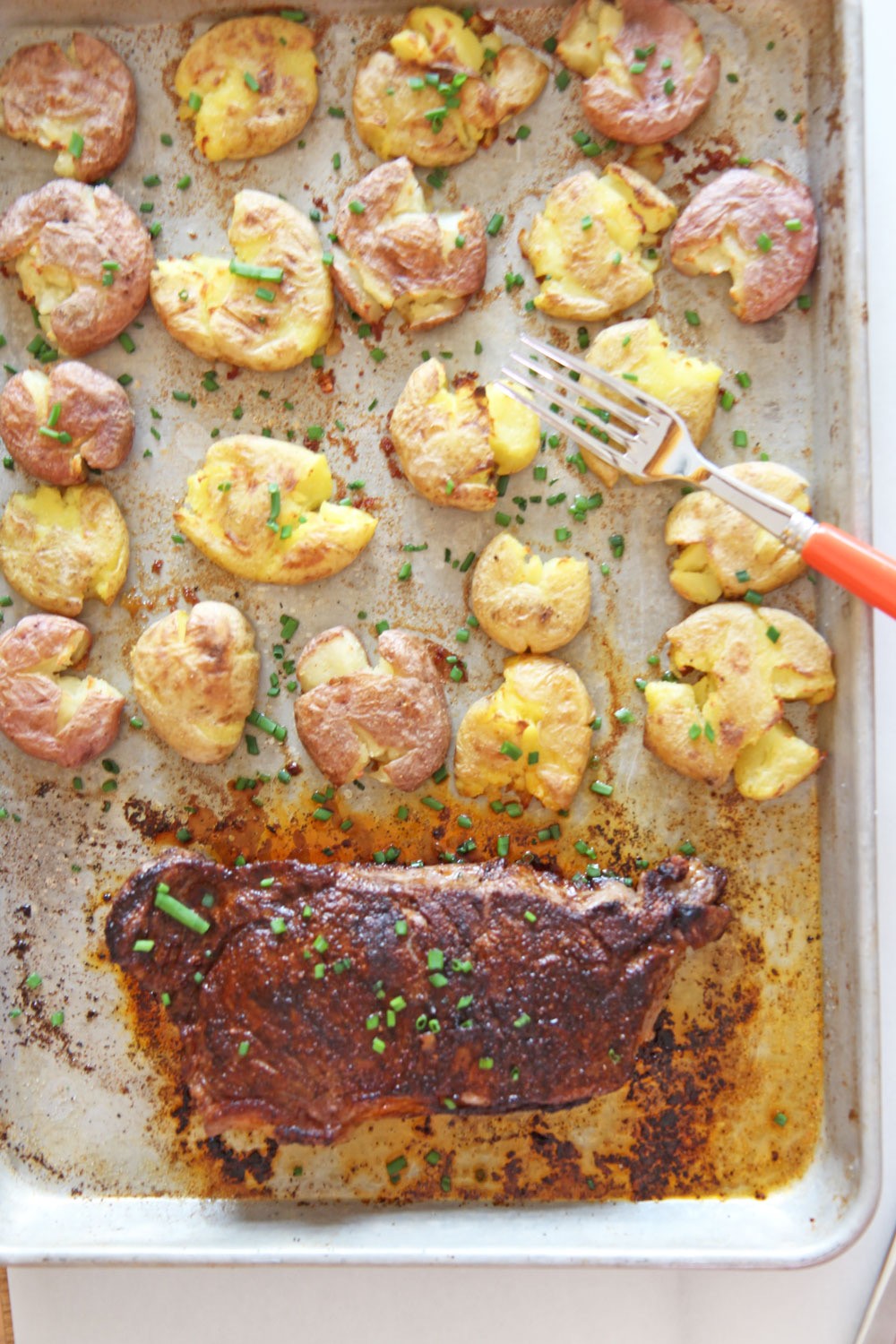 What are somethings you do to reconnect with the now? Who would you make this steak dinner for to tell them they are awesome? Sending you fun happy vibes to live life to the fullest and cook awesome meals fast. Cheers to recipes that celebrate you!
Hope you love this recipe as much as me and Tom do! Happy cooking!
Recipe Hack / Cooking Tips:
Buy small potatoes: The smaller the potato the faster it cooks. This make dinner happen faster and also makes sure potato is fully cooked.
Season the sheet tray: Spread oil, salt and pepper on bottom of tray. This will help make sure the food that touches sheet pan is properly seasoned.
Vegan or Vegetarian? Just use firm tofu in place of the steak and rub the chili powder all over tofu. Also use vegetable stock for the potatoes.


Things you will need:
Watch how to make this easy recipe: 
Sheet Pan Steak and Crispy Potatoes
Ingredients
Crispy Potato Ingredients:
2 pounds small Yukon gold potatoes
4 cups chicken broth (low sodium)
2 tablespoons salt
3 tablespoons extra virgin olive oil
1 teaspoon garlic powder
1 teaspoon salt and pepper
Steak Ingredients:
1 (1 inch) NY Strip steak
1 tablespoon chili seasoning
1 teaspoon salt and pepper
2 tablespoons extra virgin olive oil
Instructions
Preheat the oven to 500 degrees.

First, place the whole potatoes, chicken broth and 2 tablespoons salt in a pot. Turn to high and when the chicken broth comes to boil start timer for 11 minutes.

While the potatoes cook, pour 2 tablespoons of olive oil, a teaspoon salt and teaspoon pepper on the sheet tray. Smear all over the sheet pan so the bottom of potatoes season well.

Now, drain and place the hot potatoes on sheet tray. With the back of a cup or potato masher, lightly smash potatoes so flat but still intact.

Next, drizzle more olive oil, salt and pepper on top of the potatoes. Also, add 1 teaspoon of garlic powder to the top of the potatoes.

Now, drizzle olive oil salt pepper, and lots of chili seasoning on both sides of steak and place on sheet tray.

Finally, place sheet tray on top rack 4 minutes then flip steak and cook 4 more minutes for medium rare (5-6 minutes medium). Cheers to easy recipes that celebrate you!
(Visited 4,664 times, 1 visits today)
Subscribe for tasty, free recipes!