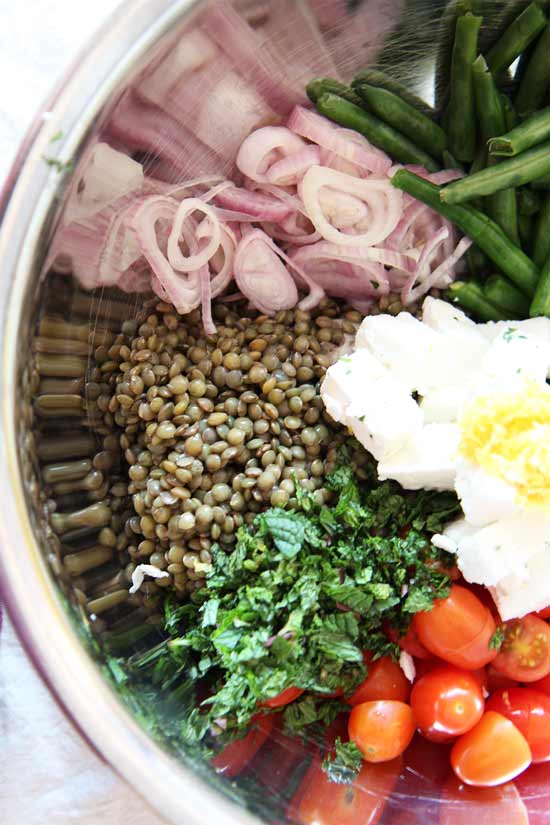 This is my summer in a bowl lentil salad recipe that will make any home cook smile. There is nothing more satisfying than a big hearty bowl of lemony summer lentils. This is dear to my heart because it reminds me of all the fun I had when I went to Paris with my friend Carol; we laughed so much and everything we ate was delectable! We clearly stood out like tourist with all the excitement we had. 
What makes French food so yummy, besides the glorious butter, are simple, fresh ingredients. This lentil recipe is very basic in technique but it seems fancier simply by adding the magic of cheese and citrus. This recipe is perfect for the busy home cook, and you will have leftovers for days. Each day the lentils sit in the fridge, the more herbaceous and lemony the lentils become! 
I am soo excited to have you try this and take a trip to Paris in a bowl.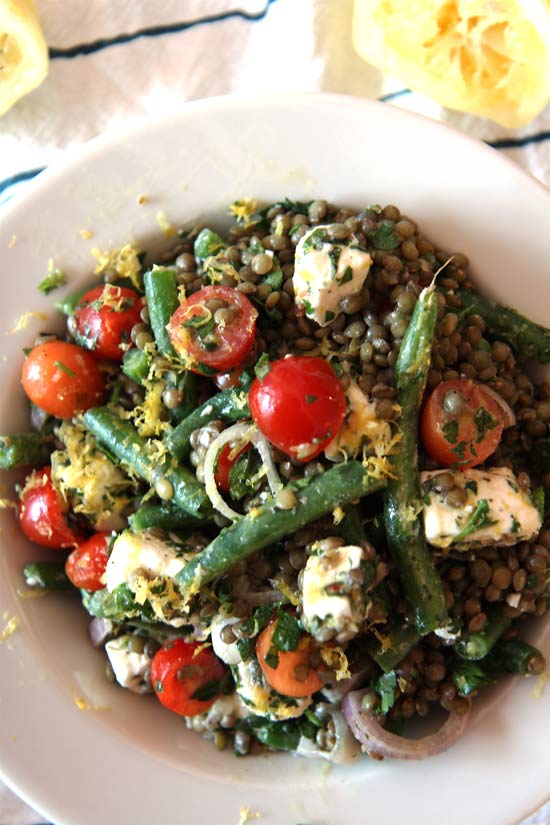 Tips for Happy Cooking: 
Grains like lentils are a busy home cook's best friend because they hold their shape and texture for a long time. You can boil lentils and put them in a ziplock bag and store in the fridge for a week. When you are ready to make the recipe, open up the ziplock bag, dump in the ingredients, and shake.

Fresh herbs in cold salad make the recipe fresh and that "wow" factor. For most cold salad recipes, add a handful of mint or parsley at the end and you will be a star cook.

Citrus always gives you a FREE ingredients! Always zest the lemon, lime or orange and add it to the recipe even if the instructions do not call for it. Any local store should have a microplane to make this easy. The zest has oils in it that will brighten your dish.

As always, these recipes are part of my mission to provide you with 2 goals:

1) To make amazingly simple homemade comfort food.

      2) To learn useful tips to make cooking fun.
---
Summer in Paris Lentil Salad Recipe
Ingredients
Salad Ingredients:
1 cup lentils (cook according to package instructions)
1/4 lb feta (cut in chunks )
1 handful mint (roughly chopped)
1 pint cherry tomatoes (cut in half)
1 handful parsley (roughly chopped)
1 cup green beens (cut in half)
1 shallot (diced)
1/2 tsp salt
1/2 tsp pepper
1 tsp red pepper flakes
1 clove garlic (grated)
Dressing Ingredients:
1 lemon (both juice and zest)
1/4 cup extra virgin olive oil
Instructions
Place all the salad ingredients from above in a big bowl.

Next add the juice of the lemon, lemon zest, and extra virgin olive oil in the bowl with the other ingredients.

Mix all the ingredients together.

Enjoy right away or can be refrigerated for 1 week.
Notes
Great make-ahead recipe
Add chicken or shrimp for a fun twist
Use any kind of lentils for this recipe
Your Dash Of Gratitude:

ANY QUESTIONS OR COMMENTS? COMMENT BELOW 🙂
With a grateful heart and an amazing tummy – Jay
(Visited 1,970 times, 1 visits today)
Subscribe for tasty, free recipes!