As if this drink couldn't get any better! Imagine if you were at a friend's home eating dinner and for dessert they show up with a frosty mug with ice cream on top. I actually might get up and do a happy dance and kiss my friend lol. I love creating food that gives you an instant comfort feeling and sends you straight to awesome childhood memories. Now to get you closer to those memories faster we added alcohol lol. During the holidays you can add candy cane to it or sprinkles on top for a birthday. This is such a fun drink even Debbie Downer herself will smile.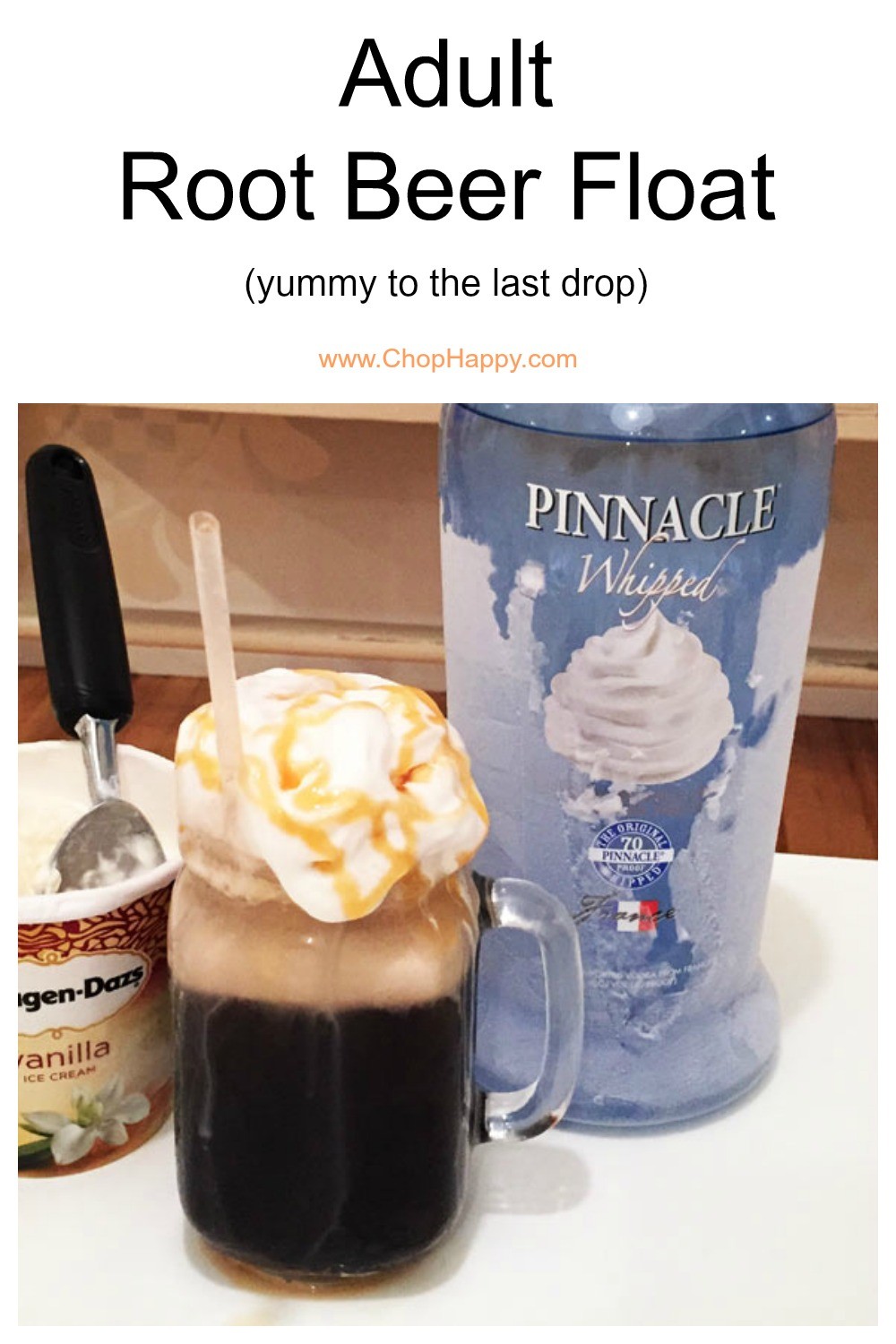 What foods or drinks bring you to an amazing place at childhood? Share your story below so we can all smile together.
---
Adult Root Beer Float Recipe
(2 – 3 per serving)
Ingredients
2 ice cold cans of Root Beer
4 to 5 "glugs" of chilled Whipped Cream Vodka per glass (cupcake or vanilla vodka will work great too)
1 scoop of vanilla ice cream per glass
Lots of whipped cream per glass
Carmel sauce per glass
---
Instructions
Fill your favorite glass almost to the top with sparkly (my childhood fave!) Root Beer
Add 1 …2 …3 …4 …5 "glugs" (that's a Chop Happy measurement lol) of the chilled Whipped Cream Vodka
Slowly add a scoop of ice cream on top – be really careful as it'll foam up if you go too fast! … and be prepared to slurp it up if it starts foaming 🙂
Add some dreamy whipped cream on top with a bit of drizzled caramel sauce for an extra punch of YUM!
---
What a delicious sweet root beer float to serve at your next party!  Did you love root beer floats as much as I did as a kid? Share with me your photos below of your tasty floats 🙂
With a grateful heart and a root beer tummy – Jay
(Visited 1,266 times, 1 visits today)
Subscribe for tasty, free recipes!