Is there anything better then bacon and pasta?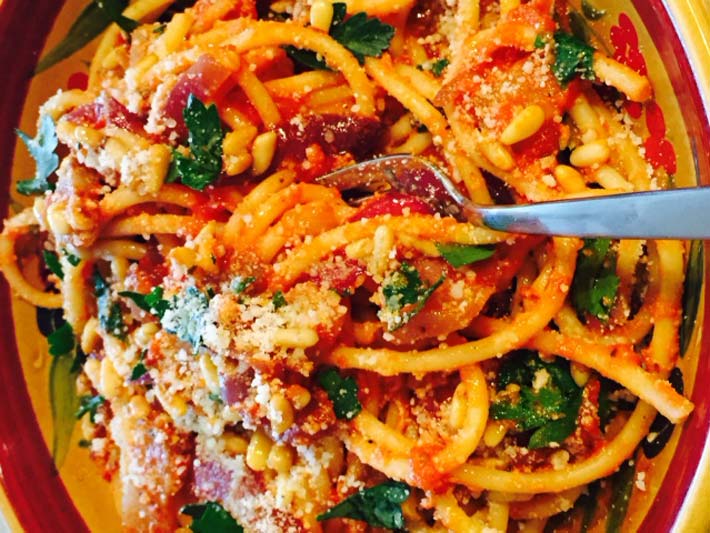 Just the idea makes my heart sing and my mouth water. I was first introduced to this by my best friend Carol. She used live in NYC and whenever she comes to visit we go to her favorite places. This Bucatini all' Amatriana (the proper name of this dish), was eaten on one of her visits when we went to Lupa (Mario Batali's restaurant). OMG when we ate this the people around us laughed because we were moaning on how good this dish is. Years later Carol came to visit for her birthday and we threw her a surprise party so I got to work on developing my own version of this dish. I think I made bacon history :-)! What I love about this dish is its simplicity. A couple of yummy salty and sweet ingredients paired with the spiciness of red and black pepper. It only takes a little longer then it does boil the water. Hope you make this soon and get to taste and smell the spicy and sweet tomato, salty bacon and silky pasta in your kitchen.
---
Bacon Marinara and Pasta Recipe
Ingredients
2 tablespoons of extra virgin olive oil
1 large red onion (Cut in half then in moon shape slices)
5 cloves of garlic sliced into nickel sized slices
1 teaspoon of red pepper flakes
1 teaspoon of dried oregano
1/2 teaspoon of black pepper
3/4 pound of Guanciale cut up into small (1/2 inch) pieces (you can also use pancetta)
1/4 cup of tomato paste
28 to 32 oz of your favorite marinara sauce
Handful (1/2 to 3/4 cup) of grated parmesan cheese
1 box (16 oz) of bucatini pasta
1/2 cup chopped fresh parsley
Handful (1/2 to 3/4 cup) of grated pecorino romano cheese
1 tablespoon of pine nuts toasted for a  minute in a dry pan on medium (for crunch)
Guanciale is an Italian cured meat prepared from pork cheeks – it's a smokier saltier cured Italian bacon found in most Italian grocery stores. Be sure to cut off the hard round area of the meat and discard.  This will make the Guanciale pieces render better. Also, if you use your own homemade fresh tomato sauce you can render out the sauce before you add the pasta.
---
Instructions
(Prepare the bucatini pasta ahead of time. Bucatini is a fatter spaghetti that is like a straw that soaks up the sauce.)
Large sauce pan or pot you would use to make sauce on medium-low heat
Pour in the extra virgin olive oil (about 2-3 swirls around)
Add the beautiful red onion slices, sliced garlic in nickel shapes, red pepper flakes for a bit of spicing up, Italian flavor master dried oregano, black pepper (Sorry salt pepper is in his solo career on this one), and guanciale pieces (Or pancetta).
Mix all the ingredients over medium-low heat (you will just smile from the smell of salty bacon and sweet onions of Italy and the spiciness of the red pepper)
Mix and cook the guancali till cooked through but not crispy approximately 15 minutes.
Now add the bright red tomato paste, mixing it for a minute (The tomato paste's concentrated flavor will add deepness to the dish)
Pour in your favorite marinara sauce and mix all the lovely ingredients together.
Sprinkle in a big handful of Parmesan cheese for the yummy salty cheesy flavor and mix in the ingredients
Add the cooked bucatini  pasta and mix it around until the pasta is covered with the sauce and has absorbed the spicy bacon tomato flavor (approximate 1 minute continually stirring).
For touch of freshness add the grassy green  parsley and also add the pecorino cheese to add another cheesy layer.
Finally add the toasted pine nuts (Optional). This adds a crunchy component that seals in the yum factor.
Plate and enjoy!
Cooking tip: Save your pasta water! If the sauce is too thick, just add a little water until you get the consistency you want. If you want to jooshe it up a bit (like I do 🙂 ) – sprinkle a little Parmesan cheese on the top.
---
Chop Happy is all about simple and smiles! Give it a try and share pictures of your tasty creation 🙂 With a grateful Italian heart and a bacon marinara amazing tummy – Jay
(Visited 2,413 times, 1 visits today)
Subscribe for tasty, free recipes!