Hi my name is Jay and I am dessert challenged. So if I make one for you to try, it is definitely going to be easy like Sunday morning and super yum.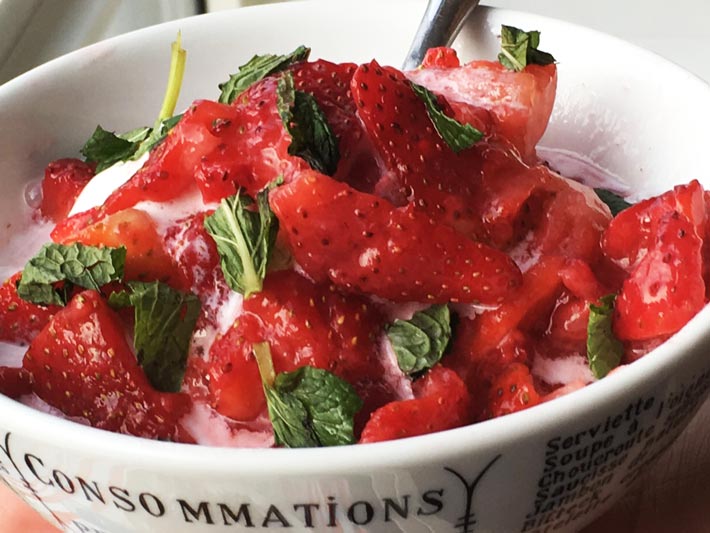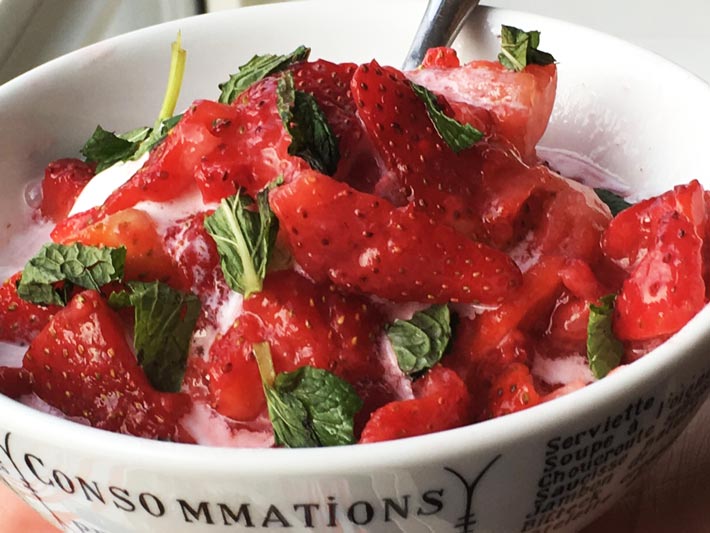 Until I met Tom I never ate dessert. I would choose a fried toothbrush lol over cake or candy. Tom has a huge sweet tooth. If it was up to him I would make beef dishes and dessert every day. Over the years I have grown to crave it and also grown to see the dentist more. Our favorite desert in NYC is Georgetown Cupcakes in Soho. They are soo yummy and moist with just the right amount of sugar. Even though I have a sweet addiction, I still rarely make dessert.
How this desert came to be :-)! We took a week off and went to the Hamptons in the beginning of summer. We went to this amazing farm called Round Swamp Farm in East Hampton. As we walked into this amazing farm I saw these beautiful red strawberries glowing and telling me to take them home. Immediately my mind said to make something with this. I have seen many versions of strawberries and balsamic on TV and wanted to create my own. The first time I made it I could not stop eating it. Boy the sweet and tangy with the amazing store bought whipped cream (I'm not Martha Stewart lol) was so good, but it was missing crunch (almonds) and refreshing tang (fresh mint from my backyard).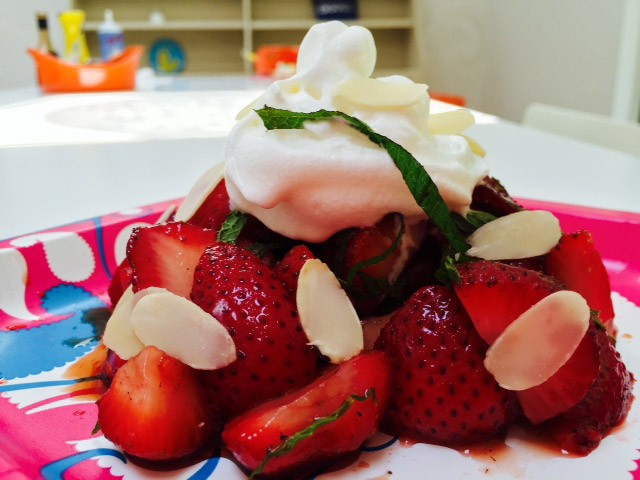 Now I have perfected it and it is so fun to make. My tip is cut up the strawberries, mint and set aside the day guests are coming or for you. Right before you eat dinner mix the strawberries, balsamic and sugar. Let it sit out for an hour or as long as it takes to make dinner. Then mix in mint, put on a plate – pour on top huge clouds of whipper cream and let it drizzle with almonds.
I hope you love this as much as we do. Leftovers go great over any kind of pound cake!
---
Balsamic Strawberries and Cream
Ingredients
1 pint of strawberries cut in half or 1/4
2 tablespoons of balsamic vinegar
2 tablespoons sugar (I recommend super fine sugar – but any will do)
Handful of fresh mint torn or cut into strips
1/2 cup slivered almonds or your fav nuts to garnish (big pinch per plate
Small pinch of fresh black pepper
Whipped cream to top!
---
Instructions
Mix mother nature's candy, strawberries with the tangy balsamic vinegar, sweet sugar and black pepper bite. Make sure you do this only one hour before eating.
Set the yummy mixture aside at room temp for an hour. This will break down the strawberries and create an awesome sauce.
After an hour – freshen it up with a beautiful refreshing mint.
Now scoop the strawberries on a plate dividing between 4 people and top with whipped cream and drizzle crunchy almonds on top.
With a dash of gratitude and a smile for life – enjoy!
---
What easy desserts do you love? Give it a try and share pictures of your tasty creation 🙂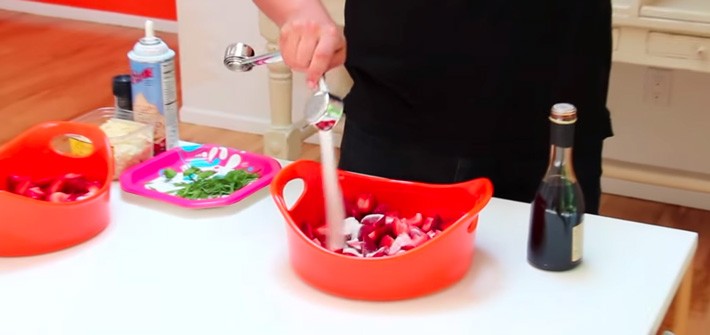 With A Grateful Heart and A Sexy Dessert Amazing Tummy – Jay
(Visited 811 times, 1 visits today)
Subscribe for tasty, free recipes!