The sun is shining, the smell of the ocean breeze, a iced cold cocktail and a simple sexy shrimp salad roll. Now that is an amazing day. For half the cost you can make your own shrimp salad roll and love the dream vacation even if in your back yard. Me and Tom go to the Hampton's on culinary adventures and when we are there the seafood is amaze!! I always feel inspired to recap those amazing taste bud feelings. This recipe does that and is quick so I can close my eyes and dream of the ocean. This was a created on one of my recipe tasting party and decided to test a shrimp salad. Everyone loved the great balance of mayo, spice, and yumminess.
I was not expected to get the blue ribbon from my friends but they all were loving on my shrimp salad so I knew something good was cooking. I tested all levels of mayo and lemon and think this one is a winner winner shrimp success. Watch the video below and see how fast you can have a amazing shrimp salad!
---
Beach Day Shrimp Salad Roll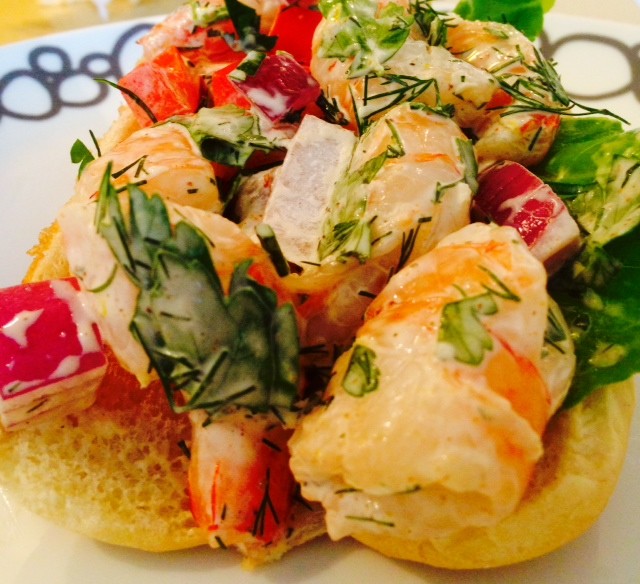 Ingredients
2 pounds of shrimp peeled and deveined (take the tails off)
2-3 tablespoons of olive oil
1 teaspoon garlic powder (optional)
3 tablespoons of mayo
1 1/2 teaspoons of old bay seasoning
2 garlic cloves grated
1/4 cup chopped dill
1/4 cup chopped parsley
1 teaspoon of white wine vinegar (optional but it elevates all the flavors)
1 bell pepper cut in small chunks
1 small red onion cut into small chunks
The zest of whole lemon and juice of half (Cut the remaining half into slices if anyone wants to add more on top)
Best Friends Forever: Big pinch Salt and Pepper
Hot dog rolls, dijon mustard for spreading on buns, and lettuce.
---
Instructions
Turn the oven on 400 degrees to preheat. On sheet tray mix shrimp, garlic powder, big pinch salt and pepper and olive oil. Now send the shrimp for a tan in the oven for 10 minutes. Cut into big chunks and set aside.
Time to get the dressing ready for the shrimp: Mix in a bowl the mayo, garlic, lemon zest and juice of half the lemon, big pinch salt/pepper, old bay and white wine vinegar. Mix well to combine and taste to make sure it taste as amaze as you want.
Now the shrimp gets it's makeover. Now add the shrimp, bell pepper, onion, dill and parsley and mix them all together and now the magic has been married together!
Pile high shrimp salad on a mustard drenched hotdog bun and lettuce and enjoy!
---
Enjoy the fun dish and please comment below on how yummy it is! Give it a try and share pictures of your tasty creation 🙂
With a grateful heart and a beach day amazing tummy – Jay
(Visited 1,078 times, 1 visits today)
Subscribe for tasty, free recipes!