Do you ever worry about burning your homemade garlic bread? Are there way too many steps with cutting down the middle, trying to cut it in half, wrapping it up in aluminum foil and still having it burn? Your homemade garlic bread dreams are about to come true!!! I have cut out all those annoying steps to make it easy and guaranteed not to burn. My friend Amy made a version of this on movie night and in 15 minutes we had the best garlic bread I ever had.  Oh my … the sharpness of the cheddar cheese … with garlic … and who doesn't love bread!?!  You've got to make this 🙂
---
Best Garlic Bread Ever! Recipe
Ingredients
1 French baguette with both ends cut off if does not fit on sheet tray (save the ends for croutons)
1/2 stick of salted or unsalted butter
3 cloves of garlic grated (or chopped finely)
Small pinch of pepper
Super small pinch of red pepper flakes (this is optional!)
1 – 8 oz block of Sharp white or yellow cheddar cheese sliced (I reccomend Cabot Brand Cheese)
Garnish with grated parmesan cheese or fresh chopped parsley (or both!)
---
Instructions
Preheat oven to 300 degrees
In a microwave safe bowl add the butter, garlic, black pepper and red pepper flakes – then microwave it for 30 seconds (add 5 seconds if needed until butter melts) – then stir the creamy butter mixture to combine all ingredients together
Using a knife (serrated knife if have) cut ~12 slits across the top of the bread –  but don't cut all the way, leave about a third left
Place the baguette on a baking sheet
Using a cooking brush (or just pour little in each slit) – paint or pour the butter mixture into the slits you made in the bread (don't forget the ends!).  Add cheddar cheese slices into each bread pocket or slit – ummm when it cooks it melts into the middle of the bread 🙂
Bake for 15 minutes uncovered then taking the bread out and while it's hot sprinkle parmesan cheese on the top
Enjoy by pulling pieces off to see the magic gooey garlic bread.
---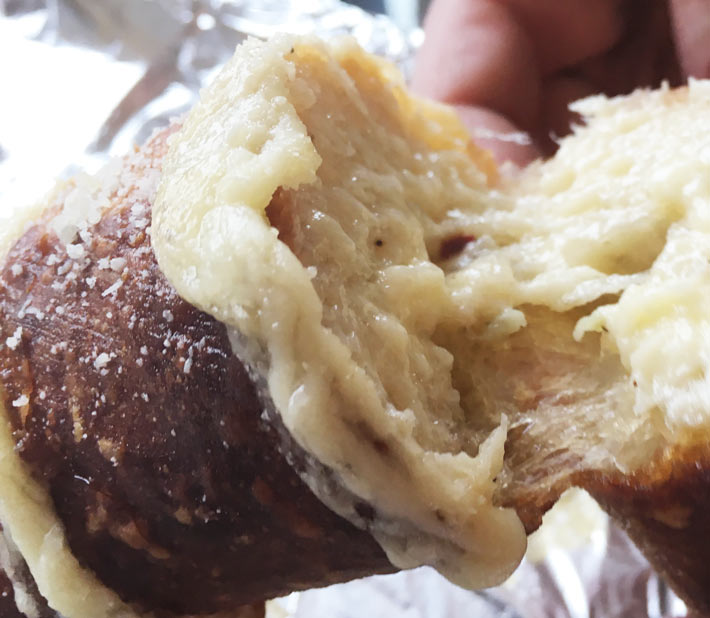 Who doesn't love bread!?! Give it a try and share pictures of your tasty creation 🙂
With a grateful heart and an amazing cheesy garlicky tummy – Jay
(Visited 1,254 times, 1 visits today)
Subscribe for tasty, free recipes!