Now close your eyes (actually keep them open so you can keep reading LOL), smell the ocean breeze, the salty air water hitting your face . . . then a magical person brings you a cold refreshing pineapple flavored drink.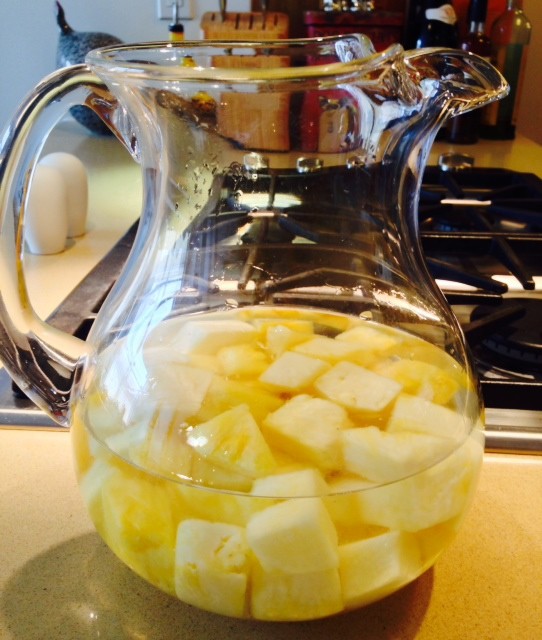 This is how I feel when I drink this vodka. I usually mix it with ginger beer and a splash of lime, but you get down with your bad self with your own mixer.
Wow how easy and soooo much better it tastes to make your own flavored vodka. The taste is not chemically like from the store and it is as easy as pour vodka over your favorite fruit. I was inspired by the idea to do this from the restaurants in Korean Town in NYC (were we live). They serve a Korean liquor called Soju (tastes kind of like vodka) and it comes in all kinds of flavors. In the jug they serve that fruit in the jug as if it had been dancing with the alcohol and made a a beautiful tasting treat.  So I went home and researched this online and found out this is sooo easy and that it really tastes better.
Watch the video below and in less then a minute you will be so inspired to make this amazing mixer. The fun is that the vodka will last over a year in the freezer and because it is alcohol – bacteria does not form so no canning procedures needed. Your guests will be wowed by the jug of vodka with beautiful colorful pineapples floating like proud moms of this flavor child.
---
Dream of Vacation: Pineapple Vodka
Ingredients
1 bottle of 80 proof vodka (use vodka you like to drink so it tastes good to you)
4 cups of cut into chunks Pineapple
---
Instructions
Drop the yellow filled flavor jam pineapple chunks into the jug
Pour the vodka on top to marry the two together so they can dance the flavor dance
Cover tightly and leave in the fridge for 4 days. Visit the vodka daily and give it a quick shake to mix the flavors.
If serving in 4 days you can keep the pineapple in with its BFF Vodka. If more then 4-5 days pour the vodka back into the original bottle separating it from the pineapple. The pineapple has fufilled its dream and it is time to throw the chunks out.
The vodka can be kept for up to a year. The best way always to store vodka is like my grandfather use to do in the freezer. Vodka does not freeze it just taste better super cold.
(Must Be 21 years or Older to Drink and please be responsible with drinking 🙂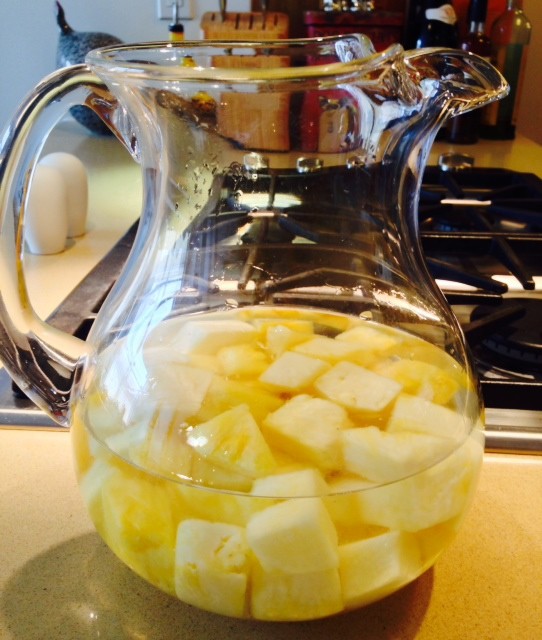 ---
I hope you love this easy drink as much as I do and please leave comments and SUBSCRIBE to this blog for some awesome fun new recipes! Give it a try and share pictures of your tasty creation 🙂
With a Grateful Heart and a Vodka Flavored Amazing Tummy – Jay
(Visited 760 times, 1 visits today)
Subscribe for tasty, free recipes!