Is handheld French onion soup possible? Absolutely! and it'll be ready in less time. It's a gooey, cheesy, crunchy sandwich with a depth of flavor that comes from the caramelized onions (that is so easy to make!).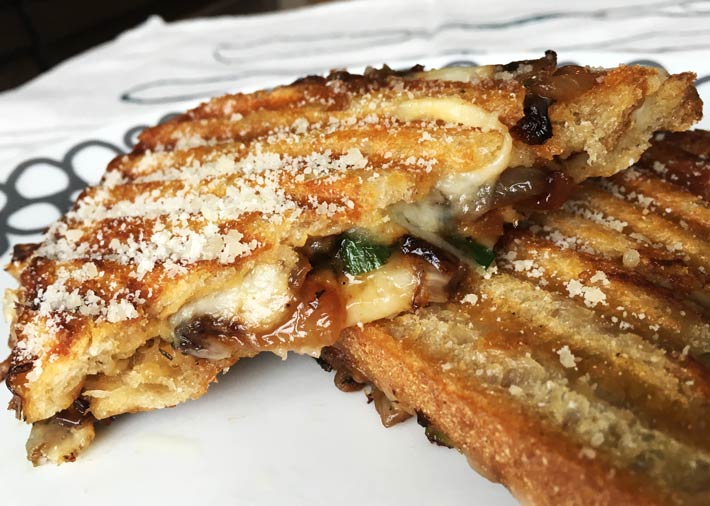 This recipe is dedicated to my Dad.  My Mom tells stories of how French onion soup was Dad's favorite comfort meal. When he finally got to visit France, with every meal he ordered French onion soup (and I mean every meal – even breakfast if he could)! I loved him very much and he would have loved a handheld version of this treat.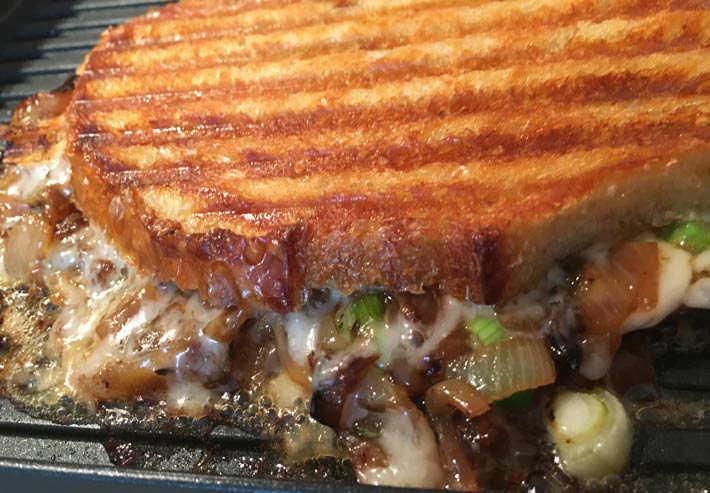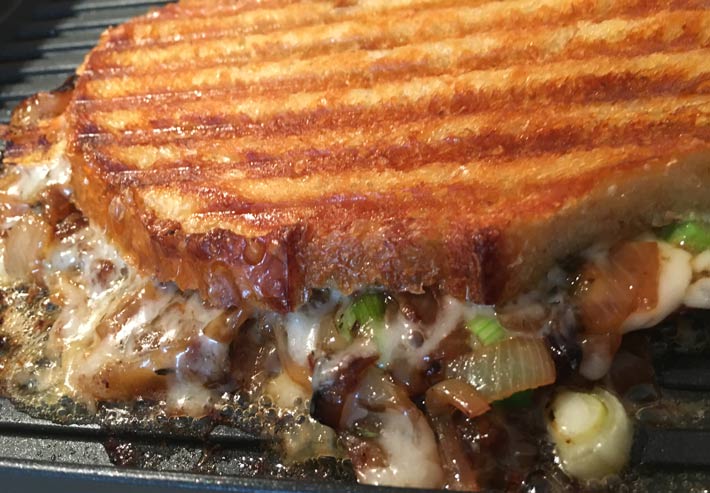 If he knew how easy it was to make caramelized onions, he probably would have tried to make this recipe himself. 🙂
---
French Onion Soup Grilled Cheese Sandwich Recipe
Makes 2 sandwiches
Caramelized French Onions Ingredients
2 large Spanish onions cut in half moon shapes
1 tablespoon fresh thyme (or 1 teaspoon dried)
1 bay leaf
1 big pinch salt and pepper
1 small pinch red pepper flakes (~1/8 teaspoon)
3 tablespoons butter
Extra virgin olive oil (2 swirls around pan)
Grilled Cheese Ingredients
4 slices of sourdough bread (sliced ~1/2 to 1 inch thick)
2 cups of grated Gruyere Cheese (1 cup per sandwich)
4 teaspoons of Dijon mustard (~1 teaspoon per slice)
4 scallions chopped finely (both white and green part)
Lots of butter (at room temperature)
---
Instructions
Prepare the caramelized french onions first! (preheat a pot on medium-low)

Peel and cut the onion in half and slice into half-moon shapes and set aside
Swirl olive oil 2 times around the pot
Add 3 tablespoons butter, sliced onions, small pinch of red pepper flakes, big pinches of salt and pepper, bay leaf and fresh Thyme.  Mix, cover and cook for 10 minutes.
Now uncover, stir and cook for another 10 minutes. Stirring a more few times as the onions start to caramelize.

Now it's time to make the grilled cheese sandwiches!

Preheat panini press on high (or a saute pan on medium heat)
Generously butter one side of the sliced bread and then spread the other side with dijon mustard for both pieces of bread (mustard on the inside for flavor – and butter on the outside to help toast the bread!)
Let's assemble the sandwich!  Place a piece of bread mustard side up to start assembling (the other slice of bread leave aside until you layer the ingredients)
Add 1/2 cup of Gruyere cheese first onto the mustard covered bread, then 1/2 the caramelized onions spread all around, now a sprinkle of scallions for crunch and finally another 1/2 cup of cheese on top.
Now put the other piece of bread on top closing the sandwich (mustard coated side down kissing the onions, cheese and scallions) – (butter coated side of the bread on the outside!) – repeat the same steps for the second sandwich.
Place both sandwiches on the hot panini press, close the lid and grill for 3 minutes. (If you don't have a panini press you can do this in a saute pan on high about a minute on each side until you get golden brown crusts.)
Remove the cheesy sandwiches and sprinkle a little bit of parmesan cheese on top – let them rest a minute so all the ingredients stay in the sandwich when you cut it in 1/2 and enjoy!
Tips for perfect grilled cheese sandwiches

Make sure bread is not too thick! With the cheese, onions or prosciutto – the bread should be no more than 1/2 inch thick at the most. If you add a chicken cutlet or meatballs – the bread should be ~1 inch thick.
Make sure to butter generously on both sides of the bread for a golden crust (you could replace the butter with mayonnaise if you'd like too)
The best bread for grilled cheese is sourdough! The little holes allow just enough cheese to peak through and say eat me! 🙂 It also has a nutty flavor and toasts well.
---
Give it a try and share pictures of your tasty creation 🙂
With a grateful heart and an amazing grilled cheese tummy – Jay
(Visited 2,038 times, 1 visits today)
Subscribe for tasty, free recipes!