Ready to refresh your Holiday or dinner sides with this juicy, fool-proof cheesy fun? This side combines the best of both the sweet roasted tomato flavor and the cheesy comforting feel of scooping your spoon into a warm soup. It also so quick to prepare in good old Chop Happy style you will be filled with gratitude and smiles.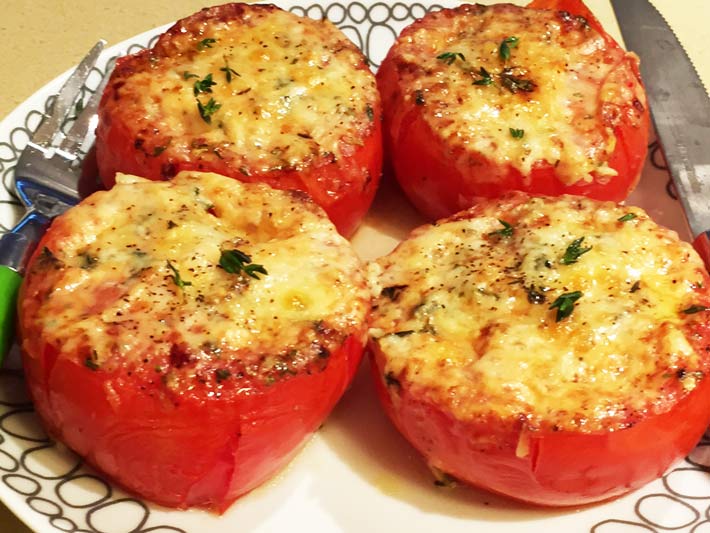 This recipes is dedicated to my Dad who loved french onion soup! My mom would tell me when they were finally able to get to Paris my Dad ordered french onion soup every day. I love that soup, but wanted to find away to make it more accessible and quick that can be on your plate! I actually leave the inside of the tomato in and don't scoop it out because when it cooks in the oven it gets a yummy juicy sweet burst in every bite combined with the cheesy top. You may also be saying where are the onions in this recipe? I tested it with onion powder, cut onions and other variations – but it tasted more authentic just like it is below lol!
Watch the fun video to see the ease and simplicity of this – bursting with flavor dish – and I look forward to hearing your comments below on your French food memories and fun ideas!
---
French Onion Soup Tomatoes Recipe
(Serves 6)
Ingredients
6 fresh vine tomatoes (or any of your favorite type) – chopped a little off of the top and bottom
Extra Virgin Olive Oil – enough to drizzle over the tops of the tomatoes
Salt and pepper (best friends forever!)
2 teaspoons of chopped fresh thyme
2 teaspoons of dried garlic powder
4 cups of shredded gruyere cheese
---
Instructions
Preheat oven to 425 degrees
Place the tomatoes on a foil-covered baking sheet
Drizzle the rich fruity olive oil over the tops of the juicy tomatoes
Season with a three-finger pinch of pepper and salt (BFF's)
Cooking Tip – hold your "pinched" hand up high over the tomatoes so you can get a nice even distribution of the BFFs! 
Add a 1 teaspoon of the lemony thyme (save the other 1/2 for later) and sprinkle the garlic powder all over the top of the tomatoes
Now comes the best part of French Onion Soup =-) … add a big handful of the nutty creamy gruyere cheese to each tomato – OMG excited!
Drizzle a little of the extra virgin olive oil to get a wonderful brown color when baking (just like the topping on the french onion soup) – and then add the remaining 1/2 teaspoon of the thyme on top for a pop of color and herbaceous goodness
Bake for 15 minutes on the top rack of your oven
So easy and quick!  The tomatoes will be nice and juicy-sweet inside and topped with nutty cheese and the lemony thyme – a perfect mix of flavors in every bite!  Enjoy 🙂
---
Close your eyes at every bite and dream of eating this on the lawn of the Eiffel tower! Let me know how they turn out 🙂
With a grateful sweet tomato heart and a nutty cheese tummy – Jay
(Visited 1,517 times, 1 visits today)
Subscribe for tasty, free recipes!