You will never go back to chips in a bag! These are a  "crunchy ROCK YOUR WORLD potato chip dream" that are so easy to make.
I am a potato-holic with dreams of a land filled with potatoes and a sea that leaves chips ashore. I have no self control when it comes to snacks. In fact by the time I took the picture for the blog the chips were half gone LOL. You don't need a mandolin for this recipe and the cost is sooo small as you just need two baking potatoes. Wait until you see the look on your friends faces as you offer them chips and pull this out – they will talk about how cool you are to everyone!
---
Homemade Parmesan Potato Chips Recipe
Ingredients
2 baking potatoes
3 Tablespoons extra virgin olive oil
1 Tablespoon of salt
1/4 cup parmesan cheese (plus a little extra)
4 chives – chopped
---
 Instructions
Pre-heat oven to 400 degrees
Cover two baking sheets covered with parchment paper or non-stick foil
Chop chives
Slice potato into thin chip like rounds – they should be so thin you can almost see through them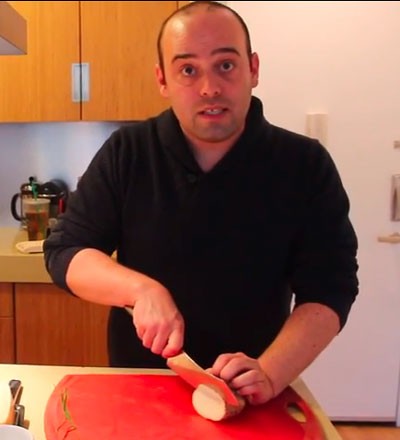 Place on one of the baking sheets
Mix in olive oil, salt and parmesan cheese
Lay the potatoes on the baking sheets separated so they don't touch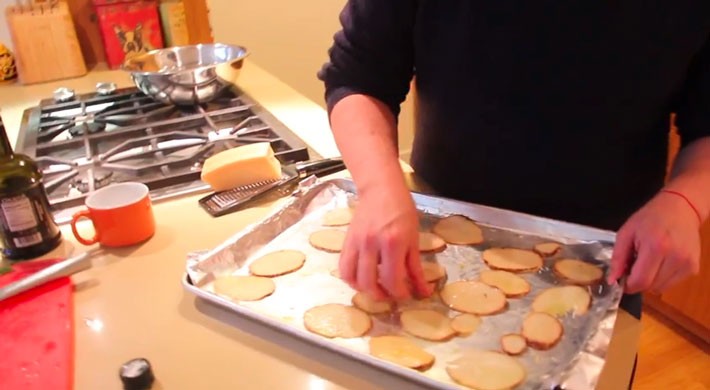 Bake for 20 minutes or until they are crispy
Remove from oven and sprinkle with parmesan cheese and chives
---
These potato chips I LOVE! – so crunchy wow! Give it a try and share pictures of your tasty creation 🙂
With a grateful heart and a potato chip amazing tummy – Jay
(Visited 846 times, 1 visits today)
Subscribe for tasty, free recipes!