Every time I drink sangria I immediately get transported to a beach somewhere with the sun beaming on my face. I taste the strawberry and mint dancing in the wine and inviting me to the party. The recipe has a minty sweet flavor dancing with iced cold refreshing fruity strawberry mixed in. I am so excited to show you this recipe and I hope it makes it your pool parties and fun get together.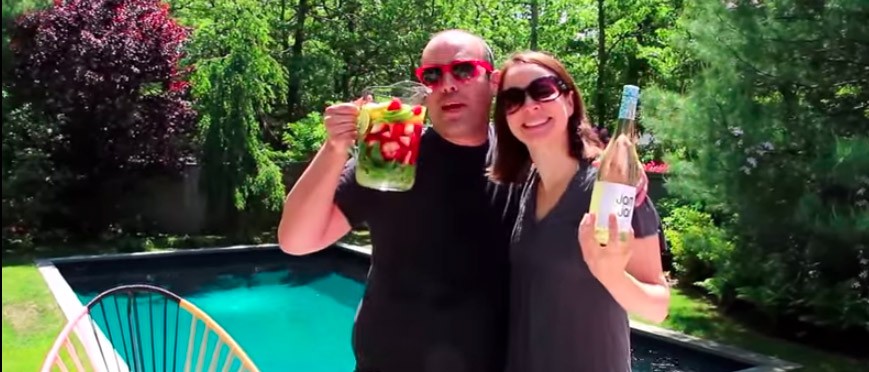 This is my, "oh no we have a last minute guest" or "I need an easy 2 minute cocktail to make 1x for a bunch of people." I love sangria and if you are following me in Instagram it's my most posted drink. I like to keep all my recipes simple and this is all about dump -and pour -and drink. I love that saying so much (dump-pour-drink) I might put that on a T-shirt lol. Most sangria recipes require a lot of soaking of the fruit and wine, not this one :-). Also most require you to plan ahead. This one is great because you can make it 2 minutes before guests arrive.
---
Last Minute Strawberry Sangria
Ingredients
2 bottles of Pinot Grigio or sweet white wine
1 pint of strawberries cut into quarters
2 lemons (1 lemon cut into think slices/ 1 to squeeze into the sangria)
2 limes (1 lemon cut into think slices/ 1 to squeeze into the sangria)
3 tablespoons of superfine sugar or honey
Big handful of mint (hand torn)
---
Instructions
Put in the bottom of a big jug, the refreshing mint, lemon and lime juice, and sugar. Now cooking therapy: with back of spoon or muddler smash it up to release the yummy juices and get your happy on.
Pour in the liquid of love, the wine 🙂 and then cut lemons and limes and let them join the party.
Mix and enjoy by poring into big tall glasses with lots of ice.
Refill Tip: Have extra bottles of wine and lemon and limes. When everyone drinks the sangria pour more wine into the jug with leftover fruit and add more lemon and limes juice and you have a second batch!
---
What do you put in your sangria and any fun sangria tips for all of us please comment below??
Give it a try and share pictures of your tasty creation 🙂 With a grateful heart and a sangria amazing tummy – Jay
(Visited 1,081 times, 1 visits today)
Subscribe for tasty, free recipes!