Want a "ready set done" fast dessert without having to work too hard? I love tasty recipes like this that are no work.  No turning on the stove, just smash and stir and you have a fresh fruity topping.  This sauce is super talented because you can to put it on ice cream, pound cake or eat it by itself.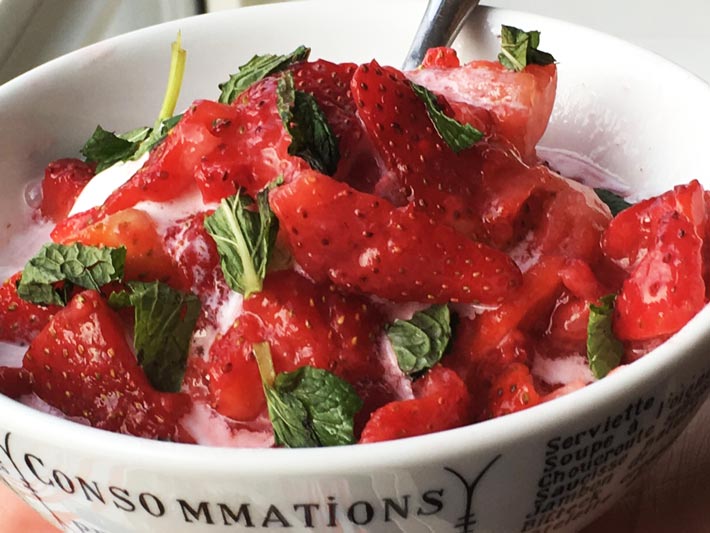 I love watching cooking shows where they show you how to reduce the strawberries – boil and let it rest.  I am too impatient to wait for all of that!  so here is my fast version.
---
No Cook Strawberry Sauce Recipe
Ingredients
1 pint strawberries, remove leaves and cut into quarters
2 tablespoons orange liquor (or balsalmic vinegar)
2 tablespoons superfine sugar
For garnish, fresh mint chopped, sliced almonds or whipped cream (optional)
---
Instructions
Smash strawberries in bowl for less than a minute. Mix in orange liquor and sugar. That's it!
Plate and garnish
Serving Tip: You can use this as an ice cream topping, add some whipped cream, put it on pound cake or eat it by itself.

For another fun version of this treat – check out my Spiked Raspberries and Whipped Cream (Raspberry Fool) recipe.
---
Happy dessert eating! Give it a try – what's your favorite way to this sauce? 🙂
With a grateful strawberry heart and an amazing tummy – Jay
(Visited 670 times, 1 visits today)
Subscribe for tasty, free recipes!