Ready to eat like a New Yorker without visiting the city of amazing food? The best part of this recipe is you probably already have the majority of the ingredients on hand!
This recipe was inspired by my love of my city (NYC). When I thought up this recipe I wanted you to be able to experience what it's like not only to eat NYC like pizza in (quiche form), but feel like you are in the pizzeria. The herbs and seasonings are the same as the ones you find on the pizzeria wooden counter that you can choose to top your pizza. I hope you love this as much as me and Tom do. Everyone I make this for begs for more!!!
I am so excited to get you a standing ovation in your own home!
---
NYC Pepperoni Pizza Quiche Recipe
Ingredients
1 store bought quiche shell (or pie shell)
5 eggs
1/2 cup heavy cream
1 cup of shredded mozzarella
1/4 teaspoon red pepper flakes
1 tablespoon garlic powder (or 1 garlic clove grated if you want but powder works better)
1 tablespoon dried oregano
22 small pepperoni slices (12 pepperoni slices cut into small slices – and 10 more to top the quiche before it goes into the oven)
1 pint of cherry or grape tomatoes cut in half
Big pinches of salt and pepper
5 heaping tablespoons grated parmesan
10 basil leaves cut (see video for a great tip on cutting fresh basil 1/2 in the mixture and 1/2 to top!)
---
Instructions
Preheat oven to 350 degrees
Prepare the custard and mix in the herbs first!

Whisk the eggs in a large mixing bowl – then mix in the heavy cream
Add the red pepper flakes, garlic powder, oregano, 3-finger pinch of pepper and 4 tablespoons of grated parmesan cheese – OMG it smells like a pizzeria in your kitchen!  Mix up the herby custard and set aside 🙂

 Time to fill the shell!

Cover the bottom of the shell with the creamy dreamy mozzarella
Evenly distribute the quartered pepperoni, 1/2 of the shredded basil and the sliced tomatoes.
Season with a 3-finger pinch of salt the tomatoes – this will intensify the rich flavor of the tomatoes
Pour in the custard – herb mixture into the filled pie shell
Put the remaining slices of pepperoni on top – just like a pizza pie! … and finish off with sprinkling on the remaining tablespoon of parmesan cheese

Bake for 40 minutes (keep the quiche uncovered)
Remove from the oven and add some freshness by topping it off with the remaining 1/2 of the shredded basil
Slice the cheesy "ummm so NYC good!" quiche and enjoy 🙂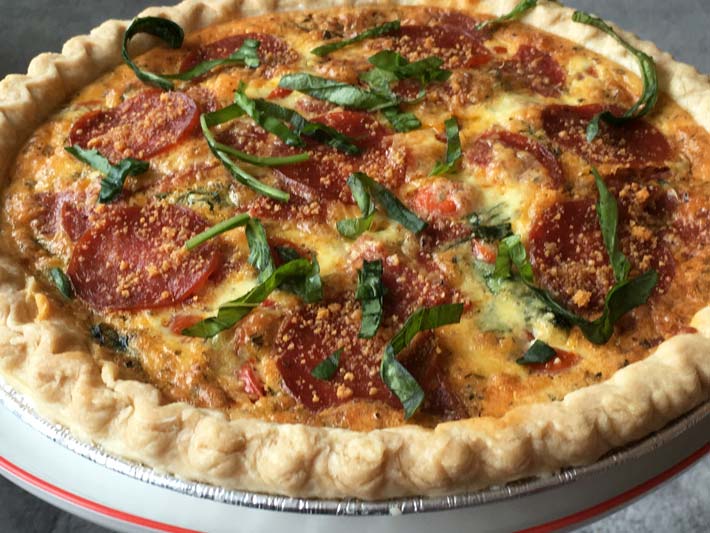 ---
When you visit New York City my top 3 recommendations for pizza places are:
Give it a try and share pictures of your tasty creation 🙂
With a grateful pizza heart and an amazing quiche tummy – Jay
(Visited 2,707 times, 1 visits today)
Subscribe for tasty, free recipes!