Everyone loves Pizza! I created this recipe because not many people want to make fresh dough or roll out store bought dough.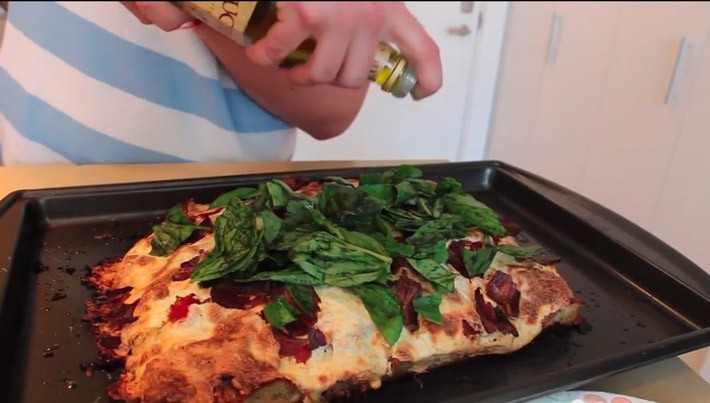 Focaccia bread became the star. Living in amazing NYC the kitchen is small and my dog Charlie is always by my side. Rolling out the dough and flour flying to the floor equals a furry floury Charlie lol! Thank you Tom (a super novice in the kitchen who really only makes wonton soup –  which by the way is amazing) for joining me in the kitchen to cook. This is such a fun thing to do on a Saturday or Sunday night with the whole family!
---
Bacon Pizza on Focaccia Bread Recipe
Ingredients
1 medium sized Focaccia Bread from bakery or super market
1 28 oz can of whole tomatoes (recommend San Marzano Whole Peeled Tomatoes)
1 mozzarella ball (if you like a lot get a big one – if less get a small one)
1/2 teaspoon of red pepper flakes
2 to 3 cloves of garlic
5 t0 10 basil leaves (hand-ripped)
1 Tablespoon dry oregano
Extra Virgin Olive Oil
4 to 5 pieces of cooked bacon (or you can get pre-cooked pepperoni)
1/4 cup grated parmesan cheese
Pinch of salt and pepper (best friends forever)
---
 Instructions
Pre-heat over to 450 degrees
Fry the bacon
Drizzle olive oil on cooking sheet and place Focaccia Bread
Next, drizzle a little more olive oil on top of the Focaccia Bread and spread it out using a brush
In a bowl squeeze and drain tomato juice from the tomatoes and place drained tomatoes on top of the Focaccia Bread (use as many tomatoes as you like)
Chop garlic and sprinkle on top of the Focaccia Bread
Couple pinches of red pepper flakes and dry oregano sprinkled on top of the pizza
Tear up pieces of mozzarella and place on top along with the chopped bacon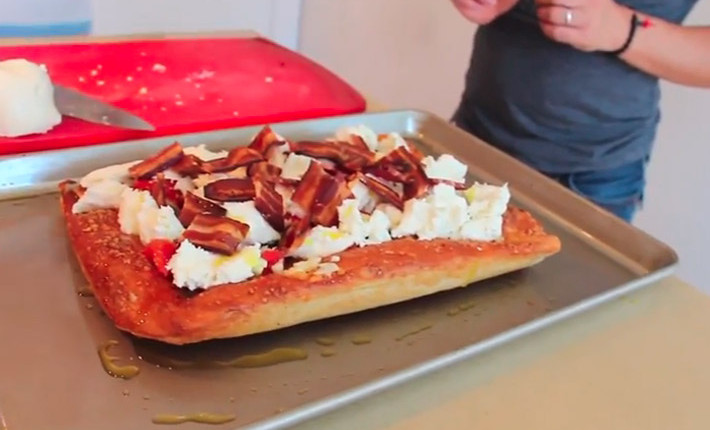 Drizzle olive oil on top
Put in the oven for 30 minutes to cook
Once your pizza is cooked – tear up the basil and spread it on the pizza
Drizzle olive oil on top followed by a sprinkle of salt
Grate parmesan cheese (or sprinkle pre-grated) over the top
 LEFTOVER REMAKE TIP – save the rid of your fresh parmesan and freeze it and next time you're going to make soup, add the frozen rid to the mix for a yummy parmesan flavor.  Remember to take it out before you serve the soup :)!
---
Easy and amazing pizza! Give it a try and share pictures of your tasty creation 🙂
With a grateful heart and a yummy tummy – Jay
(Visited 458 times, 1 visits today)
Subscribe for tasty, free recipes!