Calzone and quiche had a baby and made an easy winner! In 20 minutes you are eating a homemade takeout dinner.
This is a great brunch, lunch, or dinner masterpiece! The explosion of spicy pepperoni, salty parmesan, and sweet basil wrapped in a puff pastry package is magic in your mouth. Picture this wonderful idea! Your loved one wakes up on a crisp Saturday morning to the smell of puff pastry and salty cheese baking. This is sure to give them a smile and get you a long good morning kiss. It will be our secret that all you need to do is mix and fold to make this wonderful masterpiece. Another fun thing is that you can make and assemble the whole thing the night before and put in the refrigerator. Take the cold yummy package out and right into a hot oven!
Puff Pastry Calzone
Ingredients
2 sheet puff pastry (cold but defrosted)
1 cup mozzarella (shredded)
1 cup salami (chopped)
1/2 cup pepperoni (chopped)
1/4 cup prosciutto (chopped)
3 eggs (1 for egg wash and 2 for filling)
2 cups ricotta cheese
10 basil leaves (chopped)
1 handful fresh parsley (chopped)
2 tablespoons fresh oregano (chopped or 2 teaspoons dried)
2 cloves garlic (grated or chopped finely)
1/2 cup Parmesan (grated)
1 teaspoon pepper
1/2 teaspoon salt
1/2 teaspoon red pepper flakes
Instructions
Preheat oven to 400 degrees.

First, in a bowl combine ricotta, 2 eggs, basil, parsley, oregano, garlic, Parmesan, red pepper flakes, salt and pepper.

Next, add the mozzarella, salami, pepperoni, and prosciutto to the cheese mixture and mix.

Now, lay out two puff pastries and roll out 1/2 inch both sides.

Next, divide cheese mixture in two and place 1/2 ricotta mixture on one half the puff pastry and other half on other puff pastry (see video).

Fold the pastry over and seal edges. Place on parchment paper lined sheet tray.

Now, brush a beaten egg on top of both calzones.

Bake for 20 minutes on middle rack.

Enjoy and happy eating!
IMPORTANT NOTE – Cook for happy success by preparing the Italian Glue first and then work with puff pastry while the pastry is still cold. If you are not ready for the pastry (after it's been defrosted) go ahead and put it in the refrigerator to chill out until it fills it's yummy destiny!

This is also a great "make ahead" recipe as it can be left in the refrigerator wrapped up for a day before you bake it off!
Instructions
Pre-heat oven to 400 degrees
Mix all the beautiful and fabulous ingredients together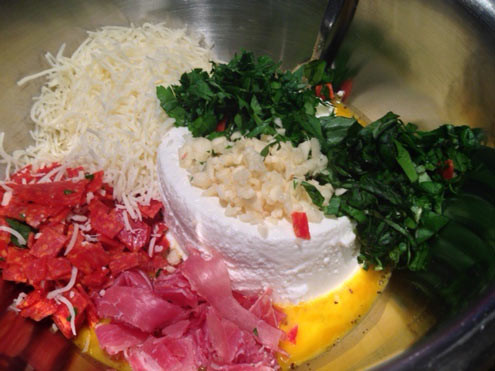 Place on one half of puff pastry leaving 1 inch boarder to seal edges.
Now like a famous painter, paint some egg wash around all the boarders of the puff pastry to form an edible glue to hold your wonderful creation together.
Carefully fold the empty half of the puff pastry over the other and seal like a triangle package pressing on the edges.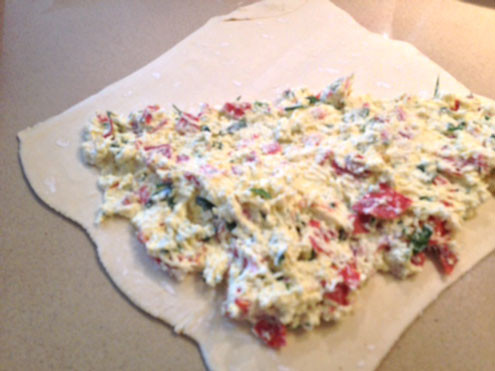 I have made this several times and if it does not fold as happily into a triangle just just move the cheese to the center and fold all edges to center and seal just as tasty!!! 
Slather on more egg wash as if you are putting sun tan lotion on at your five star resort vacation.
Using a knife make three peekaboo slits into the top of pastry so steam can get out!
Place on a parchment paper lined baking sheet (or non-stick foil is how I roll)
Bake for 30 minutes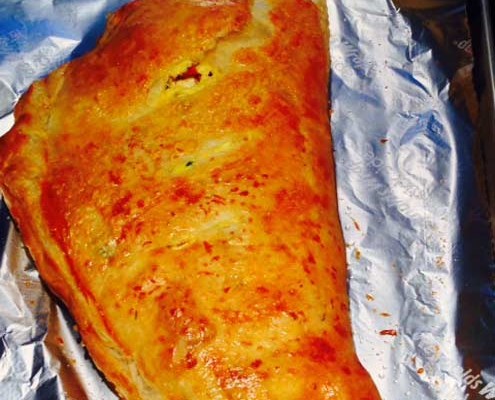 When it comes out and you take a bite – music will appear and everything will be yummy with the world!!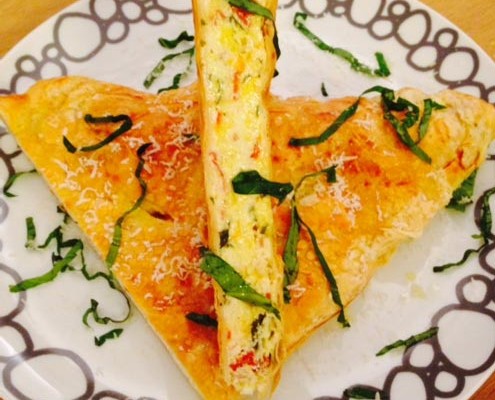 ---
This is a great brunch, lunch or dinner masterpiece! Give it a try and share pictures of your tasty creation 🙂
With a grateful heart and a yummy puff pastry pizza tummy – Jay
(Visited 3,118 times, 1 visits today)
Subscribe for tasty, free recipes!