Get ready for a hearty cheesy and creamy lasagna that is filled with such yumminess that it's for a veggie lover and meat eaters alike (because they won't miss the meat we promise)! Chop Happy is all about easy, fun recipes with a dash if gratitude so you love cooking and are always successful!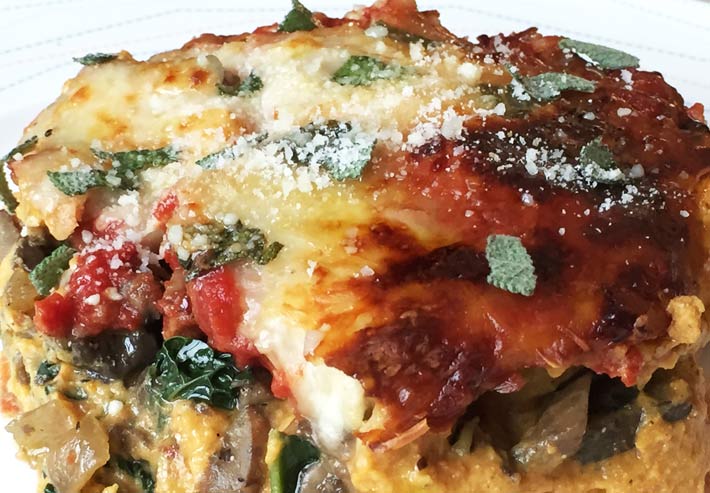 The best way to happy cooking is to make each component then assemble it once all prepared :-)! This is perfect for a Thanksgiving side dish, a dish for your vegetarian guest, or to warm your heart and tummy on a cold day.
---
Pumpkin Kale Lasagna Recipe
Ingredients
(Serves 6-8)
Kale Mushroom Layer
1 pound cremini mushrooms chopped into chunks
2 heads of Kale chopped
5 garlic cloves chopped (nickel size)
1 teaspoon red pepper flakes
1 onion chopped
6 grates of nutmeg (or 1/2 teaspoon)
10 sage leaves chopped finely
Pumpkin Cheese Layer
2 (15oz) cans pumpkin purée
1 cup whole milk ricotta
1 teaspoon cinnamon
1 teaspoon vanilla extract
2 garlic cloves shredded
Three finger pinch salt & pepper (Best Friends Forever!)  
10 sage leaves chopped finely
6 grates of nutmeg (or 1/2 teaspoon)
Other Yummy Ingredients
1 (28oz) can of chopped tomatoes
2 cup of grated parmesan cheese
7 oz shredded mozzarella
12 frozen mushroom raviolis (approximately)
Tip – the frozen raviolis replace the lasagna noodles. Keep them frozen so when you assemble and bake they cook to their full goodness!
---
Instructions
Preheat your oven to 400 degrees
The easy (and fun!) part of this recipe is you do it in steps ahead of time – so when it's time to assemble – you can rock the lasagna world as you build this warm comfort dish for your friends and family.
Time to prepare the deep hearty green layer!
Heat a large pot on medium high
Add a few turns of extra virgin olive oil and add the mushrooms and cook until they get a dark brown color (2 minutes)
Season with a 3 finger pinch of salt and pepper (BFFs!)
Add the onions, spicy red pepper flakes and a tiny pinch of salt and pepper
Cook until translucent (1 minute).
Add the flavor-tastic! garlic and stir for 30 seconds
Add the fun hearty Kale
Grate the nutmeg on top (while slowly counting to 6) , add more salt and pepper and stir until the Kale wilts (1 minute).
Set aside to assemble
Time for the pumpkin creamy cheese layer to rock your lasagna!
In a large bowl mix all the pumpkin cheese layer ingredients together
Continue to stir and fold and mix until you get a beautiful holiday orange color – the smell is so um deliciously good!
Set aside to assemble
Time to assemble!
While assembling the Lasagna try not to eat all the ingredients lol!
Put 1/2 a can of chopped tomatoes on the bottom of your lasagna dish
Lay out the frozen raviolis in a row covering the bottom of the dish
Pour the orange cheesy layer on top and smooth out
Add the green kale mixture
Sprinkle 1 cup of mozzarella cheese and a handful of parmesan cheese to crest a cheesy kick!
Like a lasagna genius add a second layer of ravioli covering the cheese layer and pour the other 1/2 of chopped tomato on top spreading to cover all the ravioli
Cover the top with the rest of parmesan and mozzarella cheese – get ready to make lasagna yum history!
Cover with aluminum foil  (if making ahead stop here and put in refrigerator or freezer until ready to bake)
Bake for 45 min – remove the aluminum foil and drizzle a little extra virgin olive oil on top – and then bake 10 more minutes until it gets a deep golden color and a bubbly crust
Remove the lasagna from the oven and let it rest for about 20 minutes (a cat nap =-)
Plate and enjoy this awesome veggie comfort food dish!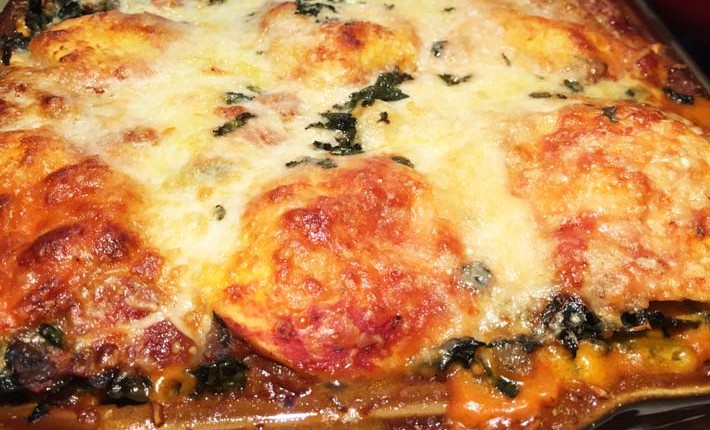 ---
What heartwarming veggie meal is your go-to on a cold day? Share pictures of your tasty creation 🙂
With a grateful pumpkin heart and yummy tummy – Jay
(Visited 1,127 times, 1 visits today)
Subscribe for tasty, free recipes!