OMG my Pumpkin Pie Soup makes my spoon want to scoop like crazy. The comforting cinnamon, spicy ginger and sweet honey in the soup is the perfect way to get the fall/winter brrr to melt away.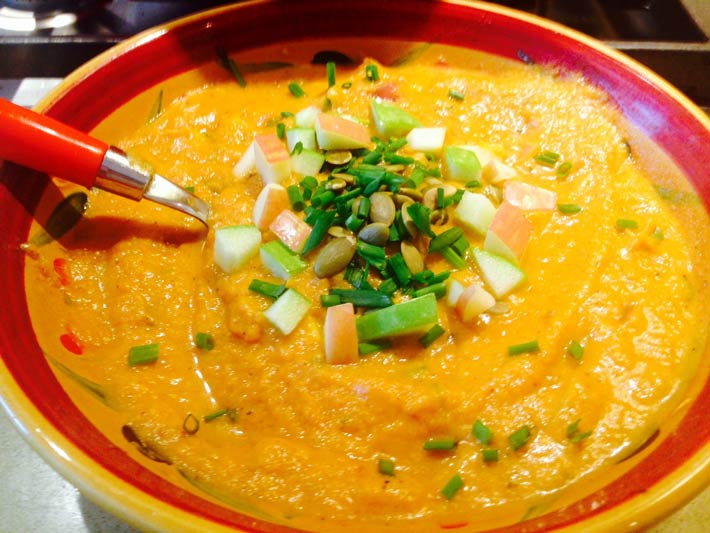 I love when you can curl up on the couch and watch a movie with a spoon in your hand and comfy sweatshirt and this is what I like to do with this soup. There is a fun ingredient that makes it creamy and it's not cream. Watch the video and this trick might be your new go-to for all your creamy soups.
We are dedicating this soup to an awesome Chop Happy Fan, Sabrina at www.runningbrina.com and @runningbrina (check her out on Instagram) who challenged us to create a healthy yummy pumpkin soup. She is so amazing and has an awesome Instagram account dedicated to running that you should all check it out and join. Her passion and love of running is super inspiring and we are grateful she follows our Chop Happy!
If you have an awesome recipe you want us to create just comment below and we will make it happen for you too!
---
Pumpkin Pie Soup
Ingredients
3 tablespoons extra virgin olive oil (3-4 swirls around the pan)
1/2 red onion chopped up into fine pieces
Big pinch of red pepper flakes (three finger pinch)
10 fresh sage leaves chopped
Salt and pepper (Best Friends Forever!)
1 inch of fresh ginger grated (approximately 1/2 your thumb is a great measurement)
3 cloves of garlic grated
2 – 15 oz. cans of 100% pure pumpkin (not the spiced or pie mix version)
3 cups of chicken stock (or any type of your favorite stock) save an extra cup if dry when take the tin foil off
3 heaping teaspoons of pumpkin pie spice
1 teaspoon of vanilla extract
4-5 tablespoons of honey (4-5 swirls around the pan, check to see if sweet enough and if not add a couple more swrils)
3 heaping tablespoons of Greek yogurt
For plating I use the following:
Chives (7-10 chives) chopped for some greenery
Handful Pumpkin seeds (The pumpkin puree's cousin to add a little crunch)
1 Delicious crispy apples chopped (Like makeup for the soup, adds color)
---
Instructions
Start your soup engines and heat a large pot set on medium heat
Add three big swirls of golden fruity olive oil to the pan.
Now get ready for the kitchen to smell "Fall Fabulous" and add the red onion, spicy red pepper flakes and earthy sage
Follow this up with "3-finger" pinches of salt and pepper (BFF!)
Mix ingredients until you see the onions start to look translucent but not brown. This takes about 3 minutes
Add your secret flavor weapon, grated ginger and garlic – continue to stir while you immediately add in the pumpkin – keeping the garlic and ginger from burning
Pour in the chicken stock and add big pinches of salt and pepper (BFF!)
Set on low heat so that the pumpkin does not splatter all over the place.
Now the pie flavor! Add pumpkin pie spice and vanilla – be sure to keep stirring
Swirl in the honey about 4 times around the pot (Taste it to see if sweet enough for you otherwise add more honey).
Add creamy Greek yogurt and mix it all together (I love the Greek yogurt because an extra tang to the dish cream does not do).
Now it's time to enjoy! Add your toppings and start eating and thinking of the warm happy things this evokes!
---
Give it a try and what is your fave warming fall/winter soup? Maybe it will show up as a new recipe :-)!

With a grateful heart and a yummy pumpkin soup tummy – Jay
(Visited 498 times, 1 visits today)
Subscribe for tasty, free recipes!