This recipe is sooo fun to make as it instantly transforms you to a kid playing with your food. First of all no need to boil water and get a pasta facial because we are replacing the noodles with frozen ravioli (so we save a step). Also, you get to live out your inner Julia Child and pick your favorite filled ravioli. I choose mushroom here but beef filled, gooey cheese filled, or whatever your heart desires can be used.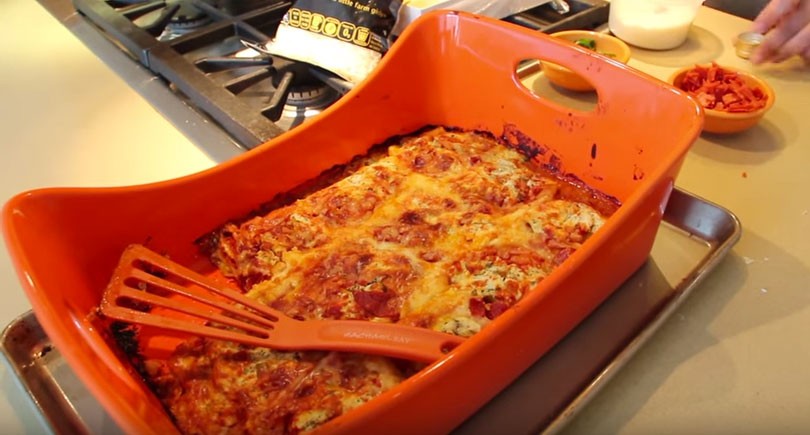 When I put the frozen pasta packages in the dish I feel like a kid building a castle of yummy cheesy joy. Something about lasagna makes you feel like it is all going to be ok and instantly fills your heart with love. This brings back memories of Sunday dinner with my family and the comfort food on the table and love in the air. I hope you make this a family favorite and makes life and your taste buds just a little less serious.
Watch the video below to see me – make you a smile – as I show you how easy this dish is to get on the table and how much quicker people will smile after eating it.
---
Magical Frozen Ravioli Lasagna Recipe
Ingredients
28  to 32 oz of your favorite tomato sauce
12 to 16 frozen raviolis
1 cup of my Italian Glue (prepared ahead of time); you can also use ricotta cheese
1/2 cup of chopped pepperoni
1 cup of grated parmesan cheese
1 package of shredded mozzarella cheese
For finishing and adding a little extra flavor when serving:
1/8 cup of extra virgin olive oil
4 tablespoons of parmesan cheese
1/8 cup of chopped fresh basil
---
Instructions
Prepare the Italian Glue ahead of time following my recipe instructions. It's fast and easy and is the secret to all my Italian dishes!
Preheat oven to 400 degrees
Spread 1/3 of the tomato sauce on the bottom of a 13 x 9 inch baking dish
Layer 1/2 of the frozen raviolis on top of the sauce – it's ok to have them spaced out as the gooey cheese will melt while baking to fill in those beautiful spaces
Dollop Italian Glue with it's tornado of sweet and spicy flavors! on each of the frozen raviolis
Add a small handful of the spicy garlicky pepperoni on top
Sprinkle a small handful of the sharp nutty flavored parmesan
Spread a handful of the "grand finale" creamy mozzarella cheese evenly across the top
Repeat layers one more time
Cover the baking dish with aluminum foil
Bake for 45 minutes covered; remove cover and bake an additional 15 minutes
If you want to jooshe it up a bit – when serving add a drizzle of extra virgin olive oil on the top, a pinch of parmesan and a pinch of chopped fresh basil to make it taste and look beautiful.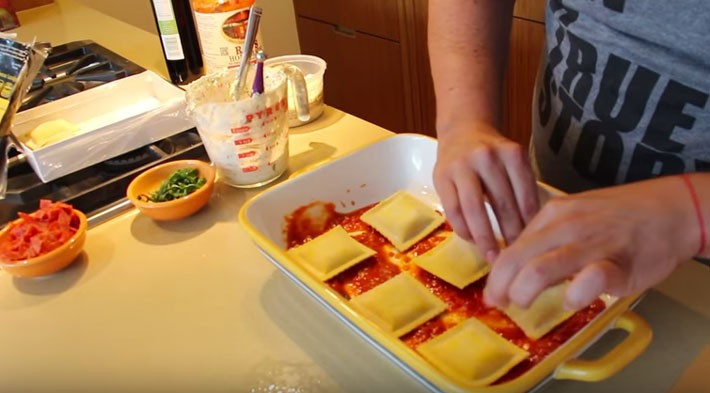 ---
Give it a try and share pictures of your tasty creation 🙂
With a grateful Italian heart and a ravioli replacing the lasagna noodles tummy – Jay
(Visited 2,343 times, 1 visits today)
Subscribe for tasty, free recipes!