Santa is on his way and with it comes yummy comfort food and gifts. When I was a kid my amazing parents would have Santa come every year (even though we were Jewish) because they wanted me to be included with what my friends did. Every year I would get a transformer as a kid. 🙂 I love my family and how cool and fun they are. Now Tom celebrates Christmas – so I make a huge deal and we have a tree, give gifts and lots of egg nog.
I love the holidays and love the smiles and joy it brings all over NYC. My city lights up with festive decorations, carolers singing by Macy's and fun pop up Christmas shops in Central Park. This menu is my gift for you to make sure you have time to enjoy the holidays and sip slowly some awesome hot chocolate.
What is your family's fave Christmas tradition? Merry Christmas and huge thank you! I am so grateful for you letting me be part of your holiday traditions!
---
Cocktails for your guests and Santa 🙂
Cocktail time saver tip: Set up stations with festive glasses, ingredients and fun signs with step-by-step instructions on how to make the drinks. All of these drinks are as easy as dump and pour!
Dirty Snowball Cocktail – Santa's Cranberry Mojito
Click on images for the recipes.
---
Easy appetizers that will have you eating them too with your guests:-)

Appetizer Tip:  Enjoy your own holiday and make one or two homemade appetizers below and then put out a bowl of nuts or even pigs-in-the-blanket (from the freezer) so there is less work for you!
Pea Pesto Party – Homemade Parmesan Potato Chips 
Click on images for the recipes.
---
The main course will make people forget they got gifts it is so good!
The beef dish can be made the day before and ready to bake this next day. My lasagna is so good and a great hearty veggie option if you have a meat free holiday!
East Individual Beef Wellington – Pumpkin Kale Lasagna
Click on images for the recipes.
---
Make ahead side dishes that are sure to make Santa give you an extra gift 🙂
Your Awesome Side Tip: Make ahead and reheat please :-)! These take the rush out of the kitchen as they are festive in color and a great night before side dish to make!
French Onion Soup Tomatoes – Citrus Kale and Pomegranate Salad – Bacon Cheddar Mashed Potatoes
Click on images for the recipes.
---
Dessert to make sure you don't steal Santa's cookies lol 🙂
Sweet Tip: People always ask what to bring to your house tell them something chocolate, perfect pie, or dessert wine because you have a boozy fruit dessert ready for them! This takes off some pressure to make dessert and lets your guest baking talents shine!
Spiked Raspberries and Whipped Cream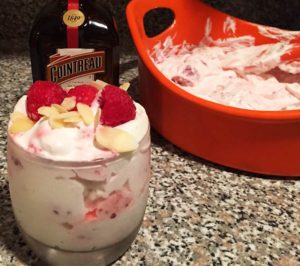 Click image for the recipe.
---
What is your family's fave Christmas tradition?
With a grateful heart and an amazing Happy Christmas! tummy – Jay
(Visited 516 times, 1 visits today)
Subscribe for tasty, free recipes!