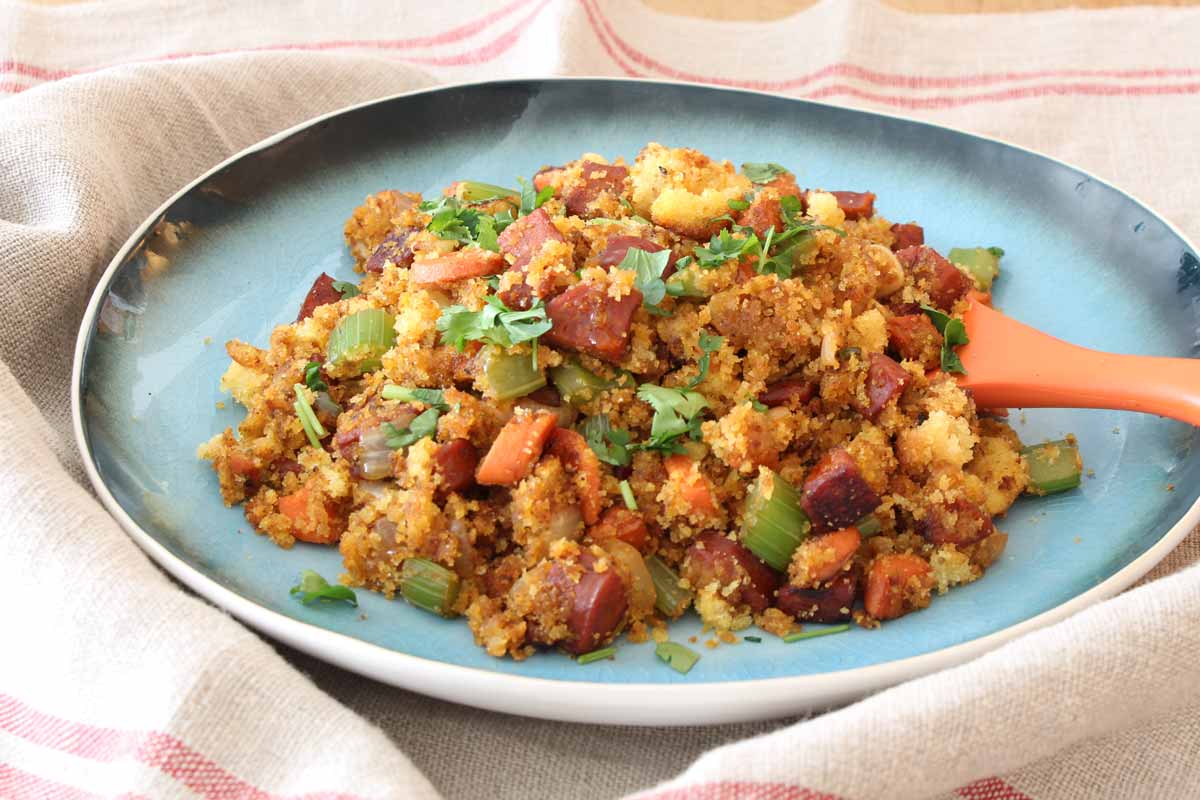 I love bread anything and therefore stuffing is a wonderful thing. After a long day (and because I live in NYC, my oven doubles as storage lol) I want a quick no bake way to make amazing stuffing. 
So, just like my childhood fave Stove Top from the box, I have developed a quick easy super flavorful one pot stove top stuffing recipe. It's sweet from the cornbread, has warm spices from chili seasoning, and is seasoned with the chorizo's lovely paprika kick. Most importantly its all done over the stove top in 15 minutes and your oven is free to be storage (like me and Carrie from Sex in the City) or roast a chicken! 
Grab your ingredients and follow along with the video!
Stove Top Cornbread Stuffing
This is a quick easy super flavorful one pot stove top stuffing recipe. It's sweet with warm spices and a light paprika kick! Great for holidays or anytime.
Ingredients
1 lb chorizo sausage chopped (either cooked or raw)
1 stalk celery chopped
1 large carrot chopped
1 large white onion chopped
1 jalapeño chopped (de-seed the jalapeño for less spiciness)
2 cloves garlic chopped
1 tsp salt (big pinch)
1 tsp pepper (big pinch)
1 tsp chili seasoning
1 1/2 lb cornbread cut into big chunks
1/2 cup chicken stock (to moisten cornbread)
1 lime (use only the zest)
Instructions
Brown chorizo over medium heat for a minute or so till it is slightly browned, remove and set aside. (If you use raw chorizo cook for about a minute on both sides.)

Add celery, carrots, onion, jalapeño, garlic, salt, pepper, chili seasoning – mix for 2 min.


Add cornbread, chicken stock, lime zest and chorizo – mix and heat the corn bread through for a minute and enjoy!

Any questions comment below 🙂
With a grateful heart and an amazing cornbread tummy – Jay
(Visited 3,873 times, 1 visits today)
Subscribe for tasty, free recipes!