The easiest make ahead onion soup brisket thats almost as good as my mom made.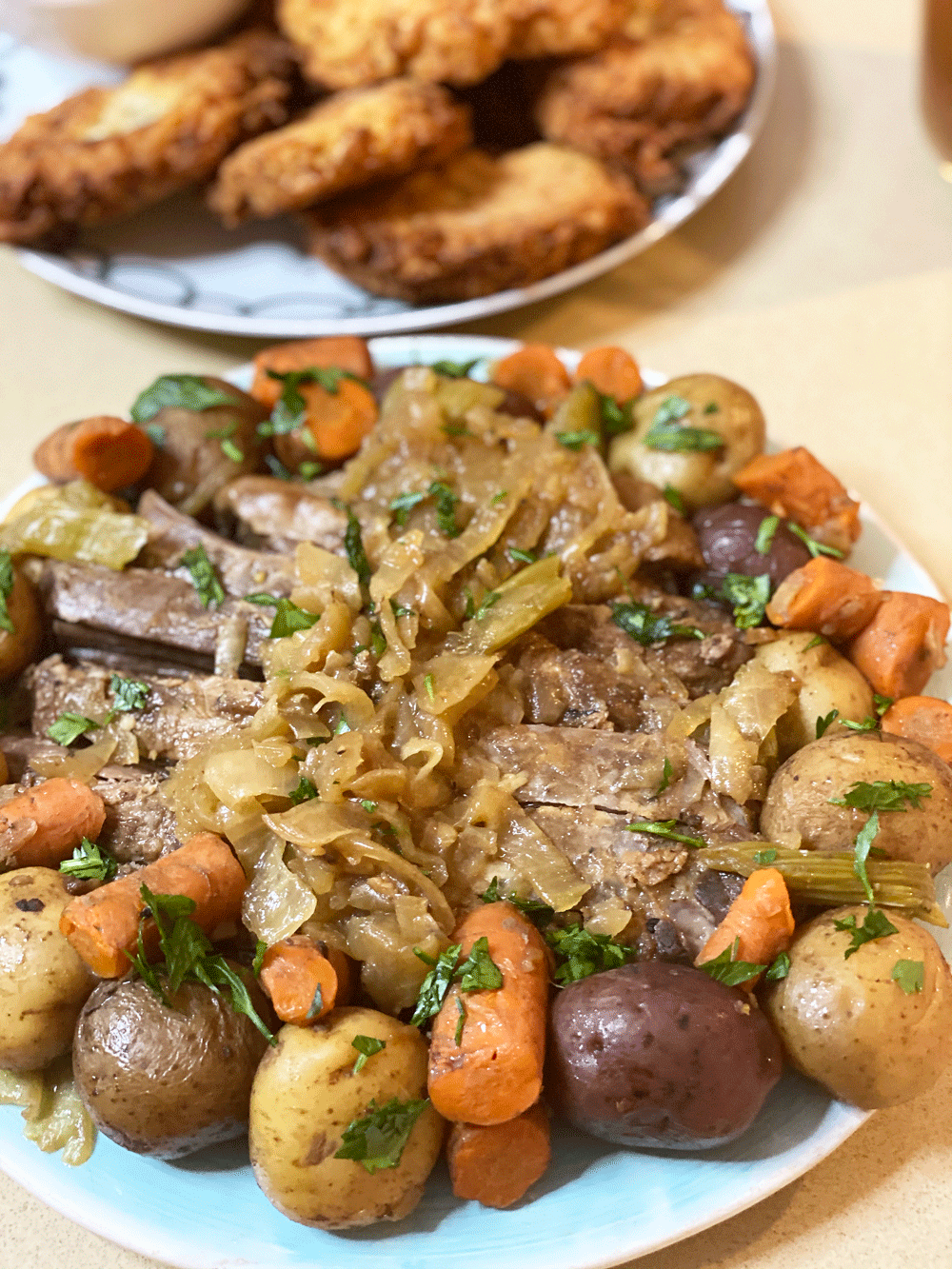 Stress Free & Yummy Holiday Brisket – This is a soul warming onion soup brisket that is perfect for the holidays. Every year on Hanukkah, my whole family would cheer for my mom's brisket! For years, I have been asking for the recipe, and each year I make the brisket it is never as delicious as Mama Goldstein's.
So I went on a brisket journey and have made it 1,000 times in the oven, crock pot, and with a prayer (a lot of times LOL). I finally combined my mom's recipe with my wins in cooking this amazing dish. The best part is you can make this the day before because it tastes even better the next day! This is one pan, comes with a potato side, and is totaly make ahead!
This is great for Hanukkah, Christmas, or a cold snowy night to warm up your soul!
Steps To Brisket (full recipe below)
Add potatoes, veggies, and brisket in a roasting pan. Season with salt/pepper, and onion soup mix.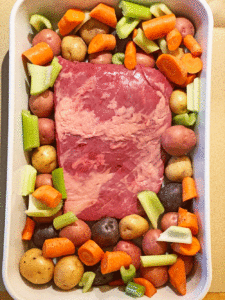 2. Add beef broth and lots of onions. Then cover and cook on low 6 hours at 300 degrees.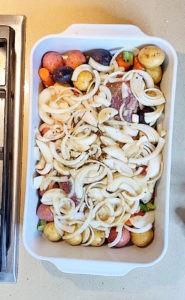 3. Finally, Let brisket rest 15 minutes and cut opposite of the lines of beef so fall apart tender!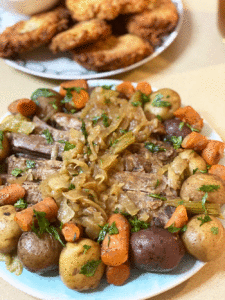 Brisket Tips and Hacks:
Season the Beef the Night Before:  If you put the seasoned beef in the fridge overnight, this gives the seasoning time to go all the way through the beef. Not just season the surprise. This makes the brisket flavorful every bite!
Cut the Onion Soup Brisket Against the Grain: When cutting brisket you can make it even more fall apart tender. Cutting against the grain means to find the lines of brisket and cut the opposite way. Think of a plus sign. What every way grains of beef go cut to make plus sign.
Gratitude in the Kitchen: While you mix, stir, and cut think of what you are grateful for. Use the kitchen as a place for time to your self. Happy Cooking!
The Best Onion Soup Brisket Recipe
Ingredients
3 pound brsiket
2 packages onion soup mix
1 tablespoon salt
1 tablespoon pepper
3 tablespoons apple cider vinegar
3 pounds onion (sliced)
2 carrots (chopped in chunks)
3 celery salks (chopped in chunks)
2 pounds Yukon gold potatoes
1 can beef broth
1 handful parsely (chopped)
Instructions
Preheat oven at 300 degrees.

First, add the potatoes, carrots, and celery to a roasting pan. Season with salt pepper, and 1 packet of onion soup mix.

Next, add the brisket to the middle of the veggies and season both sides of the beef with salt, pepper, and 1 onion soup packet.

Now, add all the onion ontop of the brisket and seaon with a pinch salt and pepper.

Optional: Place the brisket in the fridge overnight. This will give the seasoning time to seaon all through the brsiket not just the surface.

Next, when ready to cook, add beef broth to the roasting pan and cover tightly with tin foil

Now, cook the brisket for 6 hours in the oven at 300 degrees. When done take the beef out and let rest for 15 minutes so the juices stay in the brisket.

Finally, enjoy and happy eating!
Enjoy this soul warming meal! Give it a try and share pictures of your tasty creation 🙂
With a grateful heart and a yummy soulful tummy – Jay
(Visited 858 times, 1 visits today)
Subscribe for tasty, free recipes!