All day at work I crave cheesy baked eggplant Parmesan dish to hug me and tell me great job when I come home! Usually eggplant Parmesan has way to many steps. I definitely am not flouring, egg washing, breading, and frying at 7:00-8:00 at night. I found a short cut to make eggplant Parmesan possible no matter how busy I am. Anything is possible no matter how busy you are and you deserve a happy meal to celebrate you!!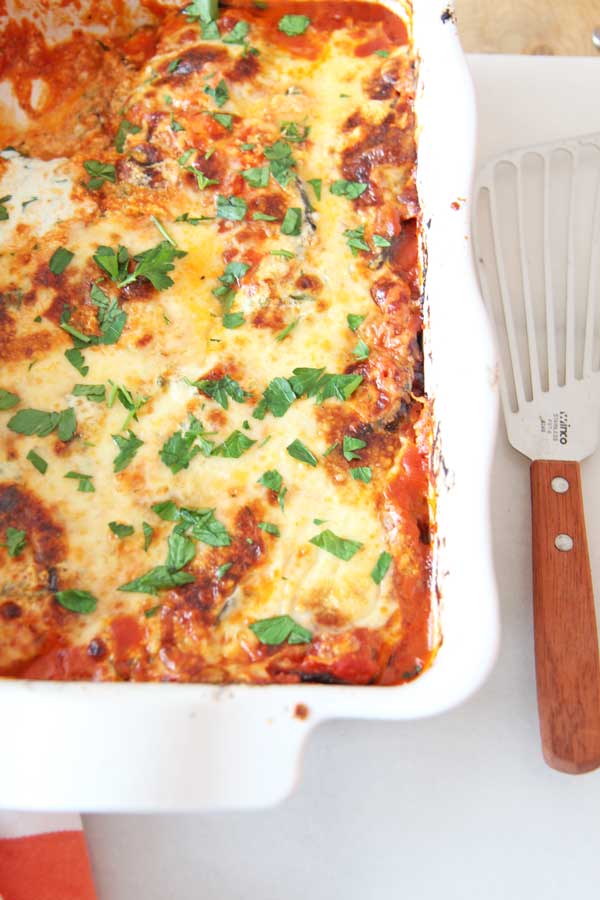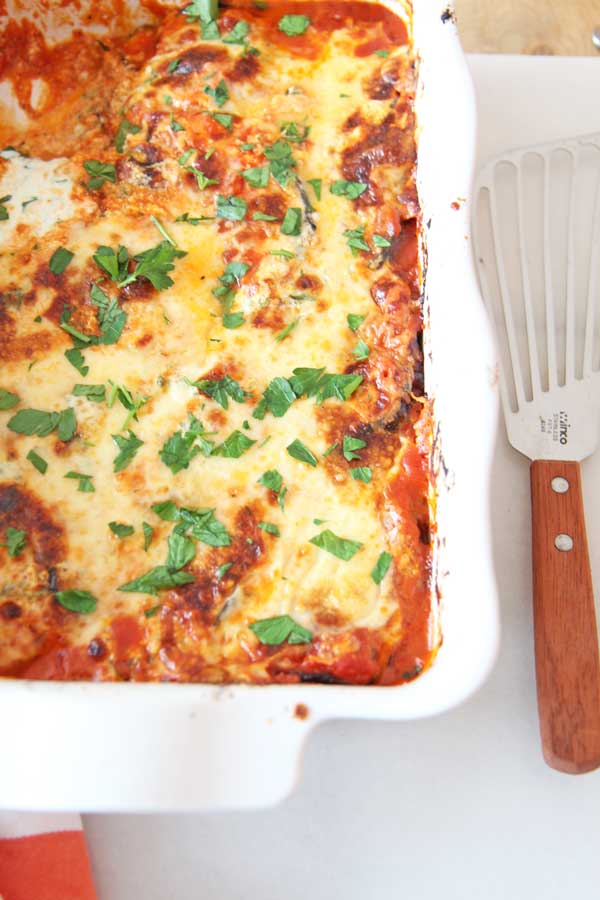 As a kid I was allowed one day a week to eat something cheesy and comforting. I always choose Italian food and most something with the last name Parmesan. This was my reward for doing well in school. Now every week like clock work I crave something gooey sweet and cheese pull fabulous. Me and Tom order from Rubirosa in Soho once in awhile. I always order eggplant parm. So because ordering out is expensive I came up with this dish so I can eat eggplant parm all week. What a great week that is. I always say if you dream it it will appear and dinner is no exception.
Cooking Hack That Makes This Recipe Weeknight Worthy:
Bake the eggplant on wire rack covered baking sheets for 10 minutes. This is a fast way to avoid 30-45 minutes of breading and frying. Also you have a cleaner kitchen. The wire rack also saves time because then no need to flip because cooks top and bottom of eggplant at the same time (Here is a great wire rack combo).
Use store bought sauce. There is nothing wrong with opening a jar of your favorite marinara (my fave is Rao's). Any were someone else can help that is great for you!
Watch how to make this Weeknight Eggplant Parmesan Lasagna: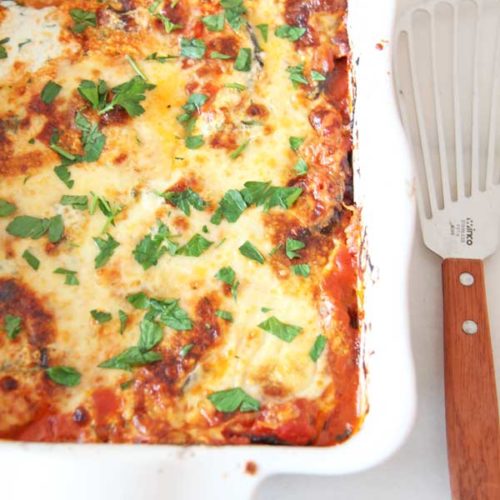 Easiest Eggplant Parmesan
Ingredients
1 large eggplant (cut into 1/2 inch circular shapes)
1 tablespoon salt
1 tablespoon pepper
1 teaspoon dried oregano
1 teaspoon garlic powder
1/2 cup extra virgin olive oil
1 jar favorite marinara sauce
1 8 ounce ricotta
1 handful parsley (chopped)
10 leaves basil (chopped)
2 cups shredded mozzerella
1 cup Parmesan (grated)
Instructions
Preheat oven to 400 degrees.

First, place eggplant slices on a (wire rack topped) sheet tray. Salt both sides of the eggplant and let them rest 15 minutes. Then pat the eggplant down with a paper towel (see video above).

Next, in a bowl mix olive oil, oregano, garlic powder, and a pinch of salt/pepper. Then brush both sides of eggplant with oil mixture and place back on (wire wrack topped) sheet pan (you may need two sheet pans).

Bake the eggplant in oven for 15 minutes.

Next add enough marinara to bottom of a casserole dish. Then spread out 1/2 the eggplant over Mariana.

Now mix ricotta, parsley, basil, and a pinch of salt and pepper together and add on top of the eggplant. Lightly smear the ricotta to cover eggplant.

Now add 1/2 the Parmesan cheese and 1/2 the mozzarella.

Next add 1/2 of the remaining marinara sauce.

Next, add the remaining eggplant then the rest of the sauce on top eggplant.

Top with the rest of the Parmesan and mozzarella.

Finally, cover baking dish with tin foil and add to the oven for 20 minutes. Then turn heat to 450 for 2 minutes or until the cheese browns slightly.
Check Out This book! It changed my life and it is how I elevated my home cooking:


I can't wait for you to try this recipe!!! Cheers to easy comfort food.  Happy Cooking!
QUICK NO BAKE DESSERT  FOOD RECIPE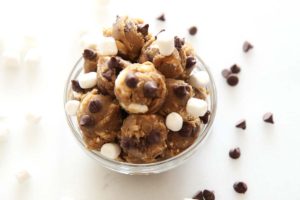 Your Dash Of Gratitude:
                                                                                                                                   
ANY QUESTIONS OR COMMENTS? COMMENT BELOW 🙂
With a grateful heart and an amazing tummy – Jay
(Visited 6,489 times, 1 visits today)
Subscribe for tasty, free recipes!