Sweet saucy tomatoes dancing with salty chunks of feta fabulous in a pasta pool!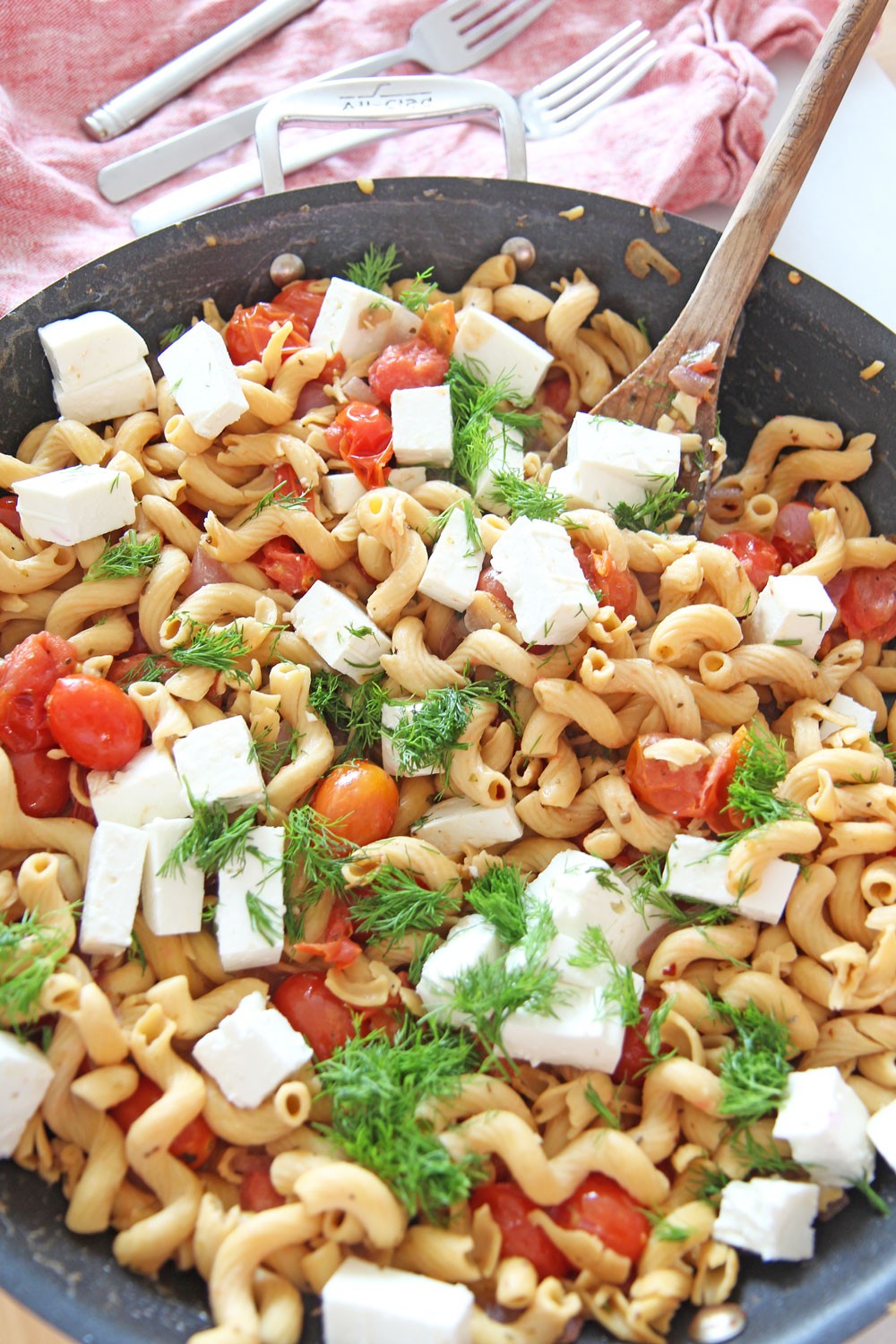 This recipe is dedicated to the love of my life! My husband and me went on a honeymoon to (the magical ocean front) Santorini Greece. There was instant calm and relaxation the minute we stepped on the island. As a wedding gift my sister gave us a boat ride that had a chef on board. They made us the most simple pasta dish ever (with most of the same ingredients).  Every time I make this dish, my heart sings with joy from this memory. I love to make this for Tom and bring the pan to the table with two forks. Nothing fancy for us. This 15 minute stay-cation always reminds me what is important our family and to spread love and kindness.  Hope this recipe brings you
happiness
and celebrates you!
Watch how to make this awesome pasta recipe: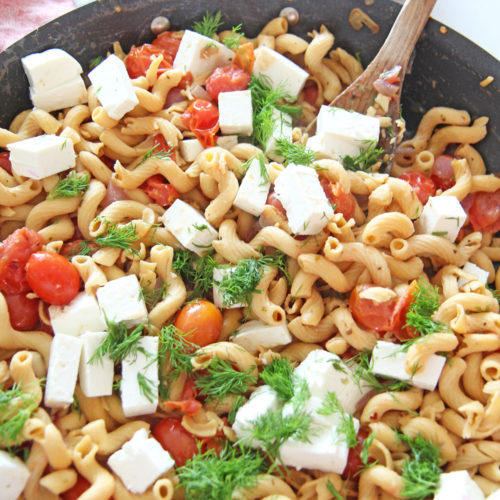 Bursting with Happiness Tomatoes and Feta Pasta
Ingredients
3 tablespoons extra virgin olive oil
4 cloves garlic (cut in slices)
1/2 red onion (chopped)
1 teaspoon dried oregano
1 teaspoon red pepper flakes (1/2 teaspoon if less spicy)
1 teaspoon salt
1 teaspoon pepper
2 pints cherry tomatoes
1 tablespoon red wine vinegar
1 pound pasta cooked (save 1/2 cup pasta water)
2 tablespoons butter
1/5 pound feta (cut in small chunks)
1 handful dill (chopped)
Instructions
First, on medium heat place oil, garlic, onions, oregano, and red pepper flakes in large pan. Stir and cook for a minute until onions translucent.

Next, raise heat to medium high and add tomatoes, salt and pepper. Stir and cook until tomatoes burst. This takes 3-5 minutes.

Now, add pasta, pasta water, butter, and red wine vinegar to the pan. Mix for a minute to combine all the flavors.

Finally, turn off heat and add feta and dill. Happy pasta eating!
My Favorite Ways To Add More Gratitude In My Life: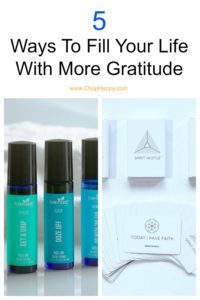 Totally Recommend This Food Processor:
Check Out This book! It changed my life and keeps me centered:
QUICK NO BAKE DESSERT  FOOD RECIPE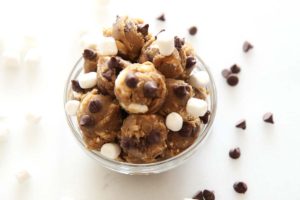 Your Dash Of Gratitude:
                                                                                                                                   
ANY QUESTIONS OR COMMENTS? COMMENT BELOW 🙂
With a grateful heart and an amazing tummy – Jay
(Visited 1,207 times, 1 visits today)
Subscribe for tasty, free recipes!