Dear Grilled Ribeye Steak, I love you!  Not only is this steak amazingly flavorful, like from a NYC steak house, but it's soooooo easy to make!
First of all, we are using the supermodel of steaks:  the ribeye.  To me, the ribeye is the easiest steak to cook because of all the beautiful fat marbling in the steak.  The fat bastes itself and is so hard to over cook.
Second, with a few easy tips (see below), it's 7 minutes on one side on the grill, then 7 minutes on the other side, and it's done.  So fast from cooking to dinner time.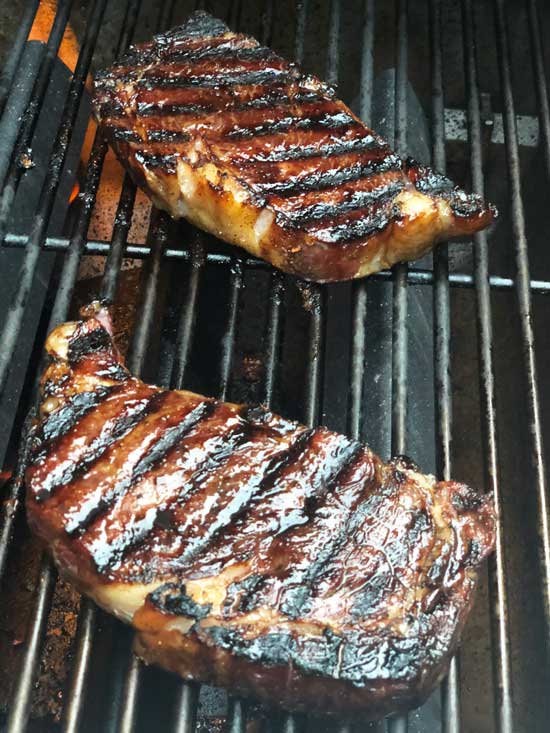 Here is a testimonial on how awesome this ribeye is:
Last summer, I set the grill on fire cooking a ribeye when we were out in the Hamptons (forgive me, I am a city boy, so I don't grill often).  The fire department had to come.  Even with that incident, when I told Tom I wanted to test a new ribeye recipe, he did not argue and was excited.  He did take out the fire extinguisher, though.  LOL! So grab your smokey chili seasoning (not chili powder, which is spicy, not smokey) and salt and let's get grilling. Happy grilling, and hope you dance, sing, and loooooove cooking after making this!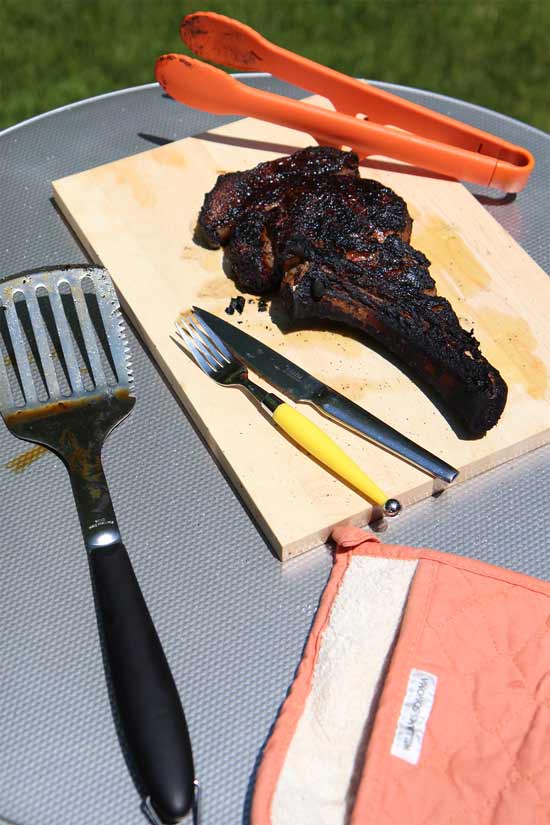 Chili Rubbed Ribeye Steak
Ingredients
1 (2 inch thick) ribeye steak
1 tbs salt
2 tbs chili seasoning (the spice mix)
1 tsp pepper
2 tbs extra virgin olive oil
Instructions
First, when you get home from the store, place the steak on a plate and salt the both sides heavily. Now place the steak in in the fridge uncovered overnight. If you are making it same day, do not worry just salt immediately.

Also, let steak sit out 1 hour before you grill so it comes to room temperature.

Preheat the grill at medium high.

Drizzle both sides with olive oil and season with salt, pepper, and chili seasoning.

Next, place the steak on the hot grill 7 minutes both sides.

Do not touch the steak while it cooks except to flip and it will have an awesome flavor crust.

Let it stand covered with foil for 10-15 minutes to let juices settle in the steak.

Finally, enjoy this juicy, smokey steak.
Tips for Happy Steak Making:
 Salt the meat as soon as you get home. Salt both sides heavily and put in the refrigerator uncovered for a day in advance if you can. This will get the seasoning all through the steak. Dont worry if you buy the steak the same day. Just salt heavily for as long as you have.
 Leave the steak out 1 hour before cooking. (After 2 hours you cannot eat the steak it goes bad so don't go crazy here). This will bring the steak to room temperature and allow it to sear better and cook more evenly.
When you take the steak out put the rub on so it has time to flavor the steak. You can even put rub on the day before you plan to cook it and put it in the fridge if makes you smile (I didn't notice a difference either way when I tested it).
After cooking, let the steak rest for at least 10 min covered with tinfoil. This will allow the juices to redistribute and make sure the steak is juicy. This is the one thing my Mom never did when we were kids – but now does!
As always, these recipes are part of my mission to provide you with 2 goals:

To make amazingly simple homemade comfort food.
To learn useful tips to make cooking fun.
Your Dash Of Gratitude:

ANY QUESTIONS OR COMMENTS? COMMENT BELOW 🙂
With a grateful heart and an amazing tummy – Jay
(Visited 2,711 times, 1 visits today)
Subscribe for tasty, free recipes!