Here is bite size chocolate candy apples you will go candy crazy for! Ever eat a gooey, sweet, candy apple and then not get a chance to finish it because it's too sticky to put away for later? Well we solved this problem with fun bite size pieces.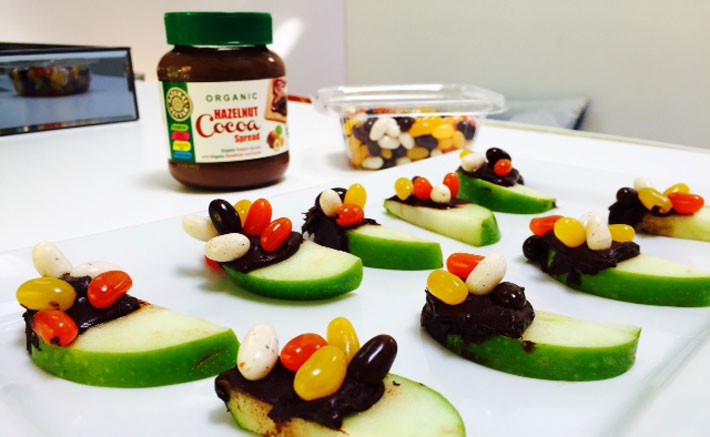 Not only is this yummy in the tummy, but a fun project to do with your family. I used hazelnut spread but you can use caramel, peanut butter or even melted chocolate. Also go crazy with your crafty self and replace the jelly beans with sprinkles, peanut butter chips, or any candy that represents the season or holiday!
If you follow me you know I am baking challenged so if I put this on the blog it is definitely simple and makes you smile! Let me know below what fun combos you would do and if you make it post pictures. I am soo grateful and excited to see. Happy Candy Eating :-)!
---
Candy Apple Bites Recipe (Watch The Video above for how to make this awesome candy treat!)
Ingredients
Crispy apples cut into slices
Fresh lemon cut in half
Thick chocolate sauce – or – caramel – or – hazelnut cocoa spread
Jelly Beans – or – sprinkles – or – peanut butter chips
---
Let me know what you would smear on the apple to make this your sweet creation.

With a grateful heart and a chocolatey crispy apple tummy – Jay
(Visited 518 times, 1 visits today)
Subscribe for tasty, free recipes!