No Bake Peanut Butter Nutella Cheesecake is even tastier then it sounds. Creamy, sweet, and decadent pie love on a plate. This is a perfect make ahead recipe that frees up so much time.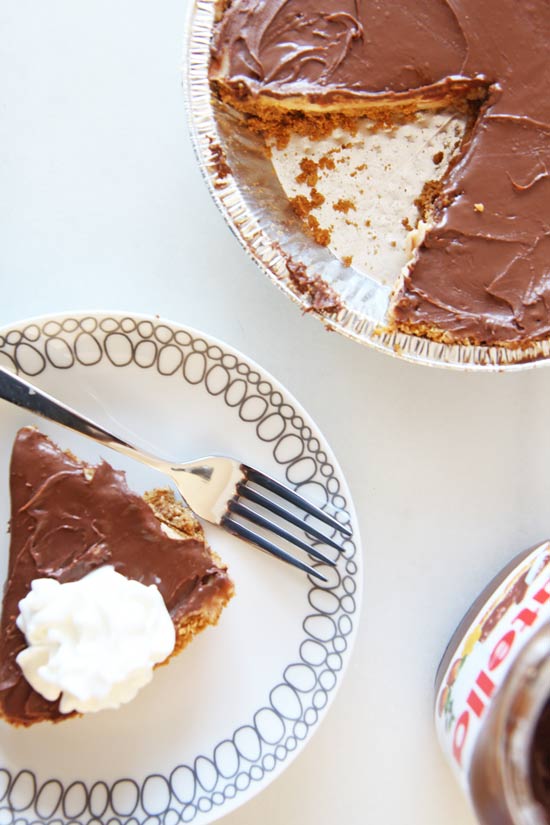 If you are a Chop Happy fan, you know baking is not my thing. This is actually the first pie I ever put on the blog. Anything that combines chocolate and peanut butter together, has to be awesome. This dessert is over the top decadent. I have recipe testing parties at my apartment here in NYC all the time. I tested this pie out with my friends and this recipe was everyones favorite. This was a big deal because there was pasta and bacon served that night too! This is dedicated to all my non bakers like me. Presenting your award winning dessert to redeem your baking championship title.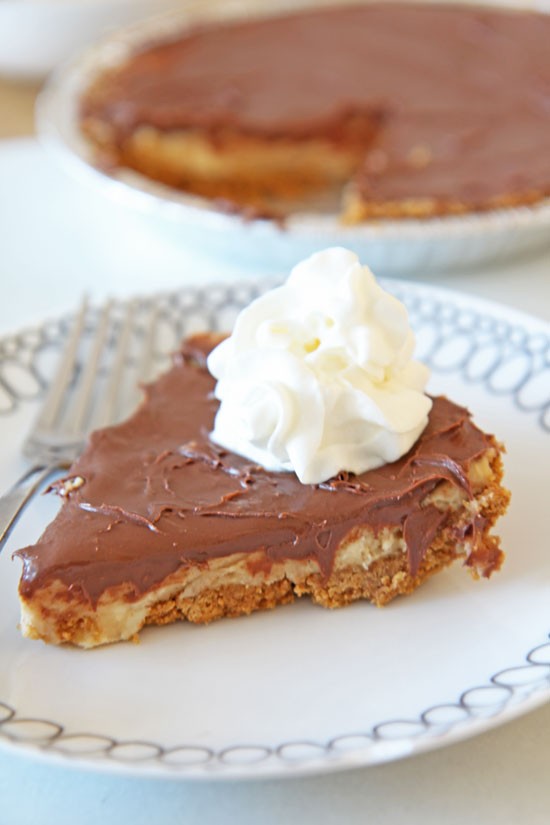 For more easy, happy comfort food recipes, check out our Pinterest Page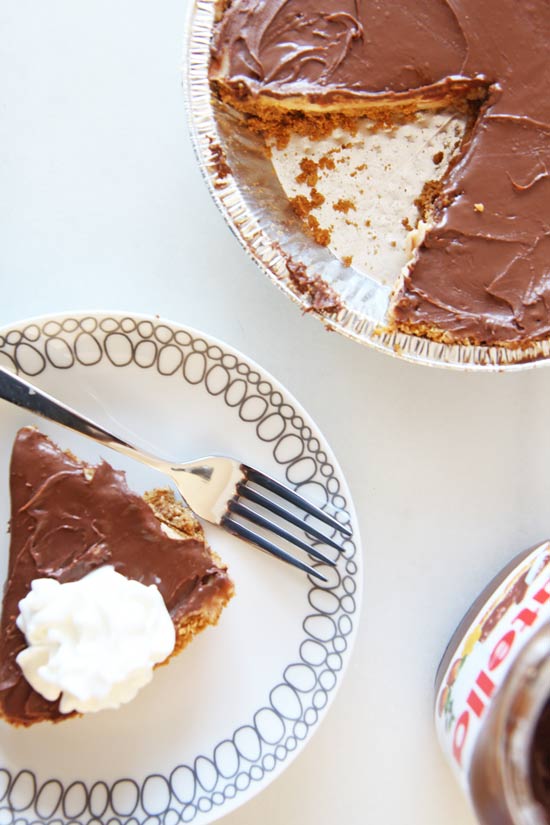 No Bake Peanut Butter Chocolate Cheesecake Recipe
No-Bake Peanut Butter Chocolate Cheesecake Recipe - that is a perfect make ahead easy recipe. Homemade pie crust and rich cream filling without turning on the oven. Perfect for holidays, summer time, and a birthday surprise. Happy Cooking!
Ingredients
Graham Cracker Crust Ingredients:
1 1/2 cups graham cracker (crushed)
2 tbsp powdered sugar
6 tbsp meted butter
Peanut Butter Filling Ingredients:
8 oz cream cheese
3 tbsp peanut butter
1 cup powdered sugar
1 tsp vanilla extract
1 cup whipped cream
1 small pinch salt
Chocolate Topping Ingredients:
Instructions
Graham Cracker Crust Recipe:
First combine all the graham cracker ingredients together until well combined.

Next, pour the mixture into a pie plate and pat with your hand evenly on the dish.

Finally, place in refrigerator for 20 minutes to set.
Peanut Butter Chocolate Pie Recipe:
First mix all the peanut butter filling ingredients together until fully combined.

Next pour on top of pie crust and spread evenly.

Now place in the refrigerator for 30 minutes to set.

Finally after the pie has chilled add Nutella on top and spread evenly.

Enjoy this No Bake Dessert!
CHECK OUT THIS NO BAKE S'MORES COOKIE DOUGH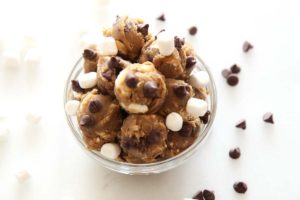 Your Dash Of Gratitude:

ANY QUESTIONS OR COMMENTS? COMMENT BELOW 🙂
With a grateful heart and an amazing tummy – Jay
(Visited 3,742 times, 1 visits today)
Subscribe for tasty, free recipes!