Here is a quick 15 minute sweet garlic pasta dinner meal for a crazy hungry week. Because I am a chiropractor by day and food blogger at night, I like to test all my recipes after work to make sure they are quick and easy.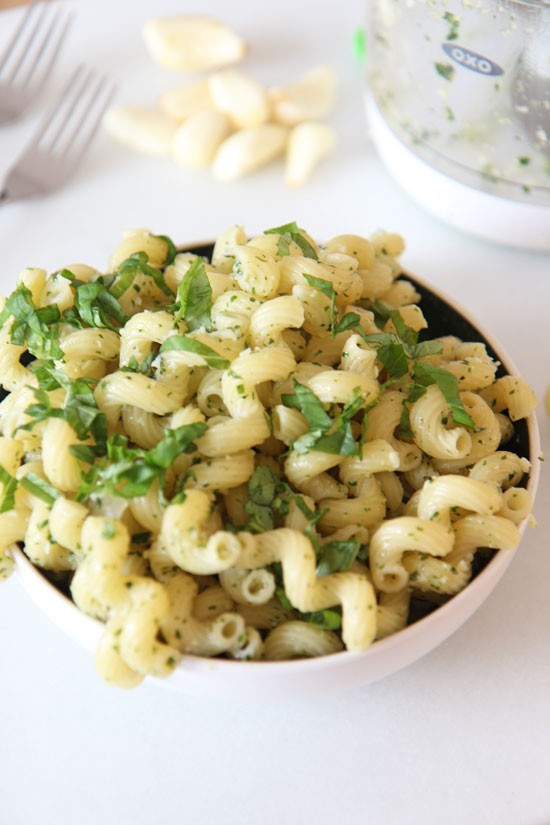 THIS RECIPE IS SPONSORED BY OXO
When I make pasta for dinner, Tom is always happy. Somehow, the sizzle of garlic and the pour of the starchy pasta always coincides with him coming home for dinner. Pasta also is special to me because growing up my mom would make it for dinner on a special day. Little did I know it was because it was easy for her when life was crazy. Either way, both Tom and my mom are super special to me and because of that, pasta always makes me smile. I hope this 15 minute recipe give you joy and also a little more time for yourself.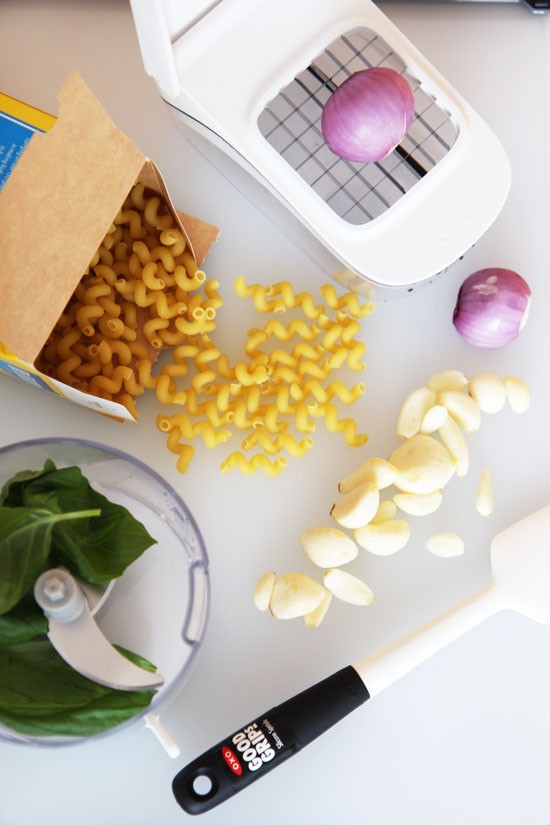 4 Tips on How To Cook Pasta Like A Pro At Home:
1. Salt the pasta water with 2 tablespoons of salt. Then taste the water. If it does not taste salty keep adding it until tastes like the sea. This will insure the inside of your pasta is seasoned well.
2. Cook the pasta 1 minute less then package instructions. Your pasta will have a wonderful bite and taste bud happy texture.
3. Mix the pasta in the pot with the sauce for 1 minute. This will help marry the two together.
4. Save 1/2 cup pasta water. This starchy salty liquid will help make the sauce more fabulous. Add to the pasta and sauce at the end to add more depth and flavor.
20 Clove Garlic Pasta
Ingredients
20 cloves garlic
20 basil leaves
1/2 cup extra virgin olive oil
1 teaspoon salt
1 teaspoon pepper
1 pound elbow pasta
1/2 cup grated Parmesan
1 shallot (chopped)
Instructions
First, make pesto by combining garlic, basil, salt, pepper, and olive oil in a food processor. Blend until looks like chunky pesto.

Next, boil water with salt and add pasta. Cook for 1 minute less then package instructions and save 1/2 cup pasta water.

Now drain the pasta and turn heat medium high. Add 3 tablespoons oil and the shallot. Mix for 1 minute.

Next, add the garlic pesto and cook 30 seconds.

Finally, add pasta and pasta water. Stir for a minute to combine, add Parmesan cheese and enjoy!
Watch How To Make This Super Simple Pasta Dinner:
So grateful for all the awesome equipment from OXO! Check out all the fun stuff I used in the video above (The wireless food processor is so amazing!!!!!)
(click images to see more info)
I can't wait for you to try this garlic pasta recipe!!! Cheers to easy comfort food.  Happy Cooking!
QUICK NO BAKE DESSERT  FOOD RECIPE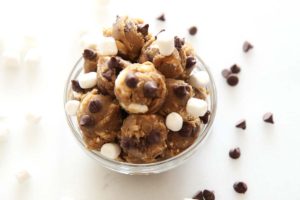 Your Dash Of Gratitude:
                                                                                                                                   
ANY QUESTIONS OR COMMENTS? COMMENT BELOW 🙂
With a grateful heart and an amazing tummy – Jay
(Visited 1,566 times, 1 visits today)
Subscribe for tasty, free recipes!