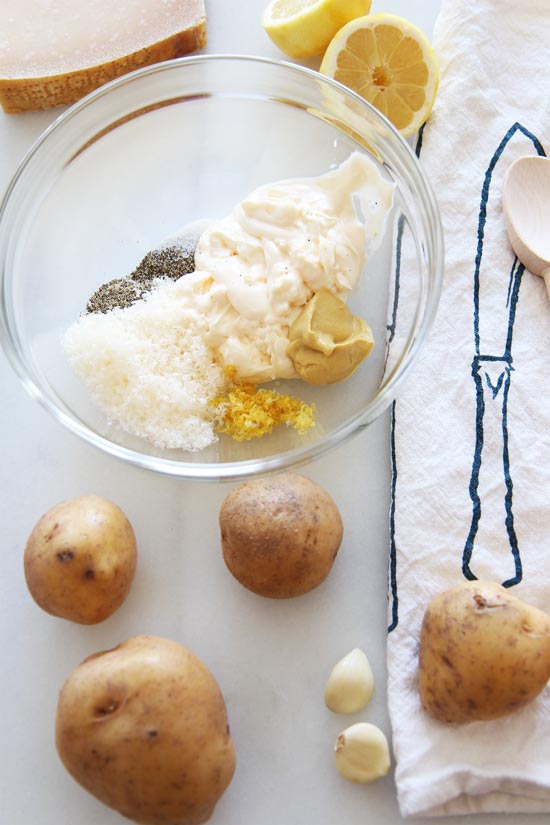 Are you a superfan of potatoes like me?
I absolutely love potato salad and inventing craveable mash-ups. This recipe is dedicated to my mom and BFF, Pam!!! She loves Caesar salad, and every time she orders it at a steakhouse, she says she feels like Elizabeth Taylor. (People say they look alike; what do you think?)
Whenever my family and I went to a steakhouse, Caeser salad and potatoes were always the happy sidekicks to the steak. So mom, for you and all my Chop Happy friends, I combined the two in a totally creamy, cheesy, and starchily satisfying potato salad.
This recipe is great because you learn lots of techniques to make you a home cook superstar.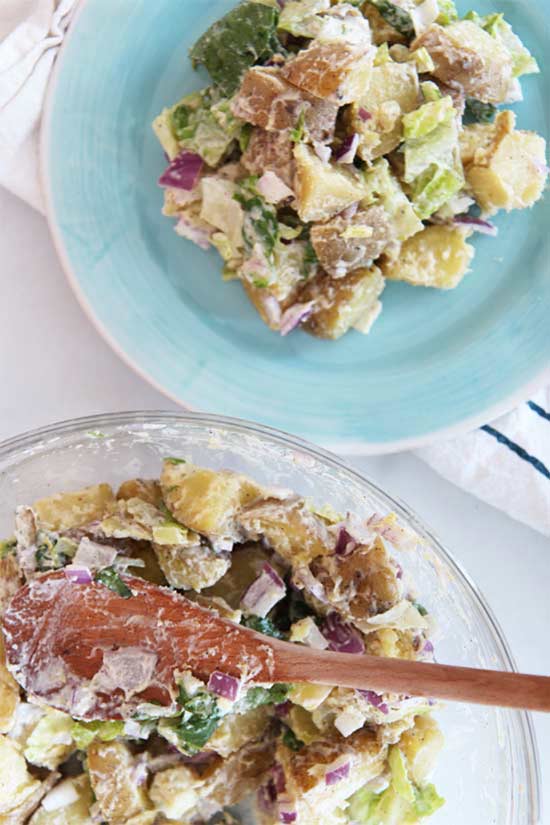 Technique Tips: 
Boil your potatoes in chicken stock (or veggie stock, if vegetarian) instead of water. It will infuse more flavor into your potatoes, guaranteeing a yummy potato inside and out.  Use a microplane to grate garlic. This is easier than chopping and it saves time, but most importantly this allows the garlic to mix and distribute evenly throughout the dressing.

Hold the lemon with the cut side up to avoid lemon seeds in the food.

The Caesar dressing in this recipe is excellent not just for the potato salad but also as a basic dressing you can use on salads or as a dip. (See recipe below.)

As always, this recipe is part of my mission to provide you with 2 goals:

1) To make amazingly simple homemade comfort food.

2) To learn fun tips to make cooking fun.

(Watch the video to see all of this in action!)
---
Caesar Parmesan Potato Salad
Ingredients
Caesar Dressing Ingredients:
1/2 cup mayonaise
1 tsp dijon mustard
1 lemon (zest and juice)
1/2 cup parmesan cheese (grated)
2 pinches black pepper
2 cloves garlic
Potato Salad Ingredients:
2 1/2 lbs yukon gold potatoes (cut in half)
1/2 red onion chopped
4-5 romaine hearts chopped in strips (you can use any crisp lettuce)
4 cups chicken stalk
1 pinch salt
Instructions
First, add potatoes to a large pot. Now pour enough chicken stock to just cover the potatoes.

Turn stove on high. When you start to see a boil then set the timer for 10 minutes.

Now drain the potatoes and cool before adding to the rest of ingredients.

Next add the above Caesar dressing ingredients in a bowl. Mix until well combined.

Now add cooled potatoes, onions, a pinch of salt and lettuce to the dressing and mix.

Technique Tip For Even Mixing: Stir slowly. Mixing from the bottom of the bowl upwards to the top of the bowl. Rotate the bowl as stiring to get quick even mixing).

Now enjoy this yummy recipe mash up. You can serve right away or make ahead a day in advance.
Your Dash Of Gratitude:

ANY QUESTIONS OR COMMENTS? COMMENT BELOW 🙂
With a grateful heart and an amazing tummy – Jay
(Visited 2,500 times, 1 visits today)
Subscribe for tasty, free recipes!
Reader Interactions