Dinner just became creamy, juicy, hot meatloaf topped with sweet marinara and lots of bubbly cheese. Your world will smile bright as we have replaced pizza crust with meatloaf. Also this comfort food dinner takes half the time then normal meatloaf recipes.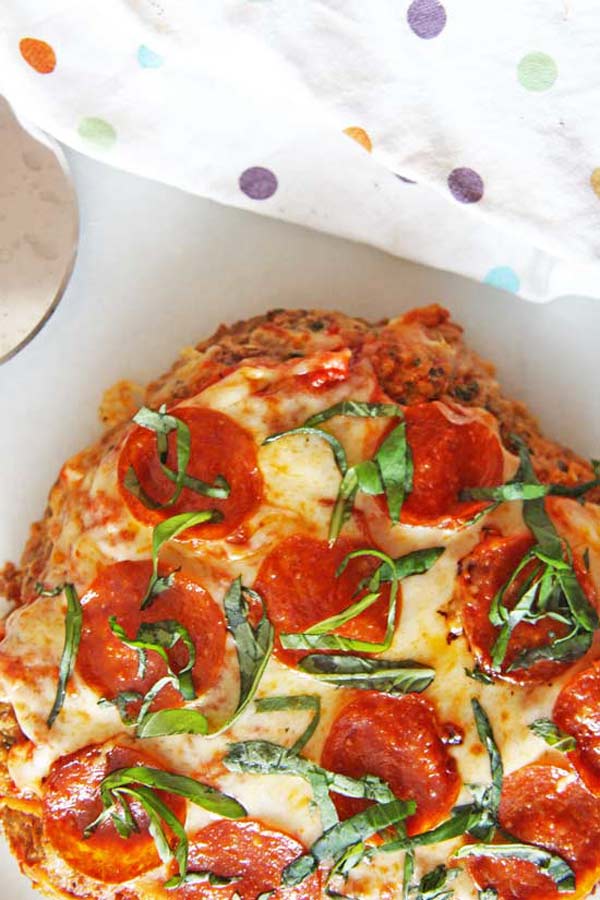 Growing up, my family eat super healthy except 1 x a week we had comfort food and on Sundays we had Chinese take out. When it was comfort food night I always chose something meaty and cheesy. One of my favorites was an meat lovers pizza. Ironically that is my Mom and Toms favorite too! Great minds think alike! So meatloaf pizza really brings back those warm happy comfort food memories as a child and makes the world better, every bite.
I cant wait for you to try this recipe!!! Cheers to comfort food love on a plate. Happy Cooking!
Meatloaf Pizza Recipe
Ingredients
Meatloaf Ingredients:
1/4 cup ricotta cheese
4 tablespoons Parmesan (grated)
1/4 teaspoon red pepper flakes
1/4 cup parsley chopped (handful)
5 basil leaves (chopped)
1 teaspoon fresh oregano (chopped)
1 teaspoon salt
1 teaspoon pepper
2 cloves garlic (grated or chopped finely)
1 pound ground beef
2 eggs
1/4 cup bread crumbs
Meatloaf Pizza Toppings
4 tablespoons marinara sauce (favorite jarred)
1/2 cup mozzarella cheese (grated)
7 pepperoni
Instructions
Preheat the oven at 375.

First, in a large bowl mix ricotta cheese, Parmesan, red pepper flakes, parsley, oregano, basil, garlic, and salt/pepper.

Next, add the ground beef, eggs, and bread crumbs to the bowl. Mix to combine all the ingredients well.

Now, form the meat mixture into a ball and place on a parchment paper (or tinfoil) lined sheet pan.

Push and shape ball of meat into a pizza crust shape. Approximately the size of a dinner plate.

Next, place in the oven for 25 minutes to cook the meatloaf pizza crust.

When the meatloaf comes out of the oven, drain excess grease from sheet tray. (Be Careful: use spoon to hold the meatloaf so it does not fall off sheet tray).

Now, add the marinara sauce on top, then the cheese, and finally the pepperoni (or your favorite toppings).

Finally, place back in the oven 10-15 minutes. It is ready when cheese melt and bubbly.
QUICK NO BAKE DESSERT  FOOD RECIPE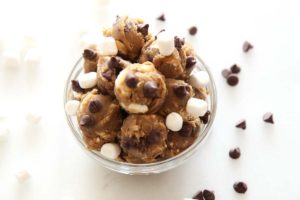 Your Dash Of Gratitude:

ANY QUESTIONS OR COMMENTS? COMMENT BELOW 🙂
With a grateful heart and an amazing tummy – Jay
(Visited 1,577 times, 1 visits today)
Subscribe for tasty, free recipes!