Happy sunshine crunchy rainbow veggie time! This is a great easy healthy sandwich with tang bright flavor for a crowd.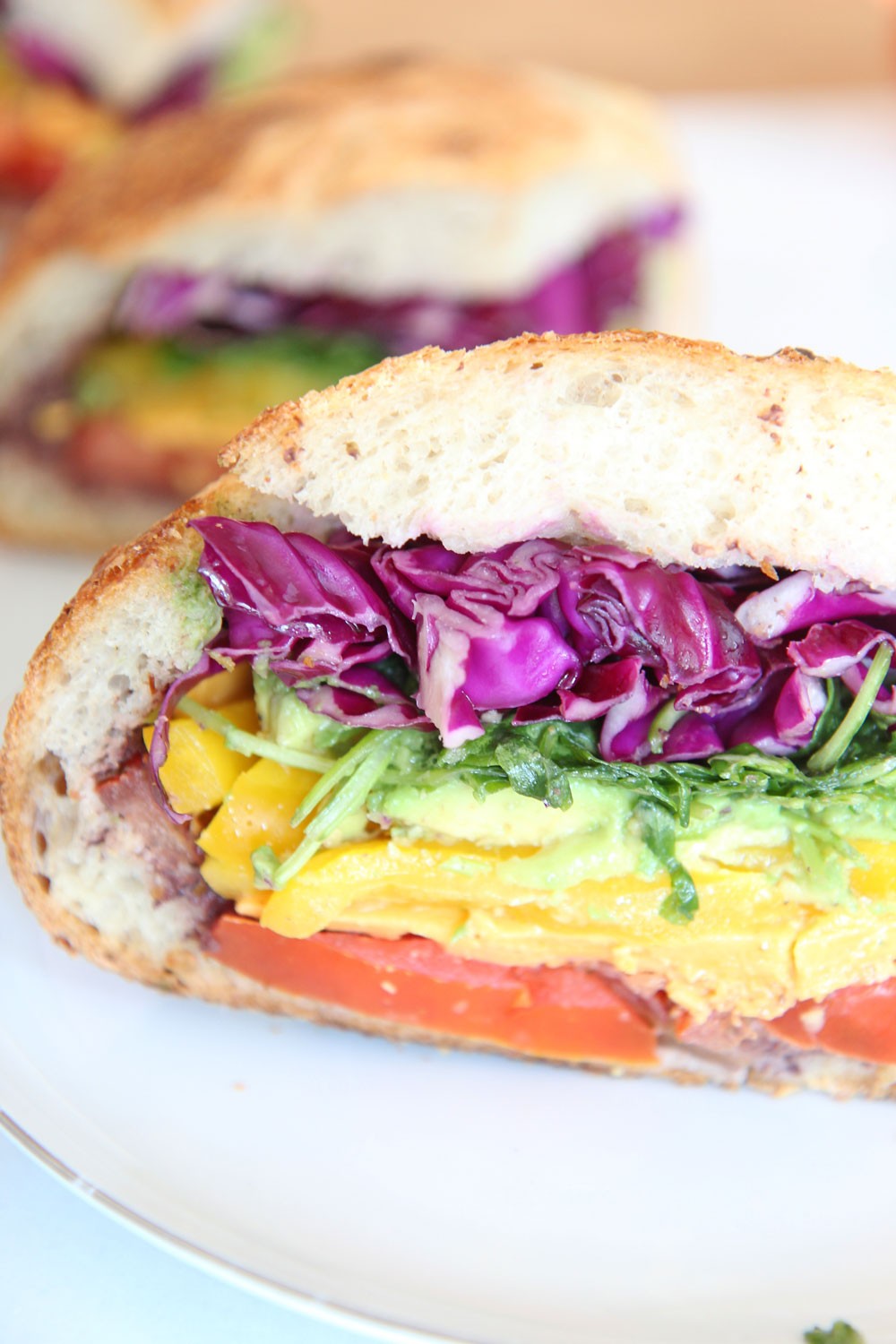 To me rainbows symbolize being proud of who you are. Never forget you are awesome and always be proud of yourself. As you eat this crunchy sandwich say this mantra: "thank you for all my imperfections and I will always be me because that is awesome." It sound corny but in life we all have the nay sayers, people who want us to be what they want, and challenging days. This recipe will remind you that you are great just as you are! Hope this brings you joy and cheers to recipes that celebrate you!
Watch how to make this awesome sandwich:
Rainbow Veggies Sandwich with Apple Cider Vinaigrette
Ingredients
1 round loaf sour dough (cut inch of top and hollow out inside)
1/4 red cabbage (shredded)
1/4 pound cheddar cheese slices (thick slices)
1 yellow pepper (cut in strips)
1 avocado (smashed with lime and salt)
1 tomato (sliced thin)
1 cup arugula
3 tablepoons olive tapenade or pesto
salt and pepper
Apple Cider Vinaigrette
1/3 cup apple cider vinegar
1 garlic clove (grated or finely chopped)
1 teaspoon salt
1/2 teaspoon pepper
1 tespoon Dijon mustard
1/2 cup extra virgin olive oil
Instructions
First, place the arugula, yellow peppers, and cabbage in separate bowls. Add 1 teaspoon sat and 1/2 teaspoon pepper in each and mix. Let sit for 15 minutes so seasons through the vegetable.


Next, combine all vinaigrette ingredients until looks creamy and then pour evenly into all 3 bowls of veggies.

Also, salt and pepper the tomato and avocado.

Now, cut an 1 inch from the top the bread and hollow out the inside. Next smear olive tapenade all over the inside (see video above).

Next, layer veggies in the bread (tomatoes, cheddar cheese, yellow peppers, avocado, arugula, then top layer of cabbage).

Finally, put top of bread on top. Place heavy pot or can onto of the bread and let sit for 1 hour or overnight in the fridge.

Cut and enjoy!
My Fave Pot To Cook With:
Check Out This book! It changed my life and keeps me centered:
QUICK NO BAKE DESSERT  FOOD RECIPE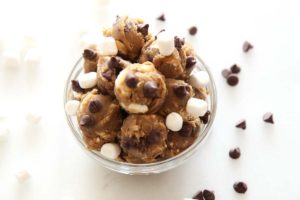 Your Dash Of Gratitude:
                                                                                                                                   
ANY QUESTIONS OR COMMENTS? COMMENT BELOW 🙂
With a grateful heart and an amazing tummy – Jay
(Visited 1,021 times, 1 visits today)
Subscribe for tasty, free recipes!