Easy sheet pan dinner for calzone smiles midweek!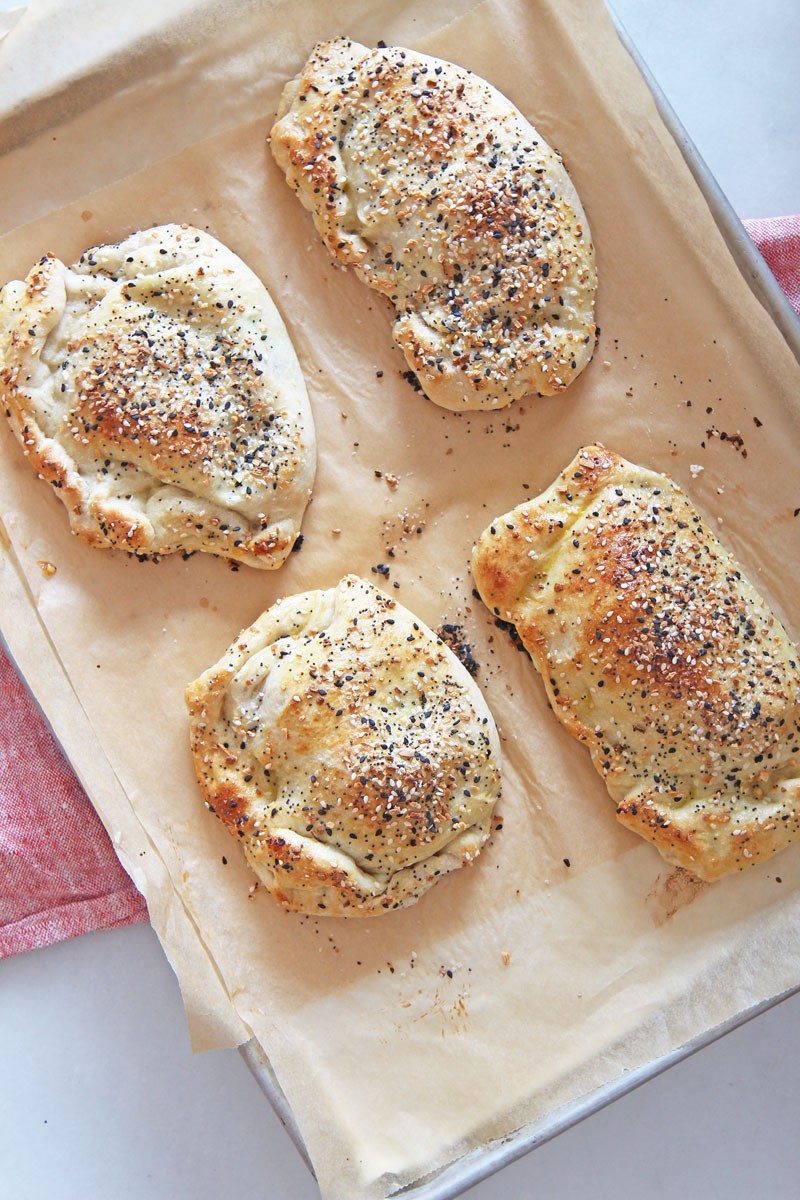 One of the most important lessons I learned from Mama Goldstein growing up was to never wait to enjoy life. Every Thursday we could order anything we wanted for dinner. This was so that we would celebrate during the week. She was big on not waiting to the weekend to have fun! I would usually got Italian food or Bagel and Lox. So I combined the two faves to make this awesome sheet pan bagel calzone.
Pick one day during the week and make it a dinner celebration night. Make something fun, easy and decadent and cheers to life. What would you eat on your celebration dinner night? Hope this helps celebrate you and inspires you to live a happy life.
Recipe Hack:
Use pre-made pizza dough! This will make dinner happen so fast. If the store does not have pizza dough go to your local pizzeria. They will totally sell you dough. 
My Favorite Everything Bagel Seasoning:
Watch how to make this awesome sheet pan recipe: 
Everything Bagel Calzones
Ingredients
1 pizza dough
4 ounces smoked salmon (chopped)
3 scallions (chopped)
5 tablespoons dill (chopped)
2 cup ricotta cheese
1/2 lemon (juice)
4 tablespoons everything bagel seasoning (3 for inside and 1 tablespoon for outside)
1 teaspoon salt
1 teaspoon pepper
1 egg
Instructions
First, preheat the oven at 400 degrees.

Next, mix scallions, dill, smoked salmon, ricotta, lemon juice, salt, pepper, and everything seasoning in a bowl.

Now, roll out pizza dough and cut/divide into 4 equal parts.

Next, divide mixture onto the center of all four piece of dough.

Now, fold over ends (see video above) into calzone triangle shape. Press the edges and crimp. Place calzones on sheet tray.

Next, brush egg on top of the calzones and then sprinkle everything seasoning over the top.

Finally, cook 15-20 minutes until brown and enjoy!
My Favorite Ways To Add More Gratitude In My Life: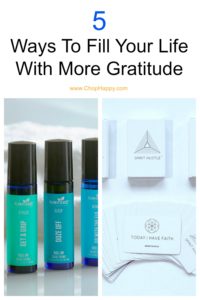 Totally Recommend This Food Processor:
Check Out This book! It changed my life and keeps me centered:
QUICK NO BAKE DESSERT  FOOD RECIPE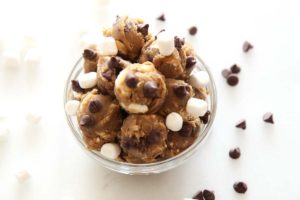 Your Dash Of Gratitude:
                                                                                                                                   
ANY QUESTIONS OR COMMENTS? COMMENT BELOW 🙂
With a grateful heart and an amazing tummy – Jay
(Visited 1,590 times, 1 visits today)
Subscribe for tasty, free recipes!