Quick 30 minute sweet garlicky bread soup to warm you up and celebrate you.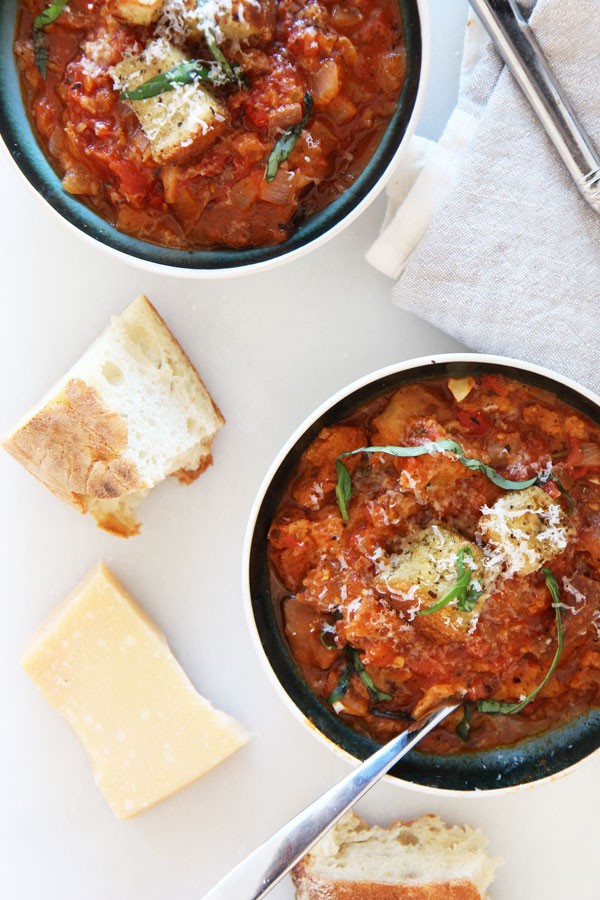 This is dedicated to all my bread fanatics like me. I could eat bread every meal and be happy. Me and Tom went to Florence Italy a couple years ago on an eating adventure. I think by the end of the trip we ate more pasta and bread then we had ever eaten in our whole live. Just for the record that was a good thing lol! I love how each dish was so simple yet so bold in flavor. It was so inspiring for life.  After this trip we tried to simplify our thoughts and
appreciate
all the delicious small things life presented us as big bold wins. Its so true we complicate the small things and only celebrate the big things. Today, as you make this awesome 30 minute soup, celebrate all the small things in your life. Think of 10 awesome small things to cheer about. A great example: I am grateful for my pillow, as it comforted me with fabulous sleep last night. Another example: I am
grateful
for the music on my commute, because is started my day positive! Happy cooking and simplifying!
Watch how to make this awesome soup:
Garlic Bread Soup
Ingredients
Crouton Ingredients:
1/2 loaf Italian Bread (cut in small cubes)
2 cloves garlic (chopped)
1 tablespoon dried oregano
1/2 teaspoon red pepper flakes
2 tablepoons butter
4 tablespoons extra virgin olive oil
Soup Ingredients:
3 tablespoons olive oil
1 onion (chopped)
1 tablespoon dried oregano
1/2 teaspoon red pepper flakes
3 cloves garlic (chopped)
1 teaspoon salt
1 teaspoon pepper
1 large can of whole tomatoes and liquid
3 cups chicken broth (or veggie broth)
10 leaves fresh basil (chopped)
1/4 cup Parmesan cheese
1 rind Parmesan (optional)
Instructions
Crouton Instructions:
First heat a pot (medium high) with oil, butter, oregano, red pepper flakes, and garlic. Stir for 30 seconds

Next, add the bread and mix until crispy. This takes approximately 1 minute.

Finally take out and set aside.
Soup Instructions:
First, using the same pot add olive oil, onions, salt and pepper on medium heat.

Next, add oregano, red pepper flakes, and garlic and stir for one minute.

Now add can of tomatoes and smash with potato masher (or big spoon). Then add the chicken broth, rosemary, and Parmesan rind.

Next cook 20 minutes uncovered.

Finally top with extra basil, Parmesan cheese and drizzle of olive oil and enjoy!
Check Out This book! It changed my life and keeps me centered:
QUICK NO BAKE DESSERT  FOOD RECIPE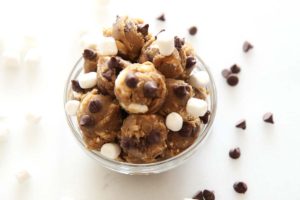 Your Dash Of Gratitude:
                                                                                                                                   
ANY QUESTIONS OR COMMENTS? COMMENT BELOW 🙂
With a grateful heart and an amazing tummy – Jay
(Visited 1,407 times, 1 visits today)
Subscribe for tasty, free recipes!