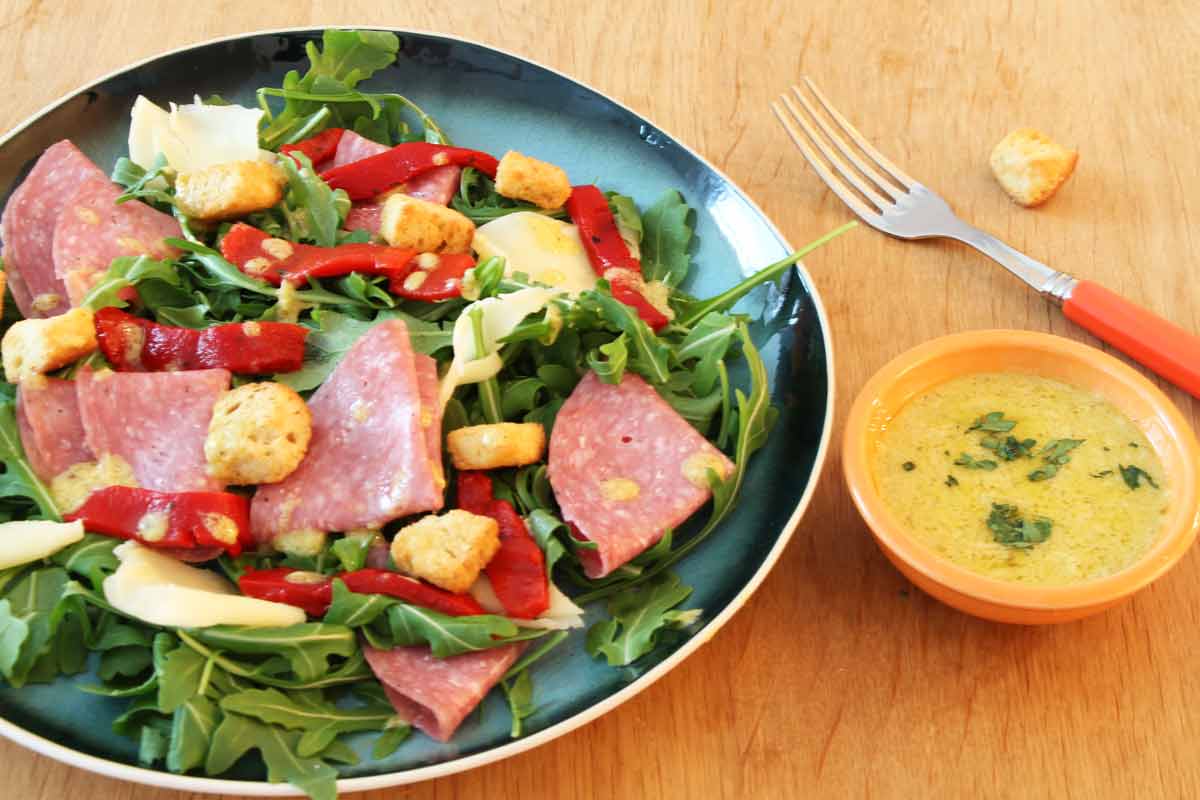 This Salami Sandwich Salad recipe is so easy to make. On those crazy busy weeknights, this will be a fast dinner that will make everyone's tummy's smile. Also, It is a remix that takes the "insides" of that salami sandwich and marries it with Dijon vinaigrette to make a scrumptious salad. My favorite salad of all time was from Claire's Corner Copia in New Haven. When I would have a bad day, I would order their Cobb salad with yummy cheese, crunchy lettuce, and amazing tangy dressing. Most of all, never forgot to get extra croutons because they have the best in the world. This recipe is my new go to comfort food.
Also, what I love about this salad recipe is that it's super easy, and it combines all the peppery, sweet and salty flavors in one bite, not to mention that it's pretty to look at. Finally, you can even change up the contents with whatever cold cuts and cheeses you have in the fridge.
---
Technique Tip: Do not drown your salad in to much dressing. Less is more! Pour the dressing on the greens with a teaspoon to lightly coat. You can always add more. When you use less dressing it does not drown out the flavors of the other ingredients.
Arugula is Packed with Good Stuff: This fabulous peppery green is not just yummy, its also good for you. Arugula is packed with protein, lots of fiber (makes you full faster), and the vitamins A (antioxidant) and C (immune booster). Also if you are trying to eat healthier, it  packs big punch of tasty peppery flavor all on its own. This means you will love eating salad.
        Make This Salad Recipe Your Way:
Salami  Sandwich Pasta Salad: mix the salad and dressing with cold pasta its yummy. Use whatever leftover lunch meat you have in the fridge instead of the salami.
Vegetarian Salad: replace the salami with tofu. 
Wedge Salad: replace arugula with iceberg wedge and pour ingredients on top.
---
YOUR DASH OF GRATITUDE:
"Having an Attitude of Gratitude makes the sun shine through the clouds."
Salami Sandwich Salad
This Salami Sandwich Salad recipe is so easy to make. On those crazy busy weeknights, this will be a fast dinner that will make everyone's tummy's smile.

Ingredients
Dijon Vinaigrette
2 tbs Dijon Mustard
1/2 cup extra virgin olive oil
1 lemon juiced and zested
1 garlic clove chopped finely
1 pinch salt and pepper
Salami Sandwich Salad (makes 2 salads so divide the ingredients between 2 plates)
4 slices provolone cheese cut in 4's
4 slices genoa salami cut in 4's
10 strips roasted red peppers
1/2 cup garlic croutons
1 pinch salt and pepper
Instructions
Easy Dijon Vinaigrette
First make the dressing. Place the garlic, Dijon mustard, salt, pepper, lemon juice and zest in a bowl.

Now add the extra virgin olive oil and mix until it is a creamy consistency. Set aside to mix with salad.
Salami Sandwich Salad
First divide the arugula between 2 plate. Season the arugula with salt and pepper.

Now add the salami, provolone, roasted red peppers, and croutons on top of the arugula.

Finally drizzle the dressing on top.

Cheers to a yummy salad and Happy Eating!
Notes
You will probably have leftover Dijon Vinaigrette. The dressing can be stored in the fridge for a week. Just mix before reusing. 
ANY QUESTIONS OR COMMENTS? COMMENT BELOW 🙂
With a grateful heart and an amazing tummy – Jay
(Visited 1,388 times, 1 visits today)
Subscribe for tasty, free recipes!