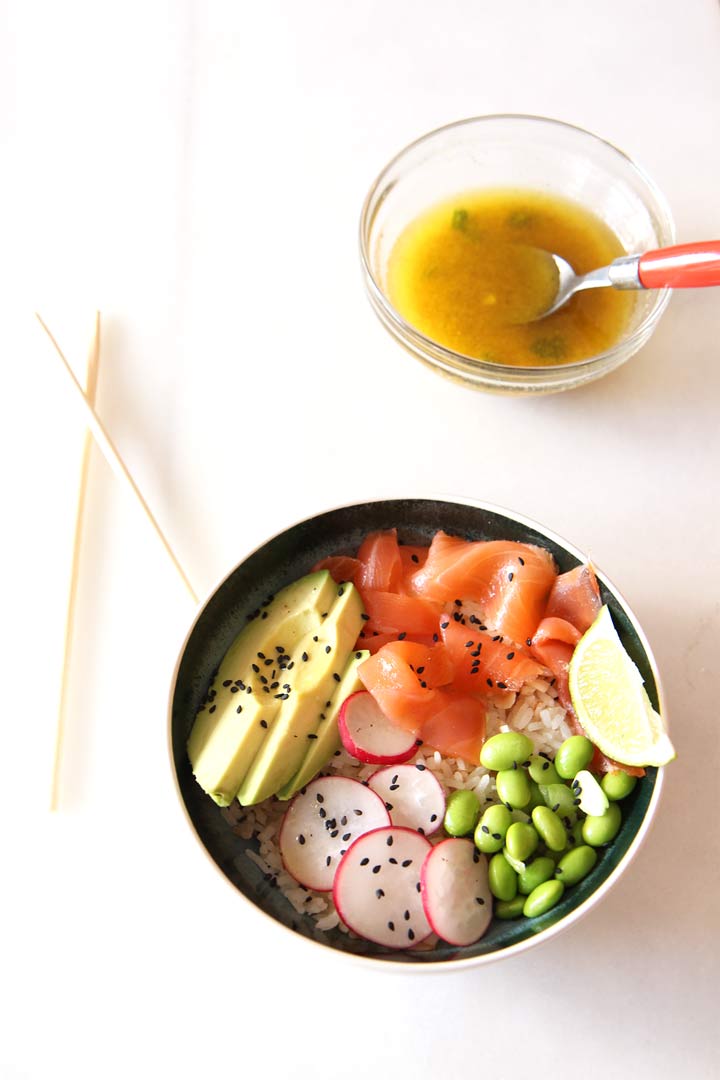 There is nothing more satisfying than a tangy bowl of rice with creamy avocado and smoked salmon. It's so comforting to curl up to this easy dinner, and I feel fancy making this in my sweatpants knowing that I didn't cook anything except the rice. And in true Chop Happy and NYC style, I wanted it to be fast and full of personality.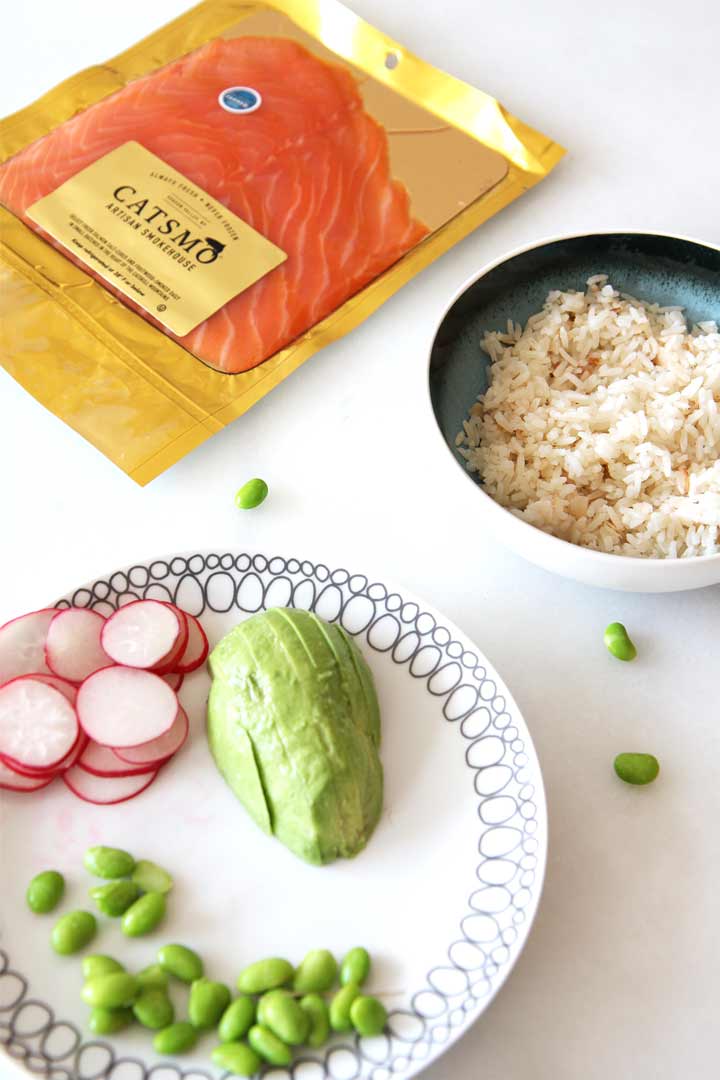 The NYC moment that inspired this dish:
When I first met Tom, he took me to Astor Place, a lively street in NYC's East Village filled with tons of Japanese restaurants. It was then and there that I was introduced to an izakaya, a Japanese restaurant with a bar/pub feel offering small plates of numerous items like you would find at a tapas restaurant.
The eatery we went to was cramped, like so many NYC restaurants, but it was so much fun! One of my favorite dishes there was the salmon rice bowl, and I've recreated it in this oh-so-simple recipe with a slight twist.
---
You will learn two things in this recipe that you can adapt to other recipes:
1. The secret to making a home-made rice bowl taste like it came straight from the restaurant:
– The key is the rice vinegar (see video or recipe below for how to apply this)
2. My versatile ginger vinaigrette:
– As a salad dressing or as a rice bowl sauce.
– Use it to jazz up a summer pasta salad.
– Marinade for chicken or shrimp.
– In your stir fry: After all your veggies and meat are cooked, pour this in and stir at the last minute.
---
YOUR DASH OF GRATITUDE:

Salmon Rice Bowl w/ Tangy Ginger Dressing
There is nothing more satisfying than a tangy bowl of rice with creamy avocado and smoked salmon.
Ingredients
Tangy Ginger Dressing Ingredients:
1 clove garlic grated or chopped finely
2 tsp rice vinger
1 tbs ginger grated
1/2 cup extra virgin olive oil
2 tsp soy sauce
1 tsp Dijon musturd
1 tsp maple syrup
Salmon Rice Bowl Ingredients:
4-5 slices smoked salmon sliced in strips
1 avocado halfed cut into slices or chuncks
1 sliced thin radishes
1 cup edaname
2 cups cooked white rice
1 tsp seasame seeds optional
Instructions
Tangy Ginger Dressing Recipe:
Place all the Tangy Ginger Dressing ingredients in a bowl. Whisk or mix till combined and creamy. Enjoy!
Salmon Rice Bowl Recipe:
Note: As you build the rice bowls, please divide the ingredients between 2 bowls.

Mix the rice with the rice vinegar to add tang and separate the rice.

Now place the other salmon rice bowl ingredients (except sesame seeds) on top of the rice spreading out into sections.

Next add ginger dressing and top with sesame seeds.

Finally enjoy and have an awesome meal.
ANY QUESTIONS OR COMMENTS? COMMENT BELOW 🙂
With a grateful heart and an amazing tummy – Jay
(Visited 1,353 times, 1 visits today)
Subscribe for tasty, free recipes!