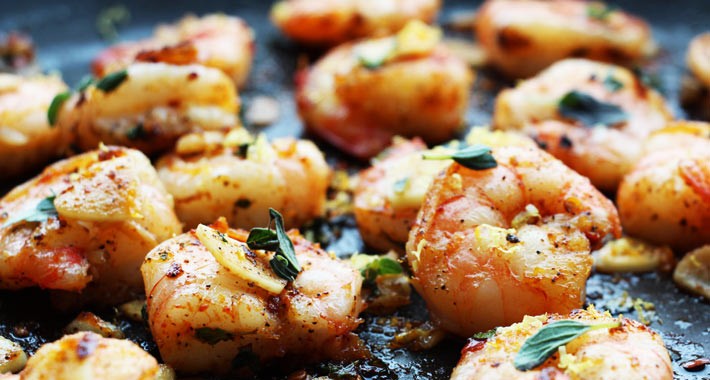 Let's be trendy without even leaving our homes. I took a classic Spanish tapas dish and made this NYC trendy meal super easy and fool proof to make. This is my absolute favorite thing to order at Gato (Bobby Flay's NYC Tapas restaurant in NOHO). This garlic shrimp dish is so good we order two plates of it! I went home and started working on how I can bring this dish to your kitchen and this recipe was born. I love that there are only a couple of steps and how fast it is from pan to plate.
---
Spicy Garlic Shrimp Recipe
Ingredients
3 tablespoons extra virgin olive oil (3-4 swirls around the pan)
2 tablespoons butter
1 pound peeled deveined shrimp
Big 3-finger pinch salt and pepper
1/2 teaspoon red pepper flakes
1/2 teaspoon smoked paprika
1 – 4 cloves garlic sliced in nickel shapes (make it as garlicky as you like)
1 lemon (juice and zest)
1 tablespoon fresh oregano roughly chopped (or 1 teaspoon dried)
---
Instructions
Heat pan on medium high, swirl and stir in olive oil and butter
Add shrimp, spreading them out so they aren't touching, leave for a minute. Flip once they start to turn red on the edges and curl up
Season with salt, pepper, red pepper flakes, smoked paprika, garlic, lemon zest and stir
Finish up by squeezing in 1/2 lemon juice and it's ready to eat!
Cooking tip – combine the olive oil and butter, it will keep the butter from burning when cooking on high heat.
This goes great with my Crazy Rice  or Island Coconut Rice – and don't forget the cocktails! –  a Jalapeno Mint Mojito or a glass of Strawberry Sangria would be extra refreshing.
---
Hope you love this as much as I do! Give it a try and let me know 🙂
With a spicy heart and an amazing tummy – Jay
(Visited 1,640 times, 1 visits today)
Subscribe for tasty, free recipes!