Get ready for a juicy, sweet, super easy Watermelon Poke Recipe. It is the newest food trend and it's all over NYC now. Poke is a Hawaiian dish in which raw fish is cubed and mixed with a Asian marinade. It can be eaten on its own or served over rice, like a sushi bowl.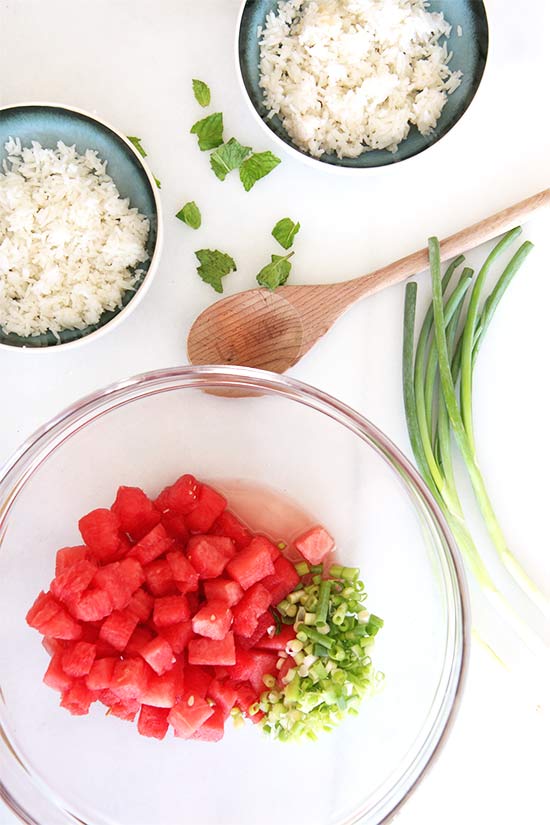 The first time I had this was in the most beautiful setting of my life. Me and Tom went to visit our friends Carol and Daniel. Daniel is in the Army and stationed there for awhile. Me, Carol, and Tom went a picked up a couple of poke bowls and sat on the most beautiful beach ever. We saw sea turtles, the ocean was clear turquoise blue and magical. Maybe it was the setting but I will never forget the peace and calm me and Tom NYC residents felt.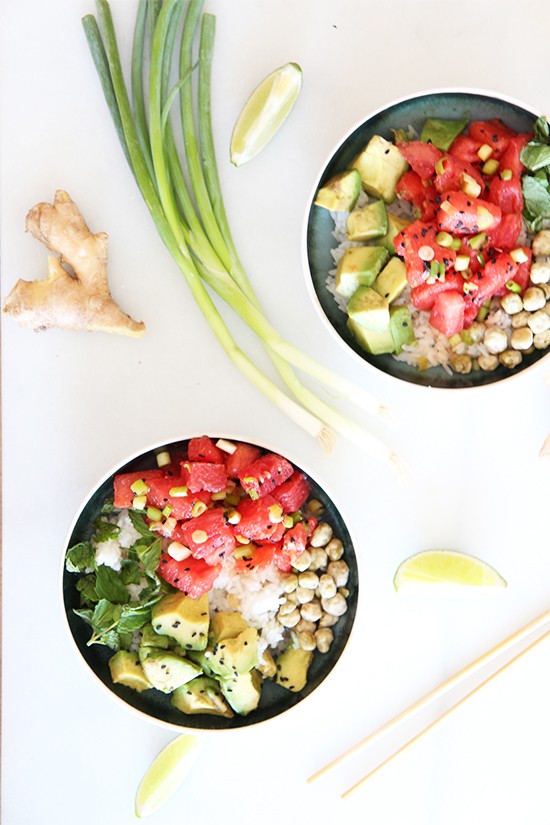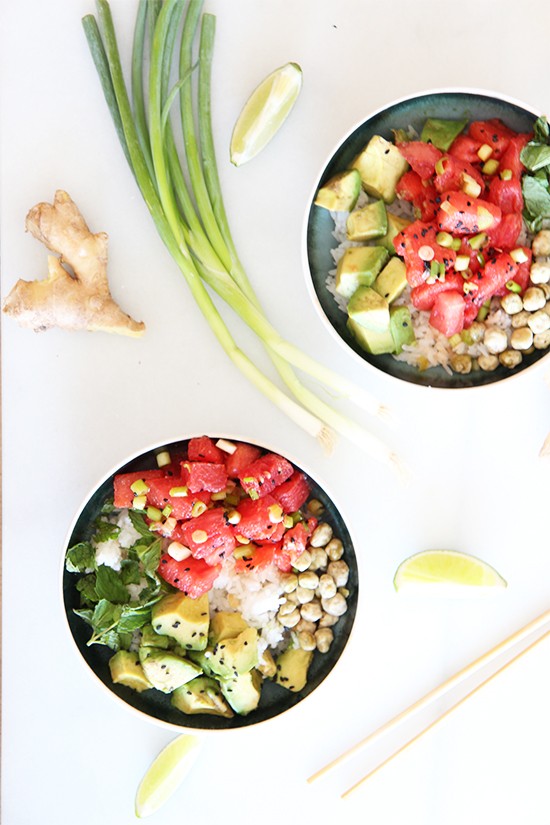 Then all of the sudden Tom would come home and say he had poke for lunch on a consistant basis and I knew I had to make my own recipe. He is my Jeffery (Ina Garten cooks dinner for Jefferey every night).
So I came up with an awsome recipe using watermellon instead of fish, my ginger dressing I allready created from my Smoked Salmon Rice Bowl, and it looks so cute and tatses soooo good.
Get ready for a quick but amazingly juicy, comforting bowl of love from me to your family.
Watermelon Avocado Poke Bowl
Ingredients
Ginger Dressing Ingredients
1/2 cup extra virgin olive oil
1 clove garlic (grated)
1 inch ginger (grated or finely chopped)
2 tsp soy sauce
2 tsp rice vinger
1 tsp Dijon mustard
1 tsp maple syrup
Poke Ingredients
1 cup cooked rice
2 cup watermelon (diced seedless)
1 avocado (cut into small chunks)
1/2 cup wasabi peas (you can substitute with any nuts)
1 tsp black sesame seeds
5 scallions (chopped)
Instructions
First make the ginger dressing.

Combine all the ginger dressing ingredients in a bowl until creamy and fully combined.

Set aside dressing to use in Poke bowl.

Next in large bowl add the watermelon, scallions, black sesame seeds, and 1/2 the dressing. Mix the ingredients together.

Now divide the rice into 4 bowls.

Next add avocado, the watermelon mixture, and wasabi peas on top of the rice of the 4 bowls.

Finally pour extra sauce on top of each bowl and enjoy.
Your Dash Of Gratitude:

ANY QUESTIONS OR COMMENTS? COMMENT BELOW 🙂
With a grateful heart and an amazing tummy – Jay
(Visited 1,287 times, 1 visits today)
Subscribe for tasty, free recipes!