Pigs in a blanket have always been one of my favorite foods, and these "everything bagel" pigs in a blanket are my new obsession. They are incredibly easy to make and are a tornado of crispy, salty, garlicky, cream cheese lava flavor. I definitely cannot eat just one! This recipe has such special meaning for me. As a child, my mom would make pigs in a blanket every holiday, and every single time, I would get in trouble for eating them before the guests arrived.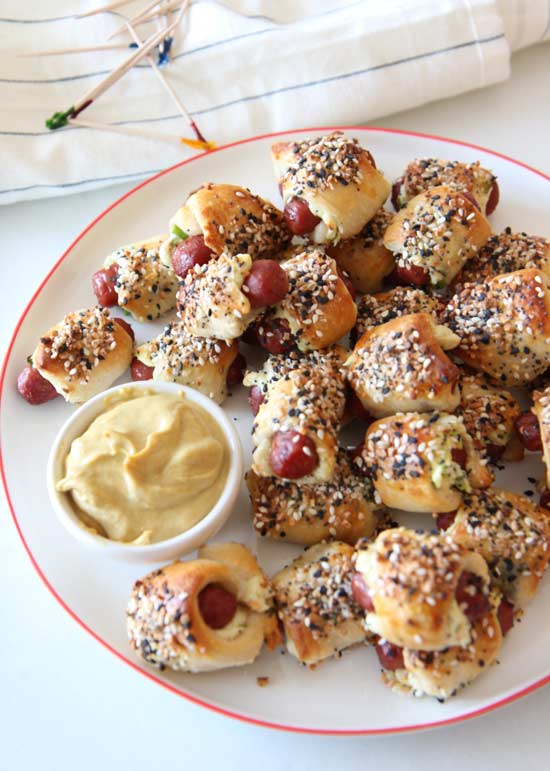 Buy Trader Joes Everything Bagel Seasoning Online: Click Here
The world is filled with crunchy salty fun! Celebrate the small things and life will always be a celebration! I hope this recipe also celebrates you! When I got married, my only request was to have a whole table filled with these savory appetizers. As you can see, my obsession continues. With this recipe, I got to combine two of my greatest loves: hot dogs and New York City, home to some of the best bagels in the world!
Try this, and make sure to make extra so you can snack on them too!
For more easy, happy comfort food recipes, check out our Pinterest Page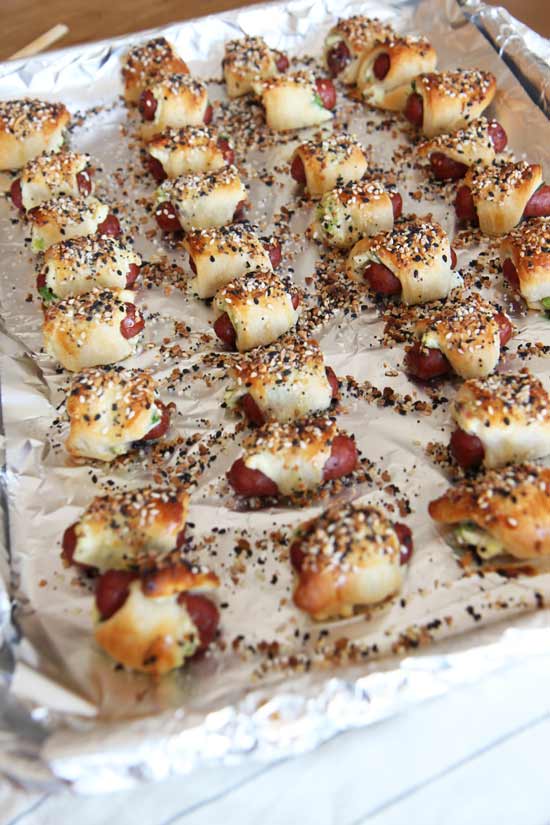 Everything Bagel Pigs in a Blanket Recipe
Ingredients
1 package crescent dough (cut into 1-inch triangles)
8 oz cream cheese
5 scallions chopped
1 tsp salt
1 tsp pepper
1 tbs lemon juice (optional)
1 package mini hot dogs
1 egg (whisked)
Everything Bagel Seasoning Ingredients: (or get Trader Joe's pre-made seasoning):
1 tbsp sesame seeds
1 tbsp poppy seeds
1 tbsp garlic powder
1 tbsp dried onion flakes
1 tbsp salt
Instructions
Everything Bagel Seasoning Recipe:
Combine all the seasonings together. Leftovers can be stored in a sealed container for 6 months.
Everything Bagel Pigs in a Blanket Recipe:
Preheat oven 350 degrees

First, combine the mixture of cream cheese, scallions, 1 tsp of salt, 1 tsp pepper, and lemon juice.

Next, spread a generous portion of the cream cheese mixture on one side of the crescent dough strip.

Now place the hot dog on top of the cream cheese topped dough and wrap around the hot dog.

Repeat with all the pieces of crescent dough and place on sheet tray, seam-side down.

Next, brush the top of the dough with egg wash and generously sprinkle everything bagel seasoning on top.

Bake according to package instructions (approximately 14-18 minutes).

Enjoy this awesome comfort food!
CHECK OUT THIS NO BAKE S'MORES COOKIE DOUGH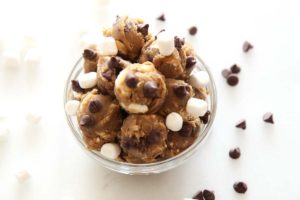 Your Dash Of Gratitude:

ANY QUESTIONS OR COMMENTS? COMMENT BELOW 🙂
https://desociointhekitchen.com/home/2019/11/20/goat-cheese-spread-with-sun-dried-tomatoes-olives-and-roasted-red-peppers
With a grateful heart and an amazing tummy – Jay
This book changed my life and it is how I elevated my home cooking:

(Visited 12,442 times, 1 visits today)
Subscribe for tasty, free recipes!