Sweet, buttery, juicy, and spicy whole roasted cauliflower surrounded by fluffy salty potatoes for dinner.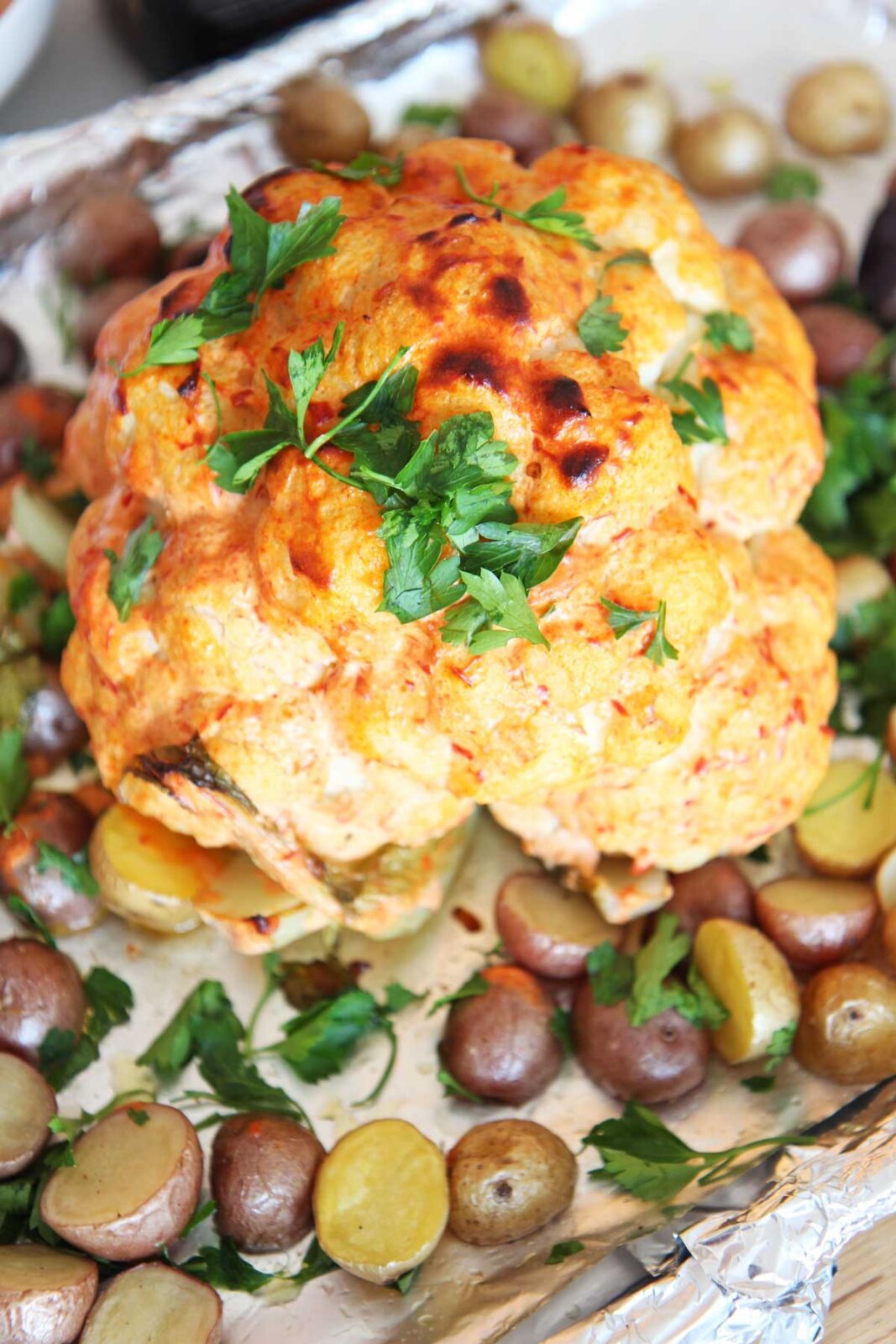 Sometimes we all just need a hug! Hearty, starchy, and butter comfort food can give you that hug you are looking for! Comfort is all about how you treat yourself and nourish your soul. You don't need to go on a yoga retreat in Bali to to do that (but Tom if you are reading this lets go please lol). Little things through out the week can fill up your happy vibes. Dinner is my favorite way especially when it feels like a decadent meal nut is super healthy for you!
Normally Tom (my husband) does not feel satisfied unless meat is on his plate for dinner. I was sooo surprised that he loved this recipe. He felt full and satisfied from a veggie dinner. Cauliflower is one of those superhero veggies that is both hearty and caramelize so well in the oven (with very little work). Usually, roasting whole cauliflower takes a full hour to get the inside cooked. Also, (with most recipes) there is only flavor on top but no flavor in the middle of the cauliflower. I solved both problems by boiling the cauliflower in flavored water for 10 minutes. This cuts the time in 30 minutes and gets lots of flavor in the middle. This recipe is so inspiring because there is always a way to make life easier and happier. You just need figure out the why and find the solution. I hope this recipe makes life so much easier for you. Remember you can do anything and deserve a delicious meal to celebrate you!
Cooking Hack That Makes This Recipe Weeknight Worthy:
Boil the Cauliflower for 10 minutes! This cuts the roasting time in half. Instead of an hour in the oven its now 30 minutes.
Seasoned water adds flavor to the middle. Adding seasoning and butter to the boiling water give the inside of the cauliflower flavor.
Add potatoes with the cauliflower makes a complete meal in one. Adding veggies around the cauliflower makes less work and a fabulous main and side.
Watch how to make this Simple Dinner Recipe: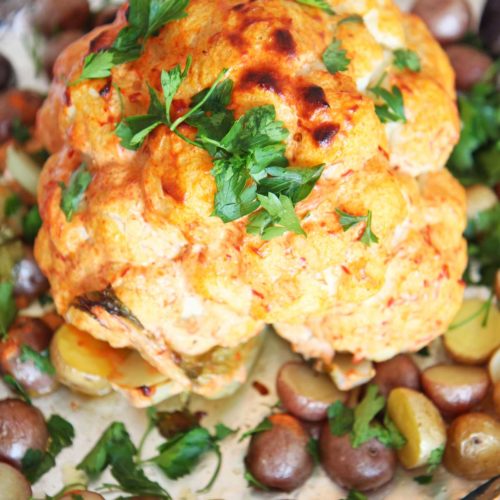 Sheet Pan Whole Roasted Cauliflower and Potatoes
Ingredients
The Cauliflower Ingredients:
1 whole cauliflower
1 teaspoon salt
1 teaspoon pepper
2 tablespoons butter
1 bunch fresh thyme
1/2 lemon (the juice)
The Potato Ingredients:
1 1/2 pounds Yukon gold potatoes (cut in half)
1 teaspoon salt
1 teaspoon pepper
3 tablespoon extra virgin olive oil
The Cauliflower Glaze Ingredients:
1 cup Greek Yogurt
3 tablespoons Harrisa
1/2 lemon (juice)
Instructions
Preheat the oven to 400 degrees.

First, boil water and add salt, pepper, butter thyme and lemon juice. Then carefully place cauliflower in pot, close the lid and cook for 10 minutes.

Next, while the cauliflower is cooking add potatoes oil, salt, and pepper to sheet tray and mix.

Now add cauliflower to center of sheet tray with potatoes and pat dry with paper towel.

Next, mix all the glaze ingredients and smear all over the cauliflower (make sure to get bottom as well).

Now, place in oven on middle rack for 20 minutes.

Finally, enjoy!
Here is the Slow Cooker I Love and Recommend:
Check Out This book! It changed my life and it is how I elevated my home cooking:


I can't wait for you to try this recipe!!! Cheers to easy comfort food.  Happy Cooking!
QUICK NO BAKE DESSERT  FOOD RECIPE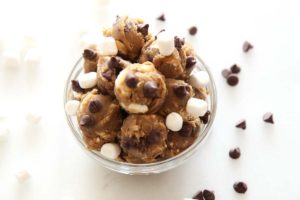 Your Dash Of Gratitude:
                                                                                                                                   
ANY QUESTIONS OR COMMENTS? COMMENT BELOW 🙂
With a grateful heart and an amazing tummy – Jay
(Visited 2,079 times, 1 visits today)
Subscribe for tasty, free recipes!