I was inspired to make this Slow Cooker BBQ Ribs recipe because of my love of ribs. You may not believe it, but NYC has some amazing BBQ places. I had my 30th bday at Hill Country BBQ, which has Texas-style BBQ. They have long wooden benches and tables, scales for you to weigh the meat, and tasty drinks in Mason jars. Tom does not like to eat with his hands but this is the one place he will make an exception.
When I was testing this recipe, I was amazed that it required only simple techniques and a couple of ingredients. The meat falls off the bone, it's smoky and addictive, and the whole thing is made in one pot. It requires no searing or grilling, and it turns out great every time.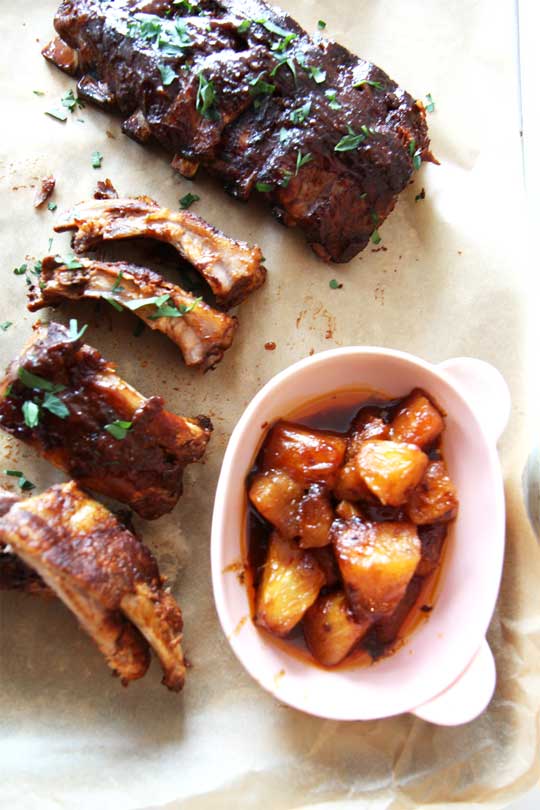 Three Easy Tips For Perfect Slow Cooker Ribs:
1. Smoked paprika to give the smoky flavor. Be careful when recipes call for liquid smoke; it is very potent and easy to use too much.
2. Have the ribs stand up, leaning on the sides of the slow-cooker. This allows the ribs to baste and cook in BBQ sauce, and the sauce that falls to the bottom helps it steam.
3. Pineapple to tenderize the pork. This will make the pork juicy and fall of the bone amazing.
---
YOUR DASH OF GRATITUDE:

Slow Cooker Smokey BBQ Ribs
This "Slow Cooker BBQ Ribs Recipe" is simple and only a couple of ingredients. The meat falls off the bone, it's smoky and addictive. Check it out.
Ingredients
4 lb baby back ribs
1 bottle Favorite BBQ sauce
1/2 cup fresh chunks of pineapple
1 pinch salt
Chop Happy Smokey Rub
1/2 tsp salt
1 tsp black pepper
1 tsp smokey paprika
1 tsp garlic powder
Instructions
First mix the rub ingredients together and rub all over the ribs.

Next add the ribs standing up all around the slow cooker.

Now pour the bbq sauce all over the ribs.

Place the pinapple chunks in the center of the slow cooker. They help tenderize the ribs and make a sweet and smokey side.

Cook on low for 7 hours. When the ribs are done the pork should easily pull apart from the bone.

Finally take the ribs out, cut them into individual ribs, and add pinch salt and more bbq sauce.

Enjoy the ribs and the pineapple as a yummy side.
ANY QUESTIONS OR COMMENTS? COMMENT BELOW 🙂
With a grateful heart and an amazing tummy – Jay
This book changed my life and it is how I elevated my home cooking:

(Visited 2,673 times, 1 visits today)
Subscribe for tasty, free recipes!