This slow cooker short ribs dinner is the perfect warm yummy greeting after a long day. I love slow cooker recipes because it makes a long day easier. I am a chiropractor during the day and food blogger at night so this recipe stands up to my busy day/very little time to cook test!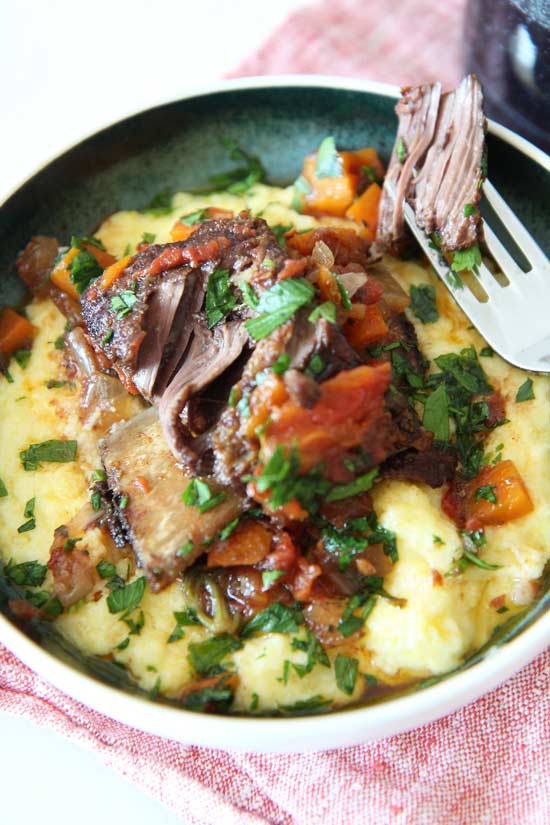 The way to my husband Toms heart is beef, beef, and beef! This is how I get him to smile on Wednesdays. Tuesday night I prepare everything and right before work Wednesday I turn the slow cooker on we come home to a warm beefy meal. Mid week comfort food hugs! I hope this makes your family smile too!
Slow Cooker Tip:
Prepare everything in the slow cooker the night before.
When you wake up take out of the refrigerator and turn on before leave for work ( I put a sticky note by my keys so I don't forget to turn the slow cooker on)
 Come home after along day to a hot meal waiting for you thanks to your personal chef, the slow cooker!
If you want to learn more fun simple slow cooker recipes, check out this awesome book!
Slow Cooker Italian Beef Short Ribs
Ingredients
3 pounds beef short ribs
1 tablespoon salt (to season ribs)
1 tablespoon pepper (1 season ribs)
1 28 oz can of whole tomatoes
2 carrots (chopped)
1 onion (chopped)
1 teaspoon oregano
1 teaspoon garlic powder
1 teaspoon salt (for sauce)
1 teaspoon pepper (for sauce)
1 teaspoon honey
1/2 teaspoon red pepper flakes
10 fresh basil leaves (torn by hand)
1 handful parsley (for garnish at end)
Instructions
First, preheat oven to 400 degrees

Now add salt and pepper to both sides of the short ribs and place on a sheet tray.

OPTIONAL: If you have the time place in fridge overnight. This is so the salt seasons all the way through the beef. This is optional and you can just put directly in oven.

Next, place sheet tray in oven 15 minutes on middle rack. The short ribs should be brown.

Now add tomatoes, garlic powder, honey, oregano, red pepper flakes, salt, pepper, basil, onion, and carrots to the slow cooker. Mix and break up tomatoes with spoon or potato masher.

Next, nestle the short ribs in the sauce.

Finally, cover and cook for 8 hours on low. When finished garnish with parsley.
Watch This Easy Dinner in Action:
I can't wait for you to try this recipe!!! Cheers to easy comfort food.  Happy Cooking!
QUICK NO BAKE DESSERT  FOOD RECIPE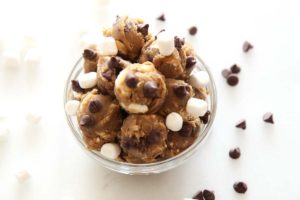 Your Dash Of Gratitude:
                                                                                                                                   
ANY QUESTIONS OR COMMENTS? COMMENT BELOW 🙂
With a grateful heart and an amazing tummy – Jay
This book changed my life and it is how I elevated my home cooking:

(Visited 3,536 times, 1 visits today)
Subscribe for tasty, free recipes!