Dinner should be eaten on the couch with a soul warming bowl of lentil soup smiles.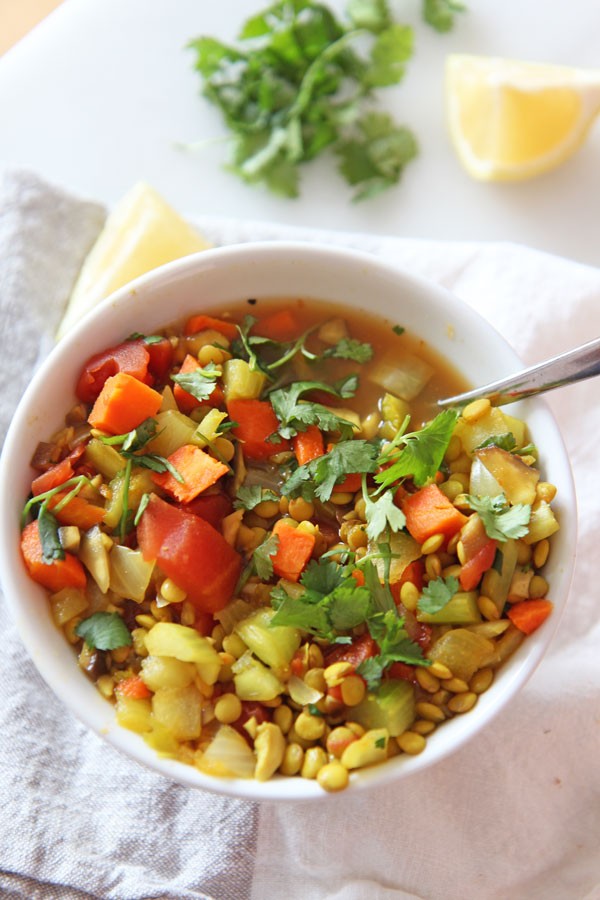 After a day of being on the go, this recipe is designed to welcome you home with a hot bowl (that cooked while you were at work) of zen. As you eat this, wind down and be at peace with all you accomplished today! This recipe was inspired by my favorite day of the week, date night on Friday! Tom and me were at our fave restaurant in NYC Cook Shop and as a special they had turmeric lentil soup. It was inoxicatingly creamy, warming, and so comforting. Tom, who usually does not like soup, wanted to order more to take home. Since I love cooking for him and this made him so happy, I went home and recipe tested. This soup turned out to be crazy easy to make and is my new long day sweatpants happy meal. Hope this warms your heart and gives you a moment of happiness each spoonful! Happy Cooking!
Slow Cooker Happy Tips:
Salt soups at the end! When things cook slow and for a long time the flavors concentrate. If there is allot of salt then the soup will be come super salty. After the soup is done taste and keep adding salt until it zings!
Add shiitake mushrooms to veggie soups! This will add an amazing beefy something special in the background that makes soups amazing.
Watch how to make this awesome soup: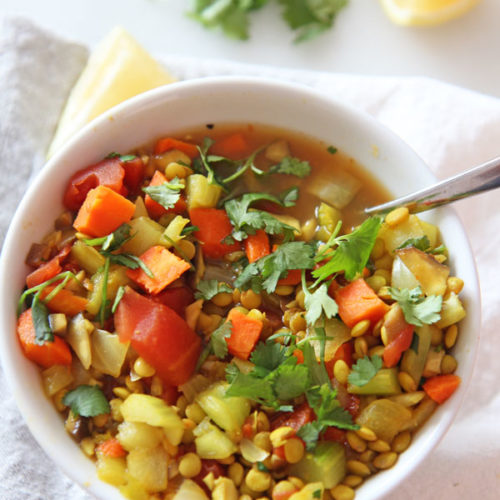 Slow Cooker Turmeric Ginger Lentil Soup
Ingredients
2 cups green lentils
2 carrots (chopped)
2 celery stalks (chopped)
1 onion (chopped)
1 handful shiitake mushrooms (chopped)
1 inch ginger pealed (smash slightly but keep whole)
1 cup water
4 cups chicken broth (can substitute with veggie broth)
14.5 ounce can crushed tomatoes
1 1/2 teaspoons turmeric
1 teaspoon garlic powder
1 teaspoon fennel powder
1 teaspoon red pepper flakes
1 teaspoon cumin
1 teaspoon salt
1 teaspoon pepper
Instructions
First place all the above ingredients in the slow cooker.

Next, mix to combine.

Now, cover and turn to low for 6 - 8 hours.

Finally add salt if needed and enjoy!
Check Out This book! It changed my life and it is how I elevated my home cooking:


I can't wait for you to try this recipe!!! Cheers to easy comfort food.  Happy Cooking!
QUICK NO BAKE DESSERT  FOOD RECIPE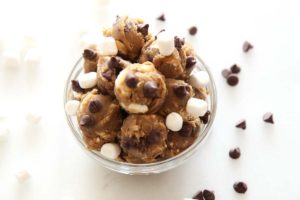 Your Dash Of Gratitude:
                                                                                                                                   
ANY QUESTIONS OR COMMENTS? COMMENT BELOW 🙂
With a grateful heart and an amazing tummy – Jay
(Visited 1,643 times, 1 visits today)
Subscribe for tasty, free recipes!