Crispy easy Potato Chip Crusted Pork Cutlet for your dinner dreams come true!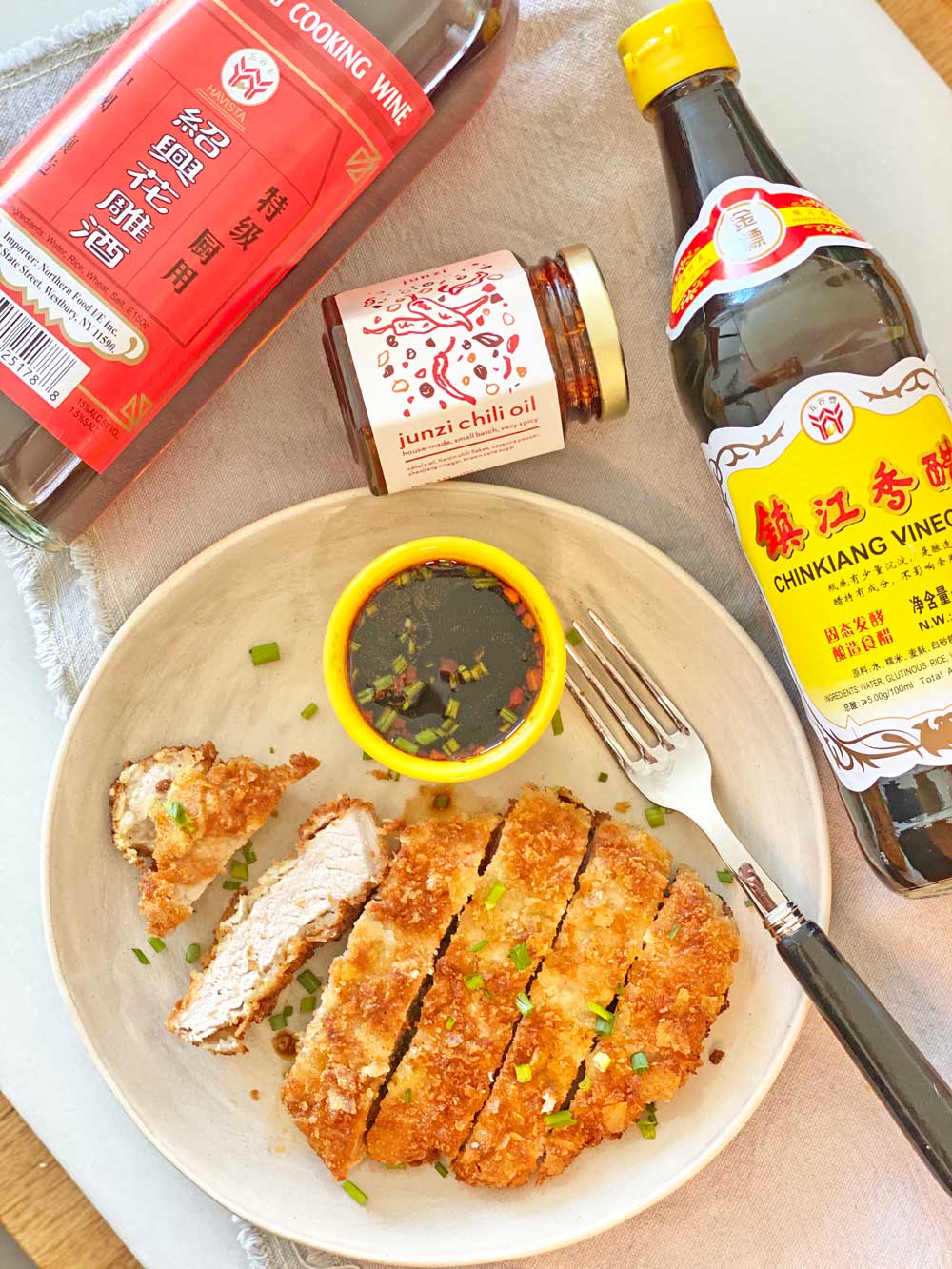 So grateful to
Junzi
for giving me a pantry box and like
Chopped
asking me to make an easy recipe. I always loved pork. Even growing up Mama Goldstein would make us pork chops smeared with take out packets of duck sauce. So when I saw this box I wanted to honor the great pork dinners my mom made. Also, I have been known to be on the couch eating a bag of potato chips for lunch (lol)! So I though why not use the potato chips in the box 1/2 for me and 1/2 to crust the pork. Hope you love this awesome dinner idea! I brine the pork over night and when come home from work bread and fry! Happy Cooking!
Pantry Ingredients Used By Junzi: Click Here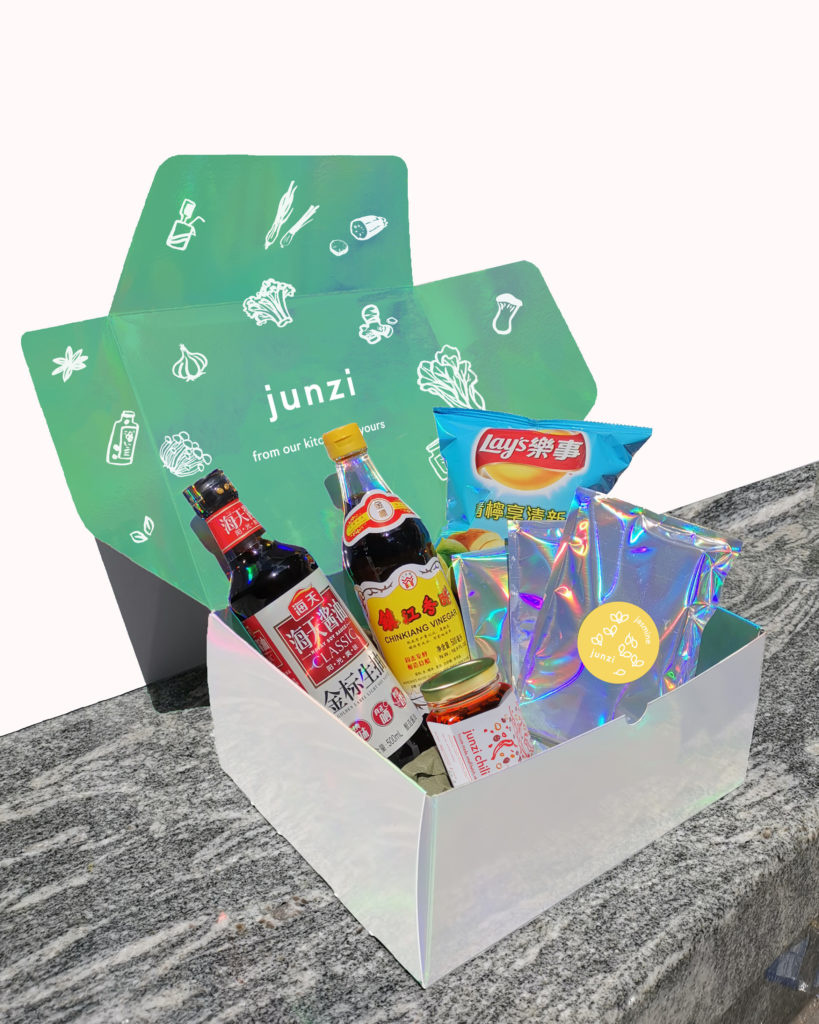 Gratitude Tip While You Cook:
My mission with Chop Happy is to create easy recipe for busy people with a dash of gratitude! Since we all have to be in the kitchen at some point in our day lets use that time to zen out and gain more gratitude.
For the 8 minutes while the pork is cooking visualize your dreams as if it is already here. Working on you does not have to be a long drawn out process. It can be as simple as making agreements with yourself. The perfect book to read to learn more about finding calmness and purpose is
The Four Agreements
Read some pages while the house fills with cheesy joy. Hope this helps you find joy in a crazy day and I am so grateful for you!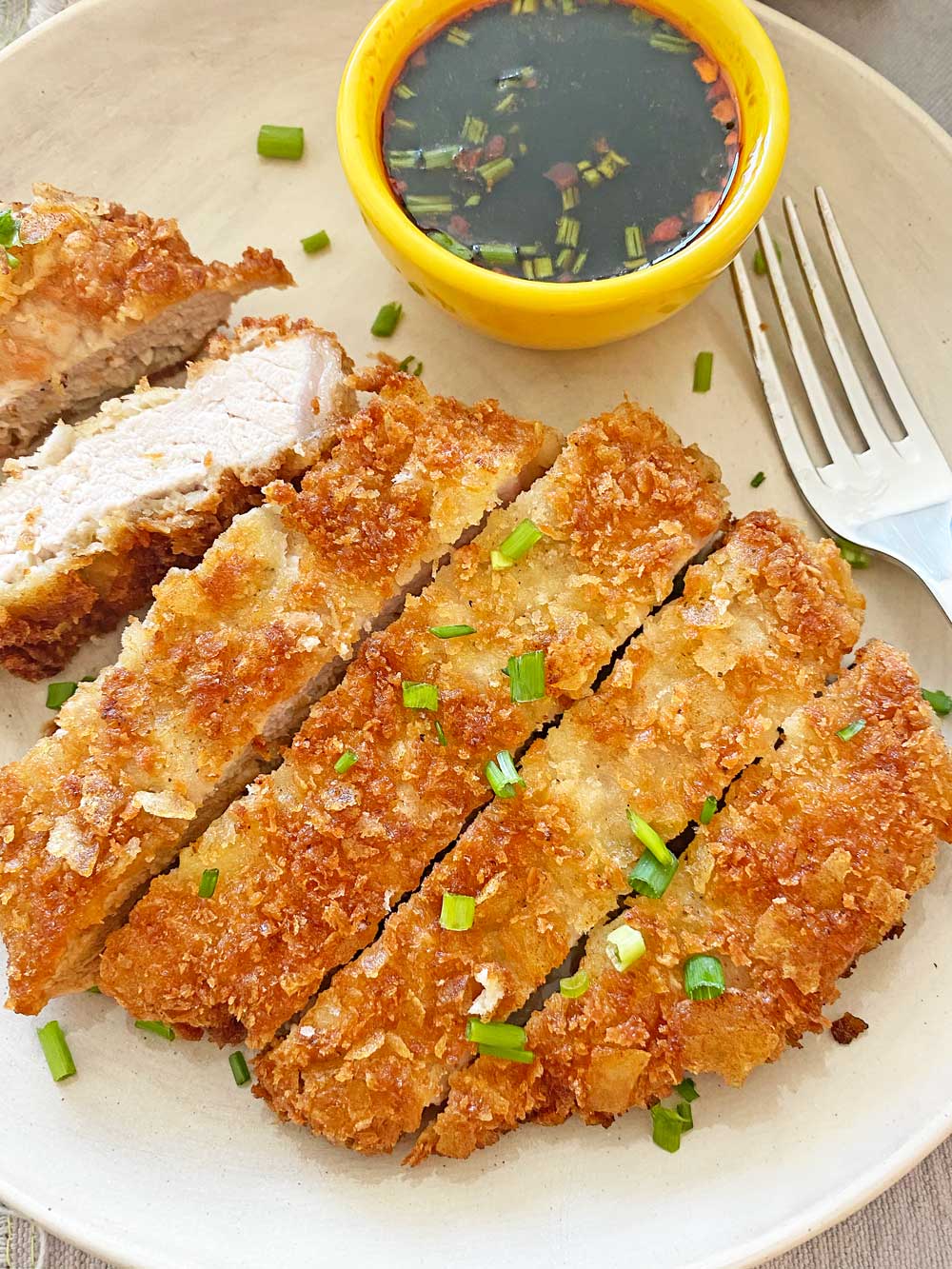 Recipe Hack / Cooking Tips:
Store Bought Flavor Enhancers: Using your favorite potato chips and mixing into breading adds a salty tang to your cutlets. Also you can use Ritz crackers to bread shrimp. 
Tea Brine: Pork can dry out easily and lack flavor. Brining your pork with tea and salt help-s flavor the inside of the pork and make more tender.
Gratitude While Stirring: Use the kitchen as a place for self care. As you stir or chop say what you are grateful for. I do this all the time so that cooking can be a time to recharge.
Watch How To Make Potato Chip Crusted Pork:
Potato Chip Crusted Pork Cutlets
Ingredients
Tea Brine
1 packet jasmine tea bags
1 tablespoon sweet Chinese Cooking wine (substitute apple cider vinegar)
2 tablespoons salt
4 cups water
Pork Cutlet ingredients
4 pork cutlets (1/2 inch thick)
1 cup flour
3 eggs (beaten)
1 tablespoon rice wine vinegar
2 handfuls potato chips (crushed)
1 cup panko bread crumbs
1/2 cup oil (for frying)
1 teaspoon salt and pepper
Spicy Dipping Sauce
3 tablespoons soy sauce
1 teaspoon chili oil
1 teaspoon vinegar
1 teaspoon water
Instructions
First, mix all the brine ingredients together in a pot and boil for 1 minute.

Next, let the brine cool and place in a zip lock bag with the pork cutlets. Let the pork brine in the fridge 5 hours or overnight (you can skip the tea brine step but makes the pork so much more flavorful and tender).

Now, pat dry the pork with a paper towel and sprinkle salt and pepper on the cutlets.

Next, bread the cutlets! Dip the cutlets in a plate with flour, then dip in a plate with the egg mixed with vinegar, then dip in the plate with potato chips mixed with panko.

Now, add oil to fry pan on medium high heat. Cook the cutlets 4 minutes per side.

Next, while still hot add some salt to the pork cutlets.
Dipping Sauce
First, mix all the dipping sauce ingredients into a bowl.

Next, mix and enjoy!
Other Easy Recipes:
Any question comment below or email! I love helping change the recipe!
(Visited 962 times, 1 visits today)
Subscribe for tasty, free recipes!