Crunchy, bright, and seared happy scallop dinner fast!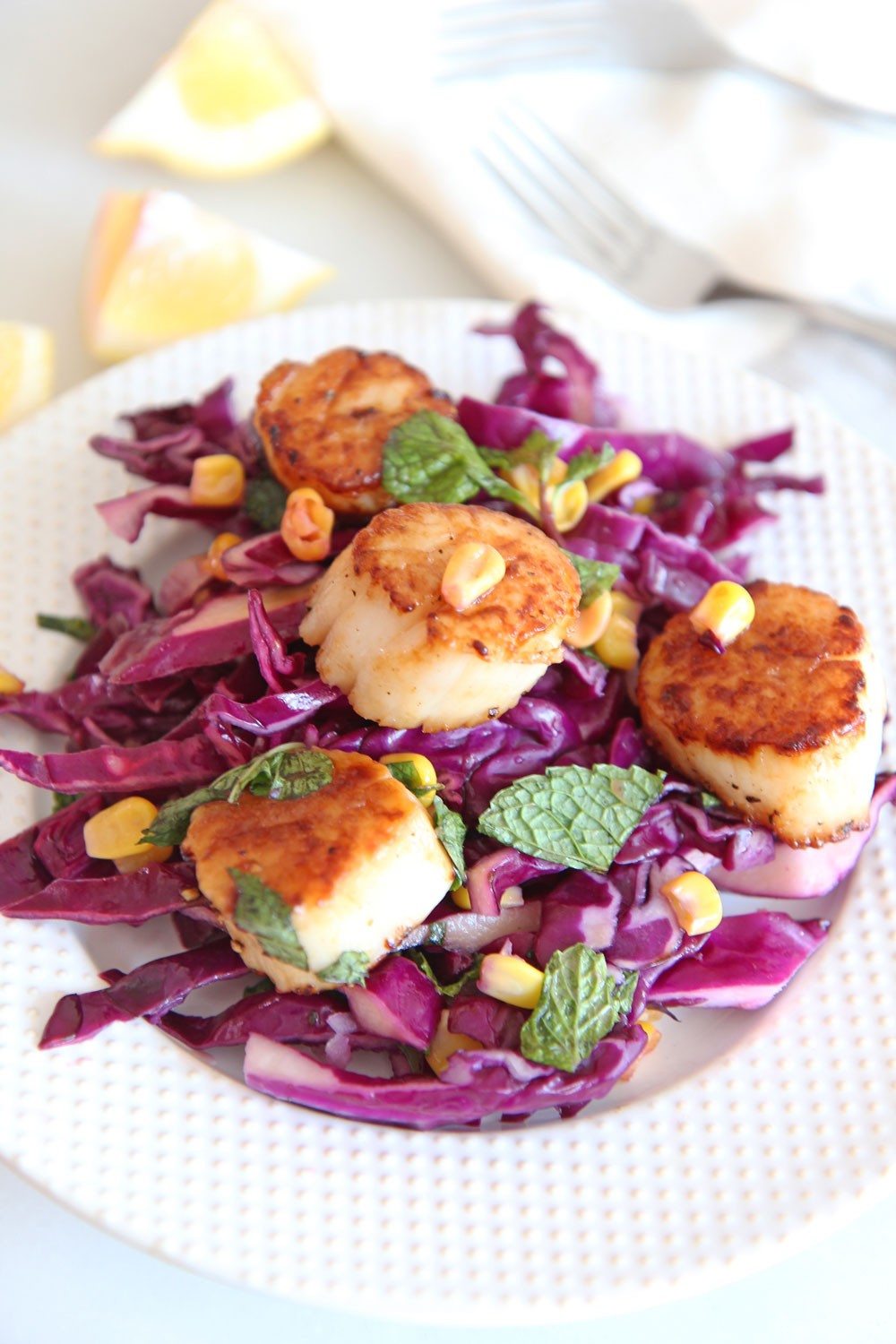 One of my amazing
Instagram friends
commented "Joy can be a simple as a smile." This so inspired me! Joy is found in a all the simple things in life. Its when life gets complicated, its hard to find your inner joy! So simplifying dinner can be joy in itself! Just the acting of being in the moment while you stir. Turning on your favorite music as things sizzle. Finally, enjoying every crunch of the cabbage and rush of buttery scallop each bite!  This recipe is simple happy and allows your more time to you! Hope this brings you joy and cheers to recipes that celebrate you!
Watch how to make this awesome quick seafood dinner: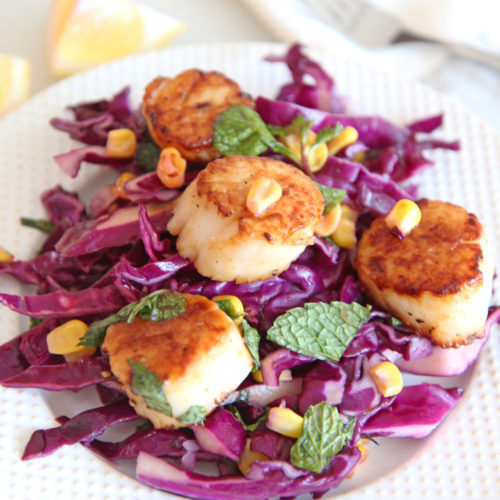 Scallops and Quick Cabbage Corn Slaw Recipe
Ingredients
Quick Cabbage Slaw
1/2 red cabbage (shredded or chopped)
2 cups defrosted corn
2 shallots (sliced thin)
1 teaspoon pepper
2 teaspoons salt
3 tablespoons apple cider vinegar
4 tablspoons extra virgin olive oil
1 handful mint (chopped)
Scallops
1 pound scallops (dry scallops)
3 tablespoons canola oil
1 teaspoon salt
1 teaspoon pepper
1 lemon juice
Instructions
Quick Cabbage Slaw Instructions:
First, place the cabbage, corn and shallots in a bowl and add the salt/pepper and vinegar.

Next, mix and let sit for 15-20 minutes so the salt and vinegar can season all the way through.

Now add mint, olive oil and stir.

Finally, serve with a bunch of scallops on top!
Seared Scallops Instructions:
First, pat dry scallops with paper towel.

Next, salt and pepper both sides.

Now, in preheated medium high pan with 3 tablespoons of oil place scallops in pan.

NOTE: do not have scallops touch (or will steam instead of sear). Spread them out and work in batches if pan is small.

Next, let scallops sear without moving 3 minutes then turn and cook 3 more minutes without touching.

Finally, (optional) add lemon.
My Fave Pot To Cook With:
Check Out This book! It changed my life and keeps me centered:
QUICK NO BAKE DESSERT  FOOD RECIPE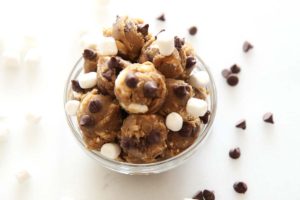 Your Dash Of Gratitude:
                                                                                                                                   
ANY QUESTIONS OR COMMENTS? COMMENT BELOW 🙂
With a grateful heart and an amazing tummy – Jay
(Visited 1,532 times, 1 visits today)
Subscribe for tasty, free recipes!